1915 Wounds of War
Reviewed by Matilda Otter-Lowe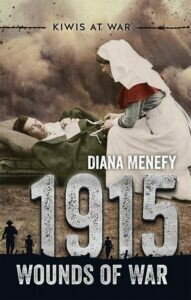 | | |
| --- | --- |
| Author & Illustrator: | Diana Menefy |
| Publisher: | Scholastic NZ |
Reviewed by Matilda Otter-Lowe
Characters with depth tell a true story, reviewed by Matilda Otter-Lowe
December 13, 2022

1915 Wounds of War by Diana Menefy is an informative historical fiction novel based upon the trials of two young nurses, and their lives throughout the First World War.

This book was originally published in 2015 and is part of a series based on World War 1. Although it may sound interesting, the book did not live up to my expectations, as it was repetitive and the plot was difficult to follow.

The story is based around two cousins, Harriet and Mel. Their relationship is tested and focused on throughout and shows their complexity and round characteristics. There are many heartwarming moments, as they struggle to come to terms with the emotional burden of nursing wounded soldiers and their worry for their family – particularly their brothers and cousins who are fighting on the front line. Even though their journeys may seem separate, they share many inherited qualities because they are cousins.

The story begins in New Zealand in 1915 where Harriet, Mel and her brother Drew are about to set off to war. Mel works aboard hospital ships and Harriet nurses in hospitals on land. In addition to this, Drew fights in Gallipoli and Anzac cove with other groups of New Zealand soldiers where he faces constant danger and his family fears for his life. As the book continues, you can see both cousins beginning to adjust to the realities of war and watch the fighting, injuries and persecution of civilians steadily increasing.

Unlike other historical novels based on WW1, this story focuses on the nurse's stories, which is a change from the normal gritty, dark accounts of the soldiers fighting in the trenches or the stories of spies or fighter pilots. I think that it is important for all aspects of the war to be represented so this story is a very good representation of a nurse's struggles and life. Although it is based in a hospital and onboard a hospital ship, it doesn't focus on the gory details that you may expect, which means it is more suitable for younger audiences and people who don't enjoy these scenes in books.

However, even though this story gives a new perspective on many aspects of WW1 and a nurse's life throughout, there are several things that could be improved such as the repetition and mundaneness of the plot and the difficulty of some of the writing. For example, in many of the chapters where there is a letter, it is shown in slanting, old-fashioned handwriting, which is very difficult to read, let alone get any meaning from.

Apart from these factors, the book is well-written, and the characters have real depth and complexity. Overall, I would recommend this book to a more grown-up audience – intermediate, high school and university – and anyone who enjoys WW1, action or adventure stories.

- Matilda is 12 and lives in Auckland.
| | |
| --- | --- |
| Author & Illustrator: | Diana Menefy |
| Publisher: | Scholastic NZ |