Draw Some Awesome
Reviewed by Jessica Dowling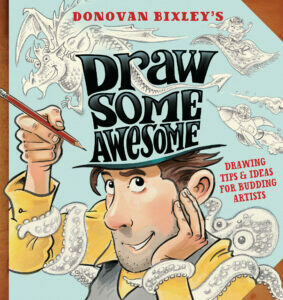 | | |
| --- | --- |
| Author & Illustrator: | Donovan Bixley |
| Publisher: | Upstart Press |
Reviewed by Jessica Dowling
A unique and inspiring read for budding artists, reviewed by Jessica Dowling
July 25, 2022

Donovan Bixley's Draw Some Awesome just inspires you the second you open it.

I'd never heard this author's name before I opened Draw Some Awesome, but it was amazing to realise he has illustrated so many well-known picture books.

I loved this book. It is such a fun, bubbly, colourful read.

The author tells you about his background, and then gives you tips and tricks for drawing. He shows some of the work he did in his childhood. He gives you basic art techniques with examples from his other books, and the colours and characters draw you in. I feel like the author's aim was to inspire the reader and give them creative ideas. 

It is cool how his illustration style is based firmly in New Zealand and Māori and Pākehā culture. With colourful pictures and lots to read on each page, Draw Some Awesome would be great for readers aged around 10 - 13 years. 

I would definitely give this book as a gift because it would help people get into drawing. 

I tried a couple of his techniques in a sketchbook and they got me inspired to do some drawing for a bit. Overall I really enjoyed this fun book.

Jessica lives in Hamilton.
| | |
| --- | --- |
| Author & Illustrator: | Donovan Bixley |
| Publisher: | Upstart Press |