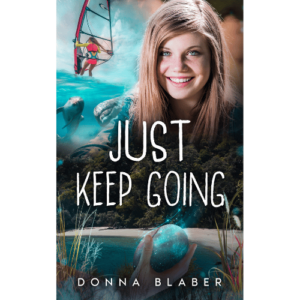 | | |
| --- | --- |
| Publisher: | Light House Media Group |
A relatable yet mythical read, reviewed by Jessica Dowling
August 31, 2022

Just Keep Going by Donna Blaber is such a relatable book. For example, it talks about the Covid mandates, and problems with hospitals, such as how there are not enough places in ICU. The plane tickets are expensive, and everything is taking forever to arrive in New Zealand.

It is the second book I have read by this author and both of them I have enjoyed. I like how Blaber's books are about people working through normal problems but then they also add something more to the plot.

In Just Keep Going, I enjoyed the parts about the dolphins and the obsidian stone, which makes the story so mythical.

The book is about a girl called Becky who moves to New Zealand. It is based in the Covid times and her mum is stuck in London, so she has to live with her dad and stepmother.

Becky finds a strange stone on the beach, she makes new friends and goes to a new school. While windsurfing she meets a strange dolphin. She also has a new baby stepbrother who she does not like at first.

I enjoyed Becky's new friends. They are a bit odd but cool. I also liked reading about Ivy, the old lady who is kind to Becky, and bakes for her.

I really enjoyed this book. It was a fun read, and I especially enjoyed getting to know Becky and her blended family.

Jessica lives in Hamilton.
| | |
| --- | --- |
| Publisher: | Light House Media Group |