Katipo Joe: Wolf's Lair
Reviewed by Oshadha Perera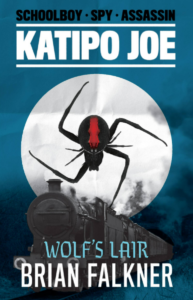 | | |
| --- | --- |
| Author & Illustrator: | Brian Falkner |
Reviewed by Oshadha Perera
An intriguing, layered action story, reviewed by Oshadha Perera
December 14, 2022

Wolf's Lair is the third book in Brian Falkner's Katipo Joe series. Following on from Joe's mission of infiltrating Hitler's inner circle, he is now tasked with travelling to Wolf's Lair, Hitler's eastern military headquarters. While he has gained the trust of Hitler, not everything is perfect, with Himmler and Roth starting to be suspicious of Joe. His bosses at M15 want Hitler assassinated, but to Joe, it is not that simple: he wants to find his father and doesn't want his friends to get hurt by M15's plans. What follows is a thrilling tale of hope, betrayal, and sacrifice.

While Wolf's Lair is built on Joe's adventures from the previous books in the series, the introduction of new characters and settings makes this perfectly readable as a standalone novel. This book has both emotional, slower-paced parts and faster-paced action scenes that involve Joe spying on Hitler and carrying out assassination attempts. "They no longer crawl, but now run at a crouch, keeping low, moving quickly, occasionally stepping over the bodies of the dead," writes Falkner when describing Joe's escape from resistance fighters. His writing style in these adventure scenes packs a lot of description but still keeps suspense, revealing things layer by layer.

As the protagonist of the story, I found Joe to be an easily accessible and relatable character. While his official mission is to spy on Hitler, there are many more things on his wish list, such as finding his father who was taken away by the Gestapo a few years back. He comes so close to being successful in assassinating Hitler but backs away to protect his friends Sofie, Thomas, and Heike. "It is a plane full of heroes and for that reason more than any other Joe is glad he is not on it. He doesn't deserve to be," Joe says in one of the later chapters. Yet, he carries the weight of those who he was forced to kill, and never gets to enjoy life as a kid. As I progressed through the chapters, I grew to admire Joe for his selflessness, and I'm sure other readers felt this too.

Another intriguing character in this story is Sofie. Reading Wolf's Lair reminded me of All the Light We Cannot See by Anthony Doerr. While this might be because of the overall tone of the book, Sofie's character directly reminded me of Jutta, who was a girl growing up in Nazi Germany. Both Sofie and Jutta go out of their comfort zones because they want to do the right thing, despite having the option of doing the easy thing. This makes Sofie a very likeable character, and her development is the most impactful out of all the characters in Wolf's Lair.

Reading Wolf's Lair, it is apparent that Falkner has done a great deal of research on WWII. Many of the characters, events and settings are real, and Falkner is talented at embedding these details into the story while not disturbing the narrative or making it feel boring.

There are parts where I wished Falkner would've chosen a different ending for some characters, but this shows how powerful his writing is in regard to portraying the brutality of war. As the third in the Katipo Joe series, this book was more open-ended than I expected, with the last chapter seeming more of an introduction rather than an ending. I would have liked a more detailed ending for some of the characters like Heike and Sofie and hope that Falkner will consider writing another installment. In the end, though, I found it an engaging and thought-provoking book, and with Wolf's Lair falling into many categories such as action, suspense and war, I'm sure this will be enjoyed by a wide range of teenagers.

- Oshadha lives in Invercargill.
| | |
| --- | --- |
| Author & Illustrator: | Brian Falkner |