Reviewed by Josie Herrick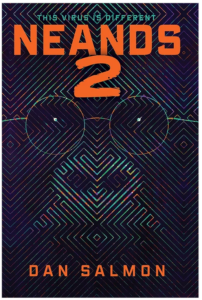 | | |
| --- | --- |
| Author & Illustrator: | Dan Salmon |
| Publisher: | OneTree House |
Reviewed by Josie Herrick
A nail-biting adventure, reviewed by Josie Herrick
December 17, 2022

Dan Salmon's first in this series, Neands, was awesome and I am sure that everyone who read it had high standards for the second. Salmon didn't let us down at all, keeping us on our toes the whole time and immersing us in the events that he laid out on a silver platter for all readers.

Salmon does an excellent job at keeping us reading and interested in whatever occurrence happens next. From learning how to hotwire a car, to running from Neands, there's always a new adventure. The author always does the unexpected and nails it every time.

And the cliffhanger at the end. It definitely leaves you wanting to get a sneak peek at what the next adventure with Charlie and Pru holds. Or if there will be one at all…

Incorporating more main characters was an awesome choice in the book. Fortunately, it made it through to publishing! And the connections the reader could make with Em and Miro, runaways from a 'home' run by Neands, was definitely a good choice. The feelings of understanding for the character and what drives them to complete their goal really helps you keep powering through the book.

But losing characters is another story… While more people were added to the book, some were taken out. Salmon really connected the reader to the people that died in the book. Making the events sad and heartfelt. Again, this also made me want to keep reading even more, to see how this would affect Charlie, Pru and Em. Having a character start to change into a Neand at the end of the book really made me want to know what happened to them. And again the effects that it would have on others. Great decision overall on his behalf.

To sum it up, this book is awesome and a definite read for everyone who loves drama and a little bit of romance mixed in. The story keeps you entwined in the plot. You will never be able to put the book down.

- Josie lives in Whanganui.
| | |
| --- | --- |
| Author & Illustrator: | Dan Salmon |
| Publisher: | OneTree House |