Red Edge
Reviewed by Dani Bryers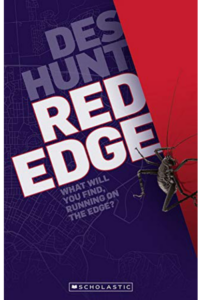 | | |
| --- | --- |
| Author & Illustrator: | Des Hunt |
| Publisher: | Scholastic |
Reviewed by Dani Bryers
A mysterious story with creepy crawlies, reviewed by Dani Bryers
October 21, 2022

Red Edge is a story about twelve-year-old Cassi and her friend Quin. Cassi and her dad Mike recently moved into a repaired house on the edge of Christchurch's Red Zone. It's quiet though. Just how Cassi likes it. She loves to run through the empty streets, letting off the tension that builds within her. Next door to Cassi's new home is a seemingly abandoned house. She becomes suspicious about strange comings and goings at the broken-down house. When Cassi and Quin find a way into the garage, they think they know what is happening. It's not only illegal, it's just not right.

With Quin's tech skills and Cassi's determination to stop animal cruelty, they uncover an organised bug crime ring spanning across the world. The closer they get to collecting evidence on the woman and her accomplice, the more dangerous it becomes. And as soon as Cassi and Quin think they have done it, the criminals quickly turn the tables and pin multiple crimes on them. Cassi and Quin refuse to give in, leaving them with an adventurous time crunch.

Des Hunt has created a real page-turner, with some amazing characters that kids will be able to relate to, especially in Christchurch. This isn't a book I would typically choose off a shelf, but I'm glad I chose to read it. It has a great plot, and Hunt has really made the book hard to put down. I really enjoy how many twists and turns there are, and the ending is not what I thought it was going to be.

Even though Cassi was only four when the earthquake happened, she still struggles with the haunting memories. An obsessive runner, she uses it as a way to deal with her stress and memories. This is a great detail, as it can make the story more relatable for those struggling with the past themselves. Cassi is still scared about the Christchurch earthquake that happened, despite being little at the time. I feel like many people would be able to relate to that especially if they live in or near Christchurch. It can feel difficult to move on, but having a character to relate to can make it a whole lot easier.

I think Cassi is a relatable character because she's still trying to figure out how to fit in and how to be a kid her age. A lot of young people and even adults will be able to relate to her. Since Cassi has to do all the cooking and chores at home she often feels distanced from the other kids at her new school. Quin, on the other hand, doesn't have to do much at his house, and often just relaxes in his room on the computer. Although Quin's been at the school for a while, he has very few friends and is trying to get through the day without being picked on by Harmony. These characters are a real power duo, they are very different in personalities but they relate to each in wanting to fit in and feel normal.

Even though the book has a lot of amazing qualities, I do find that the bully, Harmony, is a little irritating. She is quite a stereotypical bully, but I find that the stereotypes of bullies are always unrealistic and overused. She is a nice person and is only a bully because of the issues at home. I think this type of bully is overused in fiction, so it would have been nice to see a different kind of bully. Her bullying tactics though are realistic and it is interesting to see how Cassi and Quin overcome and deal with it.  When I first started reading the book I assumed Cassi was at least 15 - 17 years old, but later on, you realise she is only twelve. Cassi has quite a mature lifestyle, and it can make it difficult to understand that she is only young.

Overall I think the book is very interesting, and I enjoyed the bug twist as it's different and something I haven't read before. I enjoyed how the bug they used for the crime was a wētā, and it is nice to see justice for New Zealand's insects. Overall I think the book is very interesting and I enjoyed the twist, as it was something different and something I haven't read before.  I would recommend it to tween or middle-grade readers. I don't think older readers will enjoy the story as much, as it has some predictable parts and the story drags on a little bit. As a younger reader, I think you would enjoy it much more. Overall it's a good book, and a fun way to learn about the pain and scars the Christchurch earthquake has caused. If you don't like bugs I don't recommend this book.

- Dani is 15 and lives in Wairarapa.
| | |
| --- | --- |
| Author & Illustrator: | Des Hunt |
| Publisher: | Scholastic |