Highly Recommended
Reviewed by Ava Preece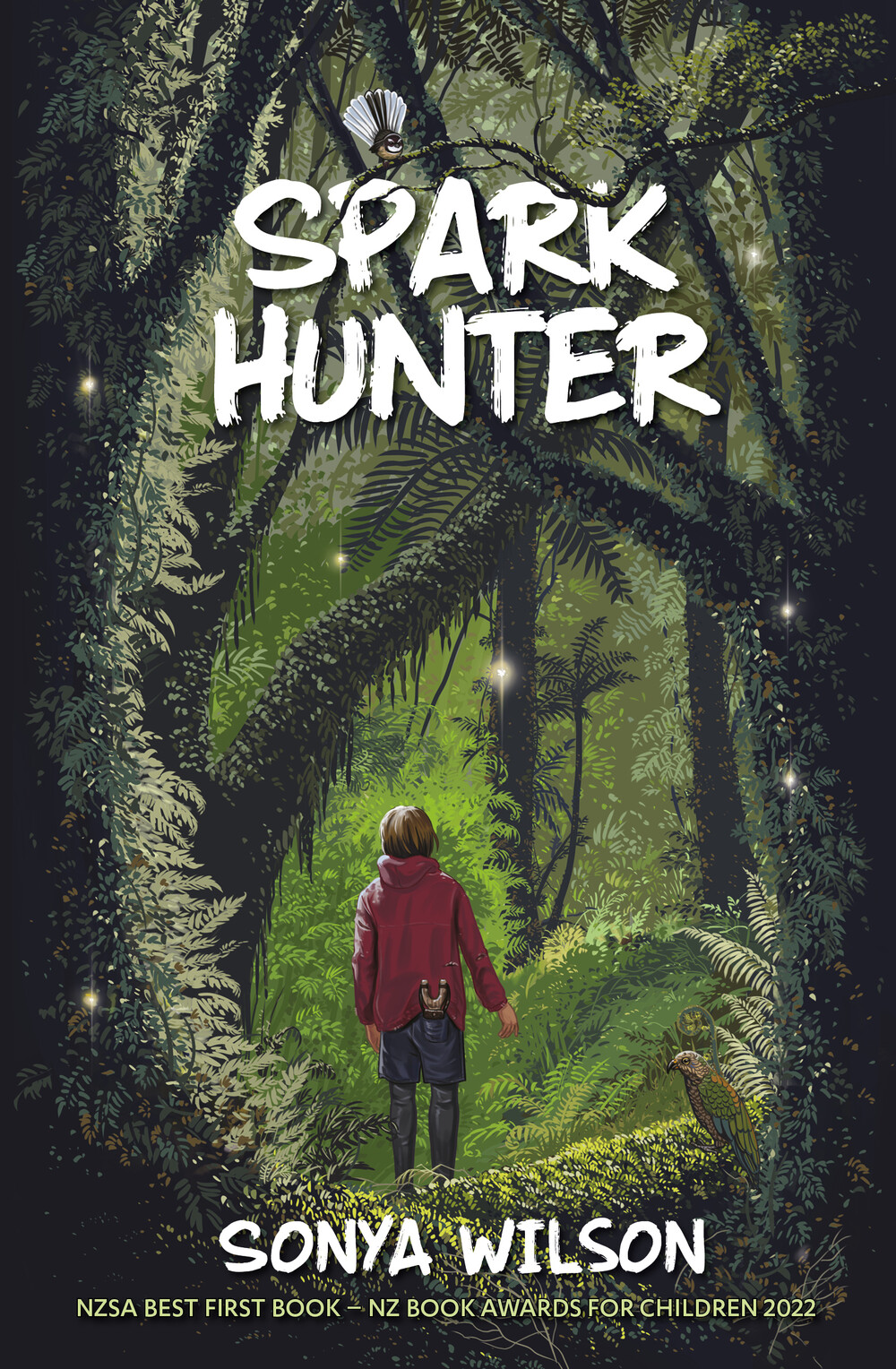 | | |
| --- | --- |
| Author & Illustrator: | Sonya Wilson |
| Publisher: | The Cuba Press |
| ISBN: | 978-1-99-115080-6 |
| Format: | Paperback |
| Publication: | 2021 |
| | |
| --- | --- |
| Ages: | 9-13 |
| Themes: | Aotearoa, fantasy, adventure, environment |
Highly Recommended
Reviewed by Ava Preece
12 year old Nissa Marshall knows something lays hidden deep within the bush-clad mountains of Fiordland.
She's seen them before. Lights, floating throughout the bush. Since the age of five, these mysterious orbs have floated into her life every now and then, while hunting in the Fiordland National Park. What are they?

Based in the depths of Fiordland, this book is about a girl who disappears on a school camp following a mysterious light, into the bush, and away with the fairies. Well, not really fairies. The sparks are more similar to patupaiarehe, little supernatural nature spirits from Māori mythology. While Nissa is following the spark, the forecasted rain closes in, a day earlier than expected. Trapped by the storm, Nissa takes shelter in a big hollow rimu tree, eager to find shelter and refuge from the heavy downpour. Little does she know, she's about to tumble into the world of the sparks.

Spark Hunter is a Kiwi adventure-fantasy book and is written by Sonya Wilson. Spark Hunter was Sonya's first book to be published. Aimed at 9 to 13 year olds, this is a well written adventure-fantasy book, sure to please all fantasy lovers. Though it's her first book, do not be fooled, as Spark Hunter is a really unique book and has already won the NZ Children's and Young Adult's Book Awards for 2022. Spark Hunter is a well thought out book, with an interesting plot and a pleasant variation of language. One minute you're speaking like you lived in the 1900's, and next you're back to 2023 speak. Also, the switch between the 'Before' and the current time is quite cool, giving it that extra viewpoint and a more indepth story.

I personally LOVED this book, sparks and all! I find this review easy to write because I enjoyed reading the book so much. It shows the struggles and highlights of teenage life and modern life, which really gives it that extra connection to the real world. The connections make it even more enjoyable to read and it also gives it a sense of relatability. I really love that!

The creation of the sparks is AWESOME! The similarities between the sparks and patupaiarehe are close enough that the book's Māori backdrop really melds into the story. The thorough inclusion of the Māori culture and language really spotlights the native people and language of New Zealand, and how Nissa, though of Pākehā descent, constantly tries to speak at least some of our native language, which I think everyone in New Zealand should at least try to do.

Overall, this book was a wonderful read! The connections to the real world, the diversity, the relatability, the story itself, it is just amazing. I hope I'm not the only one silently begging for a sequel.

- Ava is 12 and lives in the Chatham Islands.
| | |
| --- | --- |
| Author & Illustrator: | Sonya Wilson |
| Publisher: | The Cuba Press |
| ISBN: | 978-1-99-115080-6 |
| Format: | Paperback |
| Publication: | 2021 |
| | |
| --- | --- |
| Ages: | 9-13 |
| Themes: | Aotearoa, fantasy, adventure, environment |