The Calling
Reviewed by Mia Hayes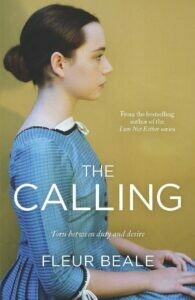 | | |
| --- | --- |
| Author & Illustrator: | Fleur Beale |
| Publisher: | Penguin Books |
Reviewed by Mia Hayes
An empowering historical novel, reviewed by Mia Hayes
November 21, 2022

The Calling is a novel by New Zealand author Fleur Beale. Having read the I Am Not Esther series also by this author, The Calling attracted me as a reader. The book tells the story of young Molly searching for her calling. Will it be as easy as she expects?

The Calling takes place in late 19th century Aotearoa New Zealand, where 15-year-old Molly who struggles to find her life's path after her dying mother wishes for her to become a nun. However, this is not the dream of her Methodist father, who wants her to marry, take care of her siblings and follow out household tasks.

The Calling tells the story of young Molly who is deciding what is right for her and not what her parents wish for her. Molly is such an inspiring character to readers, she is capable, determined, caring, competent, and good-natured. She is such a strong and independent character who works hard caring for her younger brothers after her mother passes away. She is different from others her age as she has the ambition to become a nun following her mother's wishes. This made her a very inspiring and brave character. She shows strength and determination to follow God and her mother to find her calling. Molly is torn between her mother's wishes and her father's. Throughout the novel, I was rooting for her to succeed and find her true calling.

Molly does discover what her true calling is, however, it isn't always easy for her. She is torn between her duties of household tasks and caring for her brothers, but also wants to fulfill her and her mother's wishes of becoming a nun.

This novel teaches us readers many things, not only about the Catholic religion but also about the Māori language. We are taught about Catholicism and what it is like for Molly to live out her Catholic lifestyle. The writing is very informative but is still written in such a way as to create a page-turning experience for readers. This book has a good balance of information and an excellent plot. By the end, I knew more about the Catholic religion and what it was like in the 19th century for Catholics, the Māori culture, and the way they lived during this time period.

Beale writes well for this teenage age group; her novels are unchallenging and easy for many to read. The historical excerpts that headed each chapter are very interesting and give a little insight into what happened during the period the novel was set in. This gives the reader information about this period to help them to understand the story more in-depth. The Calling is a very empowering story for teenage audiences.

The Calling is an engaging and empowering novel about being torn between two very special things. Molly is a very inspiring character whom many teenage readers will be able to relate to, overall, making it an utterly captivating read for all.

- Mia is 14 and lives in New Plymouth.
| | |
| --- | --- |
| Author & Illustrator: | Fleur Beale |
| Publisher: | Penguin Books |