The Whale Rider
Reviewed by Ruby Bartlett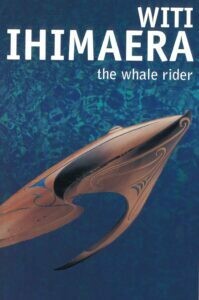 | | |
| --- | --- |
| Author & Illustrator: | Witi Ihimaera |
| Publisher: | Penguin NZ |
Reviewed by Ruby Bartlett
A moving story about determination and change, reviewed by Ruby Bartlett
"I suppose that if this story has a beginning it is with Kahu. After all, it was Kahu who was there at the end, and it was Kahu's intervention which perhaps saved us all."

Witi Ihimaera tells us the thrilling story of The Whale Rider. This adventure follows Kahu, a young girl wanting to do things a female wouldn't normally do in Māori culture. She lives with her grandparents because her dad is always working and her mum died during childbirth.

Kahu is a determined young lady with a passion for adventure. Her Koro Apirana thinks she is just some girl and that she isn't important; he only seems to care about boys and what they can do. But Nanny Flowers is a kind and understanding old lady with a heart of gold, and she is always looking out for Kahu and makes sure she is happy. Porourangi is Kahu's dad and they are very close despite their separation over his work.

The majority of the story follows Koro Apirana and his search for the next whale rider. By being born female Kahu has broken the line of ancestral descent from the ancient ancestors, and this forces Koro to go outside the family in his search.

He selects the oldest boys from their village with the plan to pass on his knowledge and forgotten old ways. In his final challenge to the boys, he throws his whale tooth necklace into the deep water of the ocean, but none are able to meet the challenge and retrieve the necklace. Koro falls into deep mourning over the loss of his most treasured item, and he as if he has failed the ancestors and his whānau. Kahu notices his intense grief and is determined to retrieve the ancient relic.

The Whale Rider is an incredible read. Ihimaera tells a story of determination and embracing change, while Kahu, against all odds and against traditions, forces her way forward in an inspiring show of strength and girl power.

This is a classic Kiwi story that is important to keep reading and sharing. I was pleased I was finally able to read this book and I highly recommend it to those who haven't picked it up yet. Five out of five stars.

- Ruby is 12 and lives in Ashburton.
| | |
| --- | --- |
| Author & Illustrator: | Witi Ihimaera |
| Publisher: | Penguin NZ |