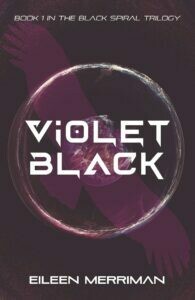 | | |
| --- | --- |
| Author & Illustrator: | Eileen Merriman |
A thrilling near-future tale, reviewed by Thora Moffat
Violet Black is a thrilling fast-paced story about a teen who has gained some new powers after surviving a deadly disease.

Set in the near future this book is about Violet, a 17-year-old girl who is one of the few survivors of a usually fatal disease M-fever. When she wakes up in the hospital, she finds she has a psychic connection with Ethan Wright, another 17-year-old survivor of M-Fever. Although they try to keep this a secret, someone finds out and Violet gets taken to a facility overseas where she meets other teens who have also survived. They are being trained to use their powers for missions. But how will Violet find Ethan again? And who are they really working for?

This is a gripping book, and one that I read in one go! I was invested throughout the whole story to find out what would happen next and what was going on inside the facility. This is a great book for New Zealand readers as it is set here to start with. It is also relevant now as Covid is quite similar to the M-Disease which, in this world, begins to spread after Coronavirus. I like how this book has fantasy elements but is overall a pretty realistic story. The psychic powers the characters have are obviously fictional but written so well that it seems it could happen to someone who contracted the disease.

The plot is solid and thought out and I enjoyed that it was a relatively short read which means it is easy to pick up and read instead of having to commit to a larger book. This also means it can reach a wider range of readers as those who are not as into reading can still enjoy it as it is not too long. The ending is a cliffhanger, and I cannot wait to read the next book in this trilogy.

Violet Black was written from two points of view, Violet's and Ethan's, which meant, although you learned about things at the same time as the characters did, you had a slightly clearer understanding of what was going on. It also means that you can understand what is happening to Violet and Ethan when they are in different places.

I would say this book is aimed at young adult readers maybe 13 years and up, as it has some quite intense themes but it is still interesting for older readers. However, it does depend on your maturity level as some 12-year-olds might be ok with reading it.

People who enjoyed books such as Juno of Taris by Fleur Beale and Neal Schusterman novels would probably also enjoy this one, as it carries the same theme of being set in the future of our world where science has progressed and fantasy-like situations are beginning to occur.

Overall, I thoroughly enjoyed this book. I thought it was beautifully written and extremely engaging and I would recommend it to anyone who enjoyed a realistic fantasy book.

- Thora Moffat lives in Nelson.
| | |
| --- | --- |
| Author & Illustrator: | Eileen Merriman |