08 August 2023
Hot off the press: August giveaways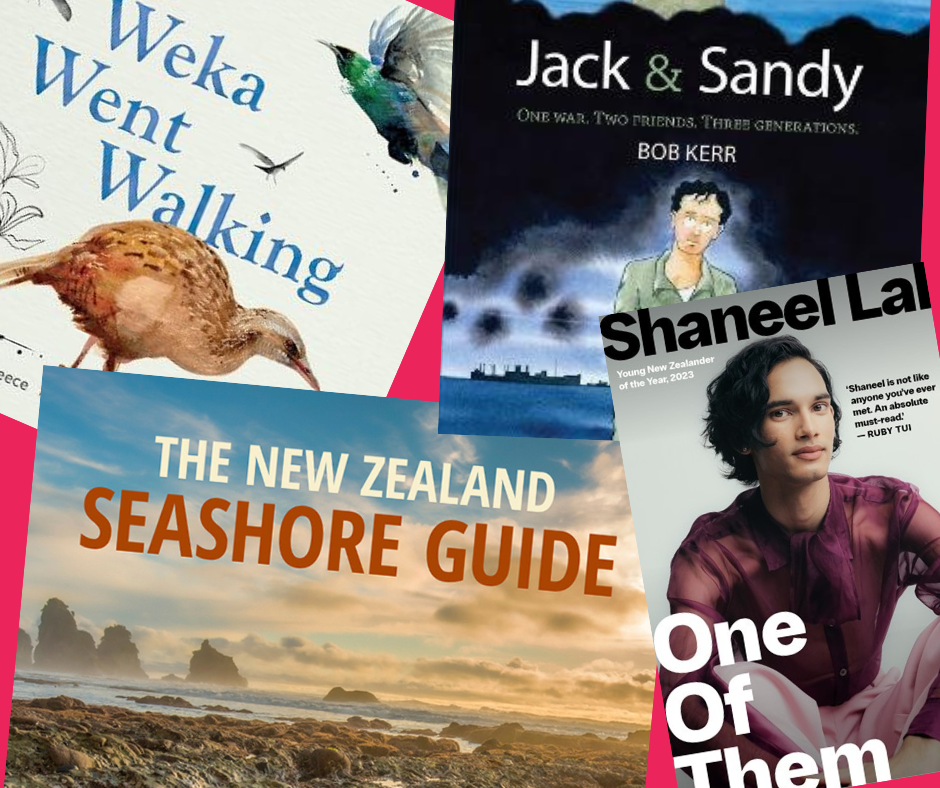 To be in to win any of these fabulous titles, just email communications@read-nz.org with the book's title in the subject line and your name and postal address in the email body.
One Weka Went Walking
Kate Preece
David Bateman Ltd
A curious weka explores the Chatham Islands, meeting some of New Zealand's most endangered birds – from the tiny black robin to one of the world's rarest seabirds. A stunningly illustrated children's book led by a weka's curiosity.
Did you know that a fifth of New Zealand's rare and endangered bird species are on the Chatham Islands? This book will endear children to the buff weka, as well as the other local birds living on the Chatham Islands. It will also serve to pique the interest of older readers with surprising facts and true-to-life illustrations.
Email us to go in the draw to win a copy of One Weka Went Walking
One of Them
Shaneel Lal
Allen & Unwin
What would you do if you were told by the people you loved the most that the way you were born was evil and wrong? For Shaneel Lal, this was their reality from the time they were five.
Growing up in a tiny, traditional village in Fiji, Shaneel always knew they were different. Still, for the first years of their life, it was idyllic - playing dress-ups in saris with their sister, and hiding under their neighbour's house, playing games with dolls. But from the time Shaneel started school, they faced condemnation from their family, and then 'therapy' from conservative elders in their village. The elders tried to 'free' Shaneel from the evil spirits they thought were making them queer. Shaneel was kept away from the girls to stop Shaneel from becoming more feminine, and from the boys to stop Shaneel's queerness from spreading to them. Eventually the 'therapy' escalated to beatings and torture.
After escaping Fiji and moving to New Zealand as a teenager, Shaneel tried to keep their sexuality - and gender - to themself, but gradually found the courage to come out. One day, while Shaneel was volunteering at Auckland's Middlemore hospital, a church leader came up to them and offered to 'pray the gay away'. It was a lightbulb moment for Shaneel, who could not believe that the same practices that had scarred their childhood in Fiji were operating - and legal - in New Zealand. Determined to ensure others wouldn't have to go through what happened to them, Shaneel founded the Conversion Therapy Action Group, which lead the movement to ban conversion therapy in Aotearoa. In 2021, thanks to Shaneel and other activists' work, New Zealand banned conversion therapy. This is a story of one person's fight for the right to live their life as they deserved - and their extraordinary work to protect other young New Zealanders.
The New Zealand Seashore Guide
Sally Carson and Rod Morris
Potton & Burton
This is the ultimate guide to the New Zealand seashore life. The geographic diversity of New Zealand's 14,000 kilometres of coastline supports a wide range of marine species all of which is photographed and described in this book.
Sally Carson's text is packed with information on endemic and introduced species, including sponges, anemones, sea stars, shrimps and crabs, barnacles, pāua, mussels, oysters, fish and seaweed, while each species has been photographed by Rod Morris.
Email us to go in the draw to win a copy of The New Zealand Seashore Guide
Jack & Sandy: One War. Two Friends. Three Generations.
Bob Kerr
David Bateman Ltd
New Zealand, 2001: Jack and his best mate Eddie have finished high school, but before they make any decisions about their future, they are embarking on a week-long kayaking adventure. Unbeknown to Jack's father, this trip includes a mission to meet Jack's long-estranged Grandfather, Sandy.
Scotland, 1931: Sandy and his best mate Billy have limited prospects in their shipbuilding town. They both become merchant seamen. When World War II breaks out, Sandy finds himself on a dangerous convoy to the besieged island of Malta. This fateful voyage has long-lasting ramifications for his family and future.
Jack & Sandy is an adventure story told across three generations - a story about friendship, family and the devastating effects of war. Written and illustrated with graphic novel sections by Bob Kerr, the award-winning illustrator of Terry Teo.