03 July 2023
Hot off the press: July giveaways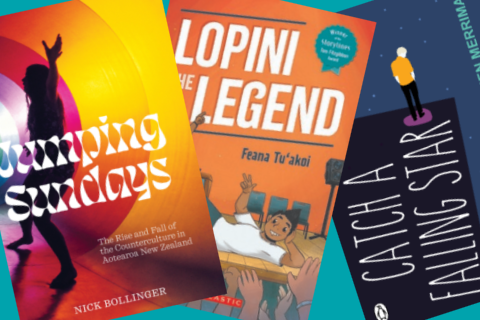 To be in to win any of these fabulous titles, just email communications@read-nz.org with the book's title in the subject line and your name and postal address in the email body.
Lopini the Legend
Feana Tu'akoi
Scholastic
When Lopini is replaced as kapa haka leader at school, he starts to spiral. It doesn't matter that he thinks it's a good idea, or that he agreed to the change in the first place. He's a hard-out perfectionist and this feels like a public failure. Lopini's best mate, Fi, thinks he's overreacting. After all, he's so successful that everyone at school calls him Lopini the Legend. But Lopini still freaks out whenever something goes wrong – and he HATES it. He decides to practise failing, so he won't feel like that anymore. Can Lopini still be a legend, if everyone knows he isn't perfect?
Email us to go in the draw to win a copy of Lopini the Legend
Jumping Sundays
The Rise and Fall of the Counterculture in Aotearoa New Zealand
Nick Bollinger
Auckland University Press
Winner — Ockham New Zealand Book Awards 2023

Award-winning writer Nick Bollinger's deep history of the transformation of New Zealand life wrought by the counterculture in the 1960s and '70s.
On a Sunday afternoon in the spring of 1969, thousands of people defied Auckland city bylaws and came to party in Albert Park. A rock band played on the rotunda. Some people held hands, some danced alone, some sat under trees with guitars, flutes and bongos and made music of their own. They wore kaftans, ponchos and leather-fringed jerkins, floppy hats, headbands, beads and flowers. Poetry and political diatribes were delivered from a podium, improvised from an upturned tea chest. There were bikies, balloons, bubbles, sack races and a lolly scramble, lots of dogs and a pet possum. Someone brought a canoe and paddled it around the fountain, until it capsized. As the afternoon wore on there were joss sticks, skyrockets and what some will have recognised as the musky smell of marijuana. . .
— From the Prologue

Catch a Falling Star
Eileen Merriman
Penguin
The compelling prequel to Catch Me When You Fall.
A fifteen-year-old reaches for stardom as he slides into psychosis.
Francesca – known to everyone as Frankie – has scored the part of Princess Fiona in the forthcoming musical production. Even though Jamie Orange has missed out on the part of Shrek, he's happy:
The day I found out I was a donkey was one of the best days of my life.
He may not be Frankie's leading man on stage, but he can still try to win her heart. However, all is not well with Jamie. He can't sleep, he can't stop his thoughts:
My brain was still wired, racing around in circles or spirals or – gah, it was driving me crazy. If only there was a magic switch so I could turn it off.
Bouncing between exultant highs and terrible lows, what will happen when this rising star starts to fall?
Email us to go in the draw to win a copy of Catch a Falling Star
Matariki prize pack
Don't forget, we're giving you the opportunity to celebrate Matariki with us with a fabulous colouring competition illustrated and judged by Izzy Te Aho-White and win a pack of eight Matariki pukapuka. Details on our blog.