15 February 2023
Oratia's new Moana Oceania series – a chat with author Dahlia Malaeulu and publisher Carolyn Lagahetau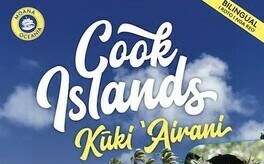 Samoan-New Zealander Dahlia Malaeulu is a passionate educator and strong advocate for Pasifika children's literature. She is an award-winning author and publisher of Mila's Books, which creates quality stories that reflect Pasifika children's lives. Dahlia recently won the Creative NZ Pasifika Arts Emerging Artists award. She lives with her family in Wainuiomata, Wellington.
Niuean-Kiwi Carolyn Lagahetau is editorial director of Oratia Books, with her speciality being children's books and illustrated titles. A former managing editor of Reed Publishing (NZ), where she worked for over ten years, she is a seasoned editor who has managed hundreds of commercially successful publishing projects. Carolyn is a trustee of the Storylines Children's Literature Foundation, and has a passion for developing a greater appreciation in Aotearoa of Pasifika culture and history.
We've asked them both some questions about Oratia's new Moana Oceania series, devised and delivered by Carolyn and for which Dahlia researched and wrote one of the first titles, Sāmoa.
Sāmoa and Cook Islands | Kūki 'Airani are the first two titles in Oratia's new Moana Oceania series of bilingual non-fiction books for children. Carolyn, tell us how this series came about.
Publishing books for Pasifika children that reflect back to them their lives and experiences, and themselves, has always been something that I have wanted to do.
I have been a book editor for over 20 years, with a particular passion for children's books. Oratia Books publisher Peter Dowling also has a passion for a publishing programme that serves as many communities in Aotearoa as possible. For over a decade we have talked about publishing into this space, but we have never been able to walk our way through finding resources or landing on a genre of book that we thought appropriate. We began creating a Pasifika publishing programme a few years ago then started the search for authors and other creatives. Dahlia was generous in accepting my request that she write the Sāmoa book as she is a prolific publisher in her own right and already had a full programme for 2021–22. Jean was also gracious in accepting my request to write her book, as she had a small window of time in her schedule. I personally extend my gratitude to both for sharing their knowledge through these publications.
A question for both of you: Why is it so important to you that Pasifika children in Aotearoa learn about the culture, lifestyle and language of the islands to which they are connected?
Dahlia: The largest Pasifika population in the world is here in Aotearoa. I believe there are so many positives when it comes to providing safe access to our languages and cultures for the next generation. For instance, when our tamaiti learn about who they are and what they are we are able to combat the decline in language fluency while helping to strengthen our tūrangawaewae as Pasifika in Aotearoa. It can also increase cultural awareness, understanding, and acceptance of everyone's unique backgrounds when we, alongside our tamaiti, are able to proudly share who we are with the world.
Carolyn: I see culture, lifestyle, and language as the underpinnings of identity, whatever a person's ethnicity. When children are resilient in their identity their confidence in their personal and wider lives is supported by a lineage of cultural identity that, as parents, educators and temporary guardians of our children, we hope will lead them to fulfilled lives. Our hope is that these publications might be one item in a reader's basket of knowledge.
Carolyn, when you were making the books, were you thinking of readers in the Pacific Islands as well as here in Aotearoa?
Oratia Books publishes predominantly in the book market in Aotearoa, but we do have a reputable history of sales of licences for our publications into other countries. Our initial approach was to make the books primarily for children in Aotearoa. However, it's obvious that there is a demand in island communities outside of New Zealand for these books and we have been working to find sales channels so the books are available in those communities.
Dahlia, an important feature of your book on Sāmoa is its explanation of Fa'asāmoa, the fundamental values of Samoan life, including connection to 'āiga (family), nu'u (village), land and religion. Tell us more about this.
Fa'asāmoa is at the heart of Samoan culture — from Samoan values, to our chiefly matai system, language, connections to people, villages and land – it is simply the Samoan way of life. Even Samoan diaspora around the world use different elements of fa'asāmoa to help them to stay connected to their Samoan roots, highlighting the power of this system of rules and expectations that has guided and helped govern Sāmoa and her people well before western systems.
Carolyn, for the other book in the series you collaborated with Rarotonga-based author Jean Tekura Mason, curator and manager at the Cook Islands Library & Museum Society, who wrote both the English and Cook Islands Māori text. What was the editorial process like working with someone an ocean away from Aotearoa?
We didn't have many problems in terms of different time zones and these days digital files such as PDFs have banished the need for sending paper copies of proofs to authors. It was unusual to not have at least one face-to-face meeting with Jean but she was very accommodating in her response times to my myriad queries.
Carolyn, the books are bilingual, in both English and the relevant Pasifika language. What led you to take that approach to the languages?
Knowledge of a home language is part of cultural identity and we wanted to reflect that to our readers. Many of our existing children's books are published bilingually in English and te reo Māori. Publishing bilingually for the Moana Oceania books was a given and we think crucial in our intent of reflecting Pasifika children's lives back to them, linguistically as well as visually.
Dahlia, you appear to be single-handedly spearheading a movement in Aotearoa to create more literature for Pasifika tamaiti that reflects their culture, and in your words, helps them 'to be seen, heard and valued'. What drives this passion, and what is your next project?
Our tamaiti drive me and the work that I do, especially in my role as the publisher at Mila's Books. The response we receive from our stories is both heart-warming and heart-breaking from tamaiti and their families so unfamiliar with seeing themselves, their language, their own lives in a book. So ensuring that we have quality, culturally safe and accessible stories that reflect our tamaiti, who they are and what they are is so important and can be life-changing for our Pacific peoples.

I think the movement started with those who paved the way well before I embarked on this writing/publishing journey. This is why I believe I am part of a Pasifika reawakening in terms of realising not only our own value and worth as Pasifika writers, readers and publishers of our stories, but also the world waking up to the fact that only we can see the world as Pasifika so we should be the ones to tell our stories, our way. This can be seen in our next project being released in March, Pasifika Navigators – Pasifika Students Poetry Collection, which will be the first Pasifika student poetry book created in the world with student contributors from across Aotearoa.
Carolyn, we hope there will be further titles in the Moana Oceania series. What's up next, and will all the books follow the same format of the first two?
We intend to expand this series to a minimum of six books over the next few years. If we receive feedback about the format and content of these books that can inform us on how to make them more accessible or relevant for readers, we will be more than happy to take that feedback on board. For now, we will follow the same template in terms of look and content.
We have a Pasifika publishing programme that includes publication subjects outside of this non-fiction genre. We are relatively new to this particular publishing space and would warmly welcome feedback, ideas and approaches from creatives who might consider working with us.
A question for either of you: Which books or writers have been special to you in your life? And in particular, which children's books?
Carolyn: I don't have a particular book or writer from my early childhood that I remember but I know my mum and then my first teacher were instrumental in establishing my love of reading. The bookshelves at school and the public library were my favourite places to be. I remember reading Witi Ihimaera's Pounamu, Pounamu at high school. I couldn't believe I was seeing aspects of my own life written in a book! At university I read poetry and fiction by Albert Wendt. It was amazing to have him as a lecturer, to see a Pacific Island person front and centre of a full lecture theatre, and to read about life in Sāmoa, as I hadn't yet been to my own home island of Niue.
Dahlia and Carolyn, what are you reading right now, and have you got any book recommendations for us?
Dahlia: I am serial book starter, so I am currently reading Na Viro by Gina Cole and Heal! by Simone Kaho. I would highly recommend A New Dawn by Emeli Sione.
Carolyn: I've been reading Isabel Allende's Portrait in Sepia as I've always loved the rich tapestry of images her beautiful writing brings to mind. Without shame, I'm going to recommend you read Sāmoa by Dahlia Malaeulu and Cook Islands |Kūki 'Airaini by Jean Tekura Mason.