12 September 2023
Q&A: Paku Manu Ariki Whakatakapōkai with Michaela Keeble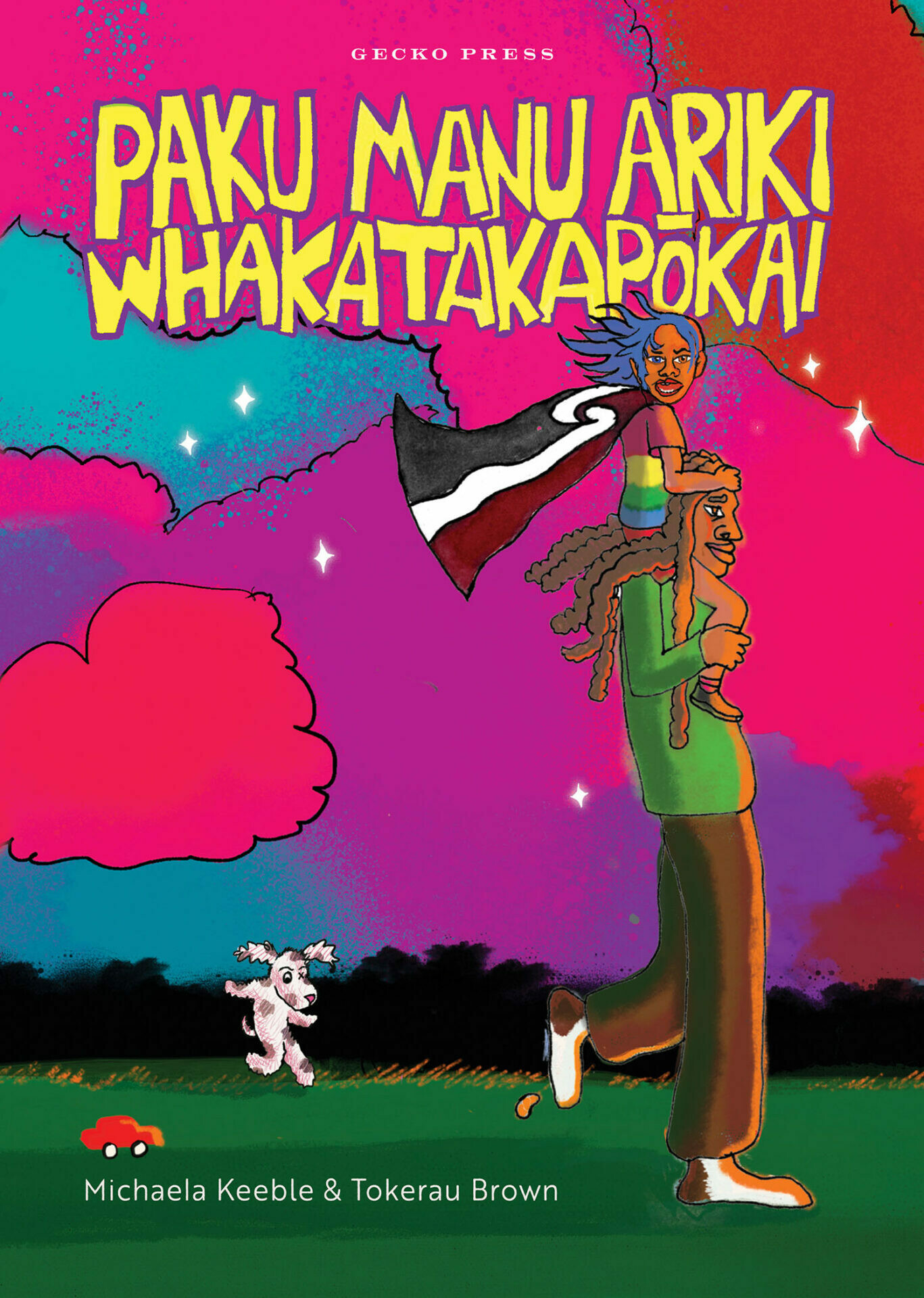 Paku Manu Ariki Whakatakapōkai is a different kind of children's book from author Michaela Keeble. We had a kōrero with Michaela about the formation of this very special pukapuka.
Kia ora Michaela, we're so excited for the release of your new pukapuka, Paku Manu Ariki Whakatakapōkai! Can you tell us about what inspired you to write this story?
Well, in truth, the ideas in our book come almost entirely from Kerehi, our youngest son. But I suppose they stemmed out of conversations we'd been having since he could talk, and probably before.
One day, I just sat down and tried to remember all the things he'd said over the years about friendship and family and atua and Donald Trump. I just wanted to remember these things before they disappeared out of my brain. Slowly I organised them and re-organised them in an order that seemed to draw out his logic – his way of making sense of our world, and his experience. I can't say that the sentences in the book are word for word the way Kerehi said them. But I hope they capture the essence of his thinking, without too much imposition of my own ideas. Just like parenting, I guess.
Your co-author for this book is your son, Kerehi Grace. How did you two work together to produce the story? Why did you want to include him in the writing?
There was nothing deliberate or planned about this story. The fact that it's become an actual published kids book feels quite bizarre and miraculous. I shared the words I'd written down with our friends – Cassandra Barnett and her son Izuba then turned the words into a handmade pukapuka – just like a kids book, with a sentence on each page, and collage and ink illustrations. They gave it to Kerehi for his birthday. Suddenly we realised we had written a book.
The story brings in a lot of ideas about our society that are not usually the topics of children's books. Politics, the continuing impacts of colonialism and racial identity. Why is it important to you that children be introduced to these concepts in this way?
When Kerehi was very young, two very large things were happening in our world. His dad Waiariki was working as a monitor on whānau land that the Crown had attempted to confiscate using the Public Works Act. Many non-Māori people think that land confiscation is a thing of the past – but research shows that the Crown uses the Public Works Act more often than not on Māori land. Why? It's a good question. And one we talked about with our kids. Because it is also their land. They saw the impact this experience had on their dad. They felt how heavy it was.
Tokerau Brown has done an amazing job as the pukapuka illustrator. What was it that drew you to his art and how was the process of working together?
Tokerau is a beautiful person and we are so lucky he agreed to illustrate Paku Manu Ariki Whakatakapōkai. If anyone else is exactly like Paku Manu Ariki, it's Tokerau. Through his art, and our collaboration, Toki has helped me understand, fully accept and properly celebrate the character of Paku Manu Ariki, as well as my own and other kids. Toki is also a very peaceful person, whereas I'm probably a bit more of a bulldog. That has made for a balanced and funny pukapuka. Hopefully people laugh. In Toki's pictures, "the epic" breaks through into ordinary space and time. A mini volcano erupting in a living room. A massive shark at the edge of a beach. Ancestor faces everywhere. And at the same time, ordinary mundane things, like a Rubik's cube or a toy car, become larger than life. He gets kids – their intensity and their sideways take on the adults around them. I honestly don't know much about art, but I feel that the way Toki plays with perspective and colour, the way he uses ink so freely, the way he doesn't seem to care about rules, is really important, as well as very very cool.
This is your first pukapuka for children. Do you want to continue writing for tamariki after this experience?
Definitely! I think I've found my place in the writing ring. We have a lot more stories up our sleeves, for sure.
Where is your favourite place to go for inspiration?
In my mind I go to the Bunurong coast, southeast of Naarm (Melbourne). In reality, I take our dog for a walk around the beach where we live. Every day something incredible happens. A seal sleeping on the track, a gannet diving, orca hunting stingrays, goats watching from the cliffs. Lucky! Kerehi's favourite place is at home, just like his dad. They wouldn't cross the train tracks if they didn't have to.
What projects have you got coming up that you can tell us about?
I'm in the middle of a really fun and whimsical collaboration with my painter friend Emma Hercus. We're making paintings and poems about sea creatures and sea-people and our love for the ocean. Our exhibition is called "The heart is an octopus," opening in Tāmaki soon at Railway Street Gallery and Studios.
And finally, what are you reading at the moment?
Demon Copperhead by Barbara Kingsolver, loving it. I'll have to read David Copperfield next, apparently the structure is beat for beat the same. My dad'll be happy about this – he loves Charles Dickens. Kerehi is reading the Wings of Fire series.
---
Paku Manu Ariki Whakatakapōkai, written by Michaela Keeble, illustrated by Tokerau Brown $29.99 RRP (Gecko Press). See https://www.michaelakeeble.com/ for more of Michaela's work.