17 April 2023
Q&A with Dr Libby Whittaker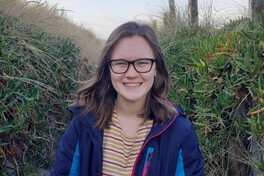 Eye Spyclops is Dr Libby Whittaker's third book, and sends tamariki on a fun eye spy adventure while telling a story that weaves fantastic elements with the everyday story of a visit to the optometrist. We spoke with Libby about what inspired this zany tale.
Kia ora Libby! Please tell us a little about yourself and how you came to be a writer.
Kia ora! I'm from Whangaparāoa in Auckland originally and am now based in Ōtepoti (Dunedin) with my husband Adam.
I've always loved to read and write and have a lot of stories, poems, and some 'home-published' books (stitched together with string) from when I was younger. When I was 10, I also created a newspaper for my family called The Whittaker Weekly which was a lot of fun!
Luckily writing is still a big part of my life, both creative writing, and some medical writing work as well.
What was the inspiration for Eye Spyclops?
As a glasses wearer who loves mythology and fantastical ideas, I think Eye Spyclops was drawn from a combination of the two. The idea came into my head one night after work in July 2021 while I was half asleep, and I asked Adam to message me 'Cyclops needs glasses' so I wouldn't forget. Luckily that still made sense the next day!
What are the commonalities and differences between this and your previous work?
My two previous books are quite different! Sunny Turner and the Deadly Bite is a dragonish junior fiction novel that I self-published as a teenager, and In the Company of Daisies is a small poetry collection.
I love writing for children, and Sunny Turner and Eye Spyclops have that in common.
In the Company of Daisies was collated and published while Eye Spyclops was being illustrated by the talented Lily Uivel, so both books really came to life in 2022. About time too after a 7 year hiatus from publishing while I navigated the world of medschool and junior doctoring.
What's special about writing for tamariki of this age?
Stories for children can be highly imaginative! Anything's possible, and the interplay between the words and illustrations is a huge part of the experience. I was lucky enough to read some terrific books as a child that encouraged my creative side. Engaging and encouraging any other young readers and storytellers would be the best outcome I could imagine.
What makes this story unique–and how did you come to add some of the special elements such as the eye spy challenge?
The world of Eye Spyclops is one where the everyday and the magical are brought together in light-hearted, surprising, and poignant ways. This wouldn't have been possible without the masterful way illustrator Lily Uivel added details and depth to the characters and their surroundings. It was so exciting to see Alfred come to life through Lily's eyes and meet him on the page for the first time!
The addition of the eye spy challenge was suggested by my wonderful publisher, Sophia at Mary Egan Publishing. I was so happy when it all came together as a way to make the book more interactive for early readers and pre-readers!
What message would you most like children to take from Eye Spyclops?
That it's okay to be different, and that everyone deserves to feel enough (fantastic, even) just the way they are.
What's next for you?
Good question! I have a few other drafts and a lot of ideas, and I'm not 100% sure which one I'll manage to finish next. I would definitely love to write another children's picture book one day!
Thanks for sharing my story!
Ngā mihi,
Libby
Eye Spyclops, written by Libby Whittaker, illustrated by Lily Uivel $20 RRP (Little Love)