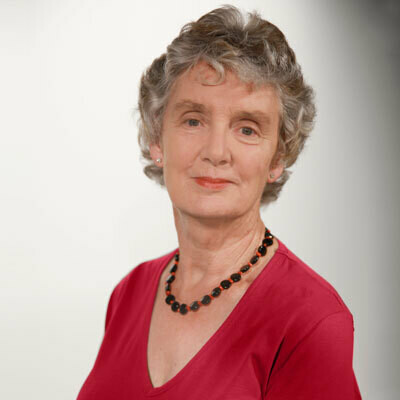 Writer's File
Lynley Dodd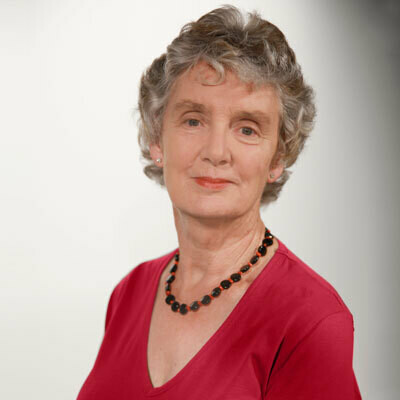 In brief
Lynley Dodd is an internationally celebrated writer for children. Her titles, including Hairy Maclary, are highly regarded and much loved by her readers locally and internationally. Her stories are known for their lively sound qualities, curious animal characters, and the memorable illustrations that accompany the text. Dodd has received numerous awards, both for her writing and illustration. In 2002 she was made a Distinguished Companion of the New Zealand Order of Merit for her services to children's literature.
FROM THE OXFORD COMPANION TO NEW ZEALAND LITERATURE
Dodd, Lynley (1941– ), is a children's writer known internationally as the creator of Hairy Maclary, canine rogue-hero. Born in Rotorua, educated at the Iwitahi School, Tauranga College, Elam School of Art (Dip FA) and Auckland Teachers' College, she taught art at Queen Margaret College.

She began her career in children's books in collaboration with Eve Sutton, for whom she illustrated My Cat Likes to Hide in Boxes (1973). Several delightful books with her own text and illustrations then appeared: The Nickle Nackle Tree (1976), Titimus Trim (1979), The Smallest Turtle (1982) and The Apple Tree (1983). She won the 1978 Choysa Bursary, and the 1981 New Zealand Book Award for her illustrations in Clarice England's Druscilla (1980).

Then, in 1983, came the first of the series of books that would bring Dodd renown: Hairy Maclary from Donaldson's Dairy. With their astute evocation of animal behaviour, energetic alliterative verse and lively, cohesively designed illustrations, Dodd's characters and their memorable attendant rhymes have become internationally known: Hairy Maclary, Bitzer Maloney all skinny and bony, Schnitzel von Krumm with a very low tum, Bottomley Potts covered in spots, Muffin McLay like a bundle of hay, Hercules Morse as big as a horse, and, every suburb's fiend, SCARFACE CLAW the toughest Tom in town ('EEEEEOWWWFFTZ!').

The sequels—Hairy Maclary's Bone (1984), Hairy Maclary Scattercat (1985), Hairy Maclary's Caterwaul Caper (1987), Hairy Maclary's Rumpus at the Vet (1989) and Hairy Maclary's Showbusiness (1991)—were all shortlisted for the Children's Picture Book of the Year Award, which Dodd won outright in 1984, 1986, 1988 and 1992.

Many other titles have also been shortlisted: Wake Up, Bear (1986), A Dragon in a Wagon (1988), Slinky Malinki (1990), Find Me a Tiger (1992), The Minister's Cat ABC (1992), Slinky Malinki Open the Door (1993), Schnitzel von Krumm's Basketwork (1994) and Sniff-Snuff-Snap! (1995), about a bossy warthog. Now living in Tauranga, Dodd holds a special place in children's literature for her vivid wit in both word and illustration. Hairy Maclary and Slinky Malinki have each featured in stage musical versions by Paul Jenden and Jan Bolton.

DH
ADDITIONAL INFORMATION
Lynley Dodd's illustrations in Drusillica by Clarice England won the 1981 New Zealand Book Award.

In 1999, she received the Margaret Mahy Award, and in 2002 she was made a Distinguished Companion of the New Zealand Order of Merit for her services to children's literature.

In 2000, Hairy Maclary and Zachary Quack won the Children's Choice Award at the New Zealand Post Book Awards for Children and Young Adults.

Scarface Claw was listed as a 2002 Storylines Notable Picture Book.

The Other Ark (Mallinson Rendel, 2004) is a humorous and original story for young children. Noah's ark is full and Sam Jam Balu has to help out with Ark No. 2. He knows what to do so why isnt everything going according to plan? All will be revealed in this fast-paced tale featuring a cast of curious characters, including elephant snails, pom-pom palavers and flying flapdoodles. The Other Ark won the Children's Choice Award at the 2005 New Zealand Post Book Awards for Children & Young Adults. It was a finalist in the picture book category at these awards, in addition to being listed as a 2005 Storylines Notable Picture Book.

Zachary Quack Minimonster (Mallinson Rendel, 2005) is a delightful picture book that will enchant children everywhere. That mischievous duckling, Zachary Quack, is back. He's looking for fun, but he gets more than he bargained for. The work was listed as a 2006 Storylines Notable Picture Book.

Lynley Dodd won the 2006 Gaelyn Gordon Award for a Much-loved Book for The Nickle Nackle Tree, the first book she both wrote and illustrated. The picture book was published in Britain in 1976 and has remained in print ever since. Another of her titles is Slinky Malinki's Christmas Cracker (Mallinson Rendel, 2006).

The Dudgeon is Coming (Mallinson Rendel) was released in 2008.

Hairy Maclary's Hat Tricks was listed as a 2008 Storylines Notable Picture Book.

Hairy Maclary, Shoo! (Mallinson Rendel, 2009) is a recent title in the Hairy Maclary series.
MEDIA LINKS AND CLIPS
Lynley Dodd on Mallinson Rendel Publishing site
Christchurch City Libraries - Interviews with New Zealand children's writers
Lynley Dodd answers frequently asked questions about her book Hairy Maclary