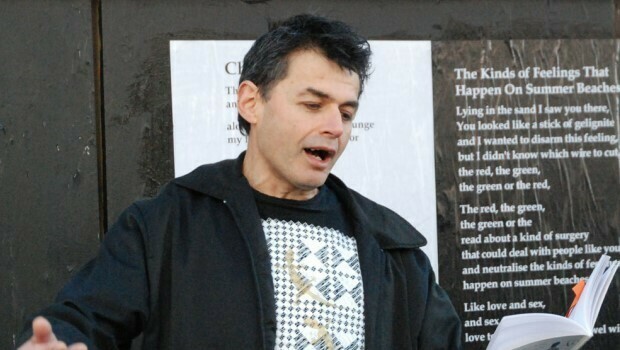 Writer's File
David Eggleton
Otago - Ōtākou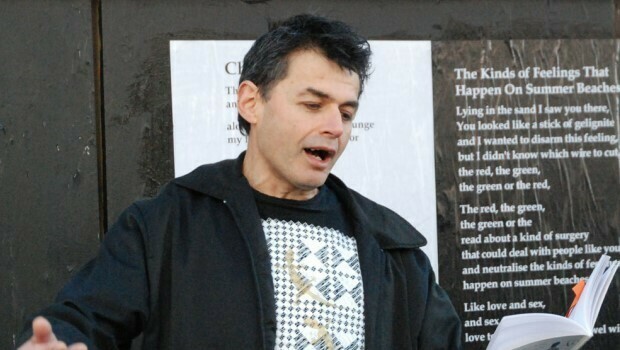 In brief
David Eggleton is a mesmeric performance poet and writer. Of Polynesian descent, he grew up between Fiji and New Zealand. Eggleton's many awards include PEN Best First Book of Poetry, the Robert Burns Fellowship and, uniquely among New Zealand poets, he was London Time Out's Street Entertainer of the Year in 1985. He has been five-times Book Reviewer of the Year in the Montana New Zealand Book Awards and has also produced several documentaries, CDs and short films. In 2019, he was appointed the New Zealand Poet Laureate. Eggleton is available to visit schools through the Writers in Schools programme.
FROM THE OXFORD COMPANION TO NEW ZEALAND LITERATURE
Eggleton, David (1952 -), came to prominence in the 1980s as a performance poet in New Zealand and overseas. While his mesmeric incantations and entranced eclecticism of language are certainly at their best in performance, and while his references often draw on the alternative cultures of his audiences, he has increasingly been recognised as a distinctive voice in the development of a localised New Zealand poetic language.

Ian Wedde, Elizabeth Caffin, Damien Wilkins and others have concurred in praising his energetic crossing of popular culture with the more formal, to produce what Wedde (in the Penguin Book of New Zealand Verse) called 'a confident if erratic blend of vernacular, lyric and high demotic'. Eggleton's skills and insights as one of the country's best literary reviewers also suggest that the sometimes frenetic fertility of his own verbal surfaces is, in fact, more knowingly directed than may appear. He works by accumulating allusion, demanding quick recognition of the resonance of the disparate phrases that flicker in the discontinuities familiar in music videos. By mixing local observation with the violent cacophonies of the modern, he can also bring newness to abiding images of New Zealand: 'Above, rare whales in the deep marine, brilliant silver curls of surf fold over / and pile into drifts of blubber weed bright as molten tungsten gone solar.'

Though often scoring points by mockery, especially at the expense of politicians, plutocrats and militarists, the poems celebrate their own energy as 'running commentaries' rather than pausing to condemn or propose change. 'The poet's mission is to hold the attention of the audience,' Eggleton has said. But as well as promoting poetry as popular entertainment, he has embodied the conflicts and combustions within a vibrant young culture. Part Polynesian, he was born in Auckland, grew up partly in Fiji and dropped out of high school to self-publish poetic broadsheets and begin his performance career. He is now based in Dunedin, reviewing widely. His published volumes are South Pacific Sunrise (1986), After Tokyo (short fiction, 1987), People of the Land (1988) and Empty Orchestra (1995).

He has been included in most anthologies since 1984, both mainstream and avant-garde collections like Michael Morrissey's The New Fiction (1984) and Murray Edmond and Mary Paul's The New Poets (1987). He has published three recordings and texts for collaborations with both modern dance and sculpture.

Awards include PEN Best First Book of Poetry 1987, Robert Burns Fellowship 1990, New Zealand Book Reviewer of the Year 1991 and, uniquely among New Zealand poets, the London Time Out's Street Entertainer of the Year (Poetry) 1985.
ADDITIONAL INFORMATION
EGGLETON, David is a six-time Montana New Zealand Reviewer of the Year, having been awarded the distinction in 1991, 1997, 2001, 2003, 2007 and 2009. He continues to be a regular contributor to a wide range of publications. He was also the 1990 Robert Burns Fellow at the University of Otago.

A 1996 video: For Art's Sake - Art and Politics- Performance Poet David Eggleton won first prize for TV Arts Documentary in the Qantas Media Awards 1997.

His recordings include the CDs: Baxter (2000), Seeing Voices (1999) Poetry Demon (1993) and Versifier (2001). He has co-edited two award-winning, poetry-based short digital films: Teleprompter (2001) and The Cloud Forest (2002).

Other projects include editing Here on Earth (1999), an anthology of New Zealand landscape writing accompanied by the photographs of Craig Potton; and participation in the Baxter performance project for the 2000 International Festival of the Arts. Here on Earth was a finalist in the illustrative arts category at the 2000 Montana New Zealand Book Awards.

His poetry collection Rhyming Planet (Steele Roberts) was published in 2001. Seasons: Four Essays on the New Zealand Year, with photographs by Craig Potton, was published in the same year.

Ready to Fly: The Story of New Zealand Rock Music (Craig Potton Publishing, 2003) was a finalist in the lifestyle and contemporary culture category at the 2004 Montana New Zealand Book Awards.

David Eggleton won a $35,000 Copyright Licensing Ltd (CLL) Writers Award in 2004.

Fast Talker (Auckland University Press, 2006), is a dynamic poetry collection covering a wide range of subjects. Into the Light: A History of New Zealand Photography was also published in 2006 by Craig Potton.

Towards Aotearoa: A Short History of Twentieth Century New Zealand Art was published in late 2007 by Reed.

David Eggleton became the editor of Landfall magazine in 2010. He was also appointed editor of Landfall Review Online.

His collection of poems, Time of the Icebergs, was published by Otago University Press in 2010.

Another collection of poems, The Conch Trumpet, was published by Otago University Press in 2015.

The Conch Trumpet won the Poetry Award at the 2016 Ockham New Zealand Book Awards.
In 2016, Eggleton was the recipient of the Prime Minister's Award for Literary Achievement in poetry.
In 2017 he received the Fulbright-Creative New Zealand Pacific Writers' Residency and in 2019, he was appointed the New Zealand Poet Laureate, a position he will hold until 2022.
Published by Otago University Press in 2021, The Wilder Years: Selected Poems is a hardback compendium of Eggleton's own selection from 35 years of published work, together with a handful of new poems.
MEDIA LINKS AND CLIPS