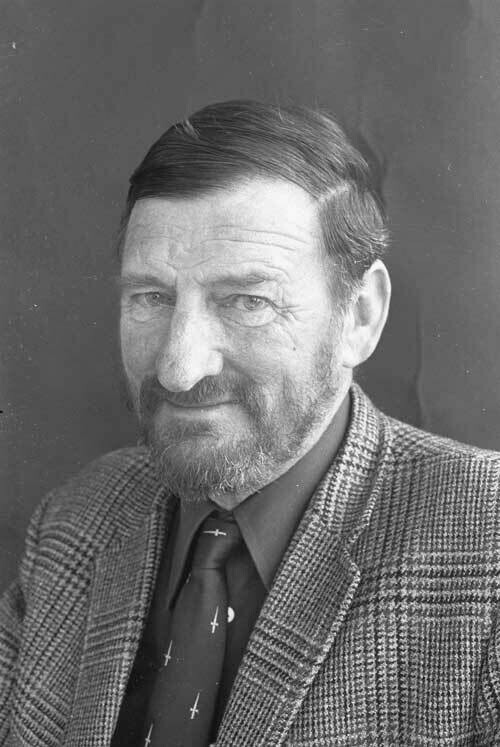 Writer's File
Denis Glover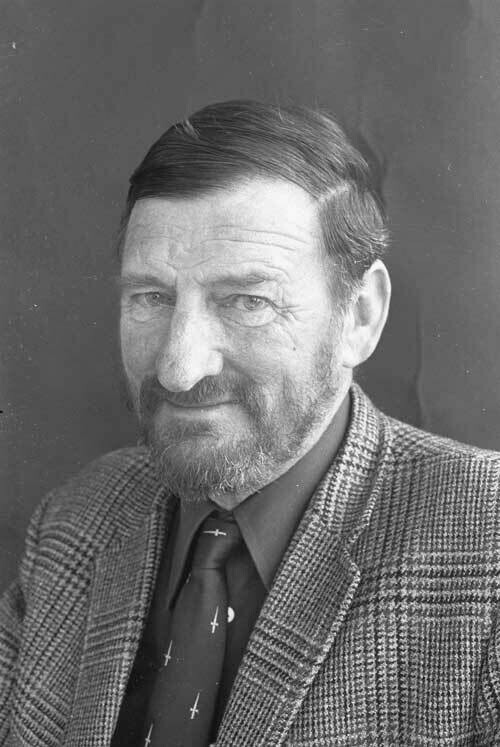 In brief
FROM THE OXFORD COMPANION TO NEW ZEALAND LITERATURE Glover, Denis (1912–80), poet, printer, publisher, satirist, sailor and boxer, was born in Dunedin. In the Dictionary of New Zealand Biography, Gordon Ogilvie writes that Denis Glover "had an Elizabethan breadth of talent and fullness of character" and was "probably New Zealand's most quotable poet. His best verse, evincing a timeless simplicity and directness, is built to last – even when Glover declares the opposite: 'Verses, verses, what are they? / The wind will blow them all away.'"
FROM THE OXFORD COMPANION TO NEW ZEALAND LITERATURE
Glover, Denis (1912–80), poet, printer, publisher, satirist, sailor and boxer, was born in Dunedin. Following his parents' divorce, he and his mother moved to New Plymouth where Glover spent the 'bow and arrow stage of existence'.

At New Plymouth BHS he encountered military-style discipline, as boy scout and school cadet. As a scout Glover made his first foray into publishing, when he wrote, illustrated and printed a magazine called Signal Fire, which he sold to troop members for one penny.

In New Plymouth too, he affirmed the love of mountain-climbing established in Otago, and first experienced boats, paddling unstable corrugated-iron canoes on Lake Pukekura. He moved to Auckland GS where he met Bob Lowry; together they produced an unofficial class journal. In 1929 Glover transferred to the sixth form at Christ's College, Christchurch, where he excelled academically and wrote what he later called 'a vast quantity of very bad verse' but won approval from his peers for his swimming, boxing and cross-country running.

In 1931 Glover enrolled at Canterbury University College, completing a BA in English and Greek in 1934. He won a New Zealand University Blue for boxing, and climbed with the Canterbury Mountaineering Club. Student expeditions in Arthur's Pass National Park provided raw material for some of Glover's finest work, including the 'Arawata Bill' sequence, and some of the 'Sings Harry' poems.

His love of writing led him towards journalism, editing the student magazine Canta (for which he interviewed Bernard Shaw), the annual university Review and the capping Revue, and serving as campus reporter on the Press. Printing, however, was the most significant activity. In 1932, at an Easter Sports Tournament in Auckland, he again met Lowry, who had set up a press for Auckland University College Students' Association: one of its achievements was Phoenix. Encouraged by Lowry's success Glover bought a hand-operated press and some type.

After a battle with conservative university authorities he was permitted to set up in a campus basement and established the Caxton Club to use and administer the press. Although the ostensible aim was the study of printing and typography, Glover later commented that 'any young man with the means of disseminating opinion would be unworthy of his salt if he didn't try to print something that would practically transform the world overnight' (Hot Water Sailor).

The result was Oriflamme and the furore over 'Sex and the Undergraduate'. The board of governors revoked the Caxton Club's right to use College premises, and Glover, though not editor of Oriflamme, lost his job at the Press; in 1935, two years later, his reputation as a fire-brand cost him his job on the Wellington Dominion. Undaunted, Glover continued to develop the Caxton Club (see Caxton Press).

He found a venue for his disputatious nature in the independent left-wing Tomorrow. Throughout its seven years of publication, 1934–40, Glover contributed notes, poems, short stories and satirical verses under a variety of pseudonyms—'Peter Kettle' was a favourite—as well as his own name. An assistant lectureship in English at Canterbury University College helped subsidise this largely unpaid involvement with Tomorrow and the Caxton Club.

Twice stymied at journalism, Glover turned his attention more fully to printing. In 1935 he and his partner John Drew bought a power-driven press, setting it up in a disused stable. The following year saw the first publications under the imprint of the Caxton Press, which aimed to publish whatever literature of merit they could afford, and devote to its production what typographic and technical skills they could command. At Caxton, Curnow wrote, Glover 'created a centre which, under his care, did more than any other to help good writing in New Zealand and to raise publishing and book production standards'.

At the time, the main venue for locally written poetry was the annual New Zealand Best Poems, edited by C.A. Marris. Glover passionately hated the pallid and sentimental verse Marris appeared to encourage, aiming instead at Caxton to promote socially responsible poetry. Heated mutual criticism culminated in Glover's 'The Arraignment of Paris' (1937), in which he lampooned what he saw as Marris's stranglehold on literary taste.

In retrospect, the satire also reveals a vein of sexism endemic in much writing of the time. Glover's work at Caxton was interrupted by war. One of his last typographical works before leaving on secondment to the Royal Navy was Recent Poems (1941), with poems by Curnow, Fairburn, Mason and Glover, 'The Magpies' making its first appearance. In London Glover met publisher John Lehmann and in Oxford John Johnson, Printer to the University. Johnson taught Glover 'more about printing than I had ever learned'. In London, Glover often stayed with Charles Brasch, discussing the possibility of establishing a literary magazine. Landfall appeared in March 1947, published by Caxton.

As a serviceman, Glover distinguished himself in the Arctic convoys, and later as a commander during the D-Day invasion. Promoted to the rank of lieutenant commander, his bravery earned him a DSC and a Soviet War Veteran's Medal. He returned to Christchurch late in 1944 and began an extensive programme of publishing. The Wind and the Sand: Poems 1934–44, his first volume of mature verse, appeared in 1945.

Although he was always emotionally guarded in his verse, perhaps suspicious that writing poetry was not a particularly manly occupation, the war poems in The Wind and the Sand contrast sharply with the nonchalant understatements of his autobiography Hot Water Sailor (1962), which chronicles his early life and war experiences. The Wind and the Sand also contains some early 'Sings Harry' poems. Published complete in 1951, the 'Sings Harry' sequence discovered a new tone of nostalgia and introspection, albeit mediated by a strongly masculine persona.

In 1936 Glover had married Mary Granville, and their only child was born in July 1945. After the marriage ended in 1950, he moved into a relationship with Khura Skelton, which lasted until her death in 1969.

In the early 1950s he worked with sailing companion Albion Wright at Wright's newly established Pegasus Press, and left Caxton in 1953. In 1954 he and Khura moved to Wellington where he worked for a while as an advertising copywriter. He worked for some time as production manager and typographer at the Wingfield Press and later tutored typography at the Technical Correspondence Institute. In the early 1960s Glover served as president of PEN and of the Friends of the Alexander Turnbull Library, which now holds his papers and manuscripts.

Throughout his life Glover was drawn to the sea. Navy service followed years of sailing with Albion Wright and the Banks Peninsula Cruising Club, and he spent several post-war years training volunteers for the Royal New Zealand Navy. All the major works reflect this love. Even 'mountain' poems such as 'Arawata Bill' and 'Sings Harry' conclude with images of the sea, which suggest the inevitability of change, and the spaces separating individuals.

The year 1948 saw a verse commentary for Cecil Holmes's documentary The Coaster, made for the National Film Unit, a collaboration influenced by John Grierson's work with W.H. Auden on the film Night Mail (1936). In 1955 'Towards Banks Peninsula—Mick Stimson' appeared in Landfall. Another 'Man Alone' figure, Stimpson (Glover later found this to be the correct spelling) deserted from Queen Victoria's navy and spent his last years quietly fishing and growing fruit at Port Levy near Lyttelton Harbour, where Glover came to know the old sailor.

In his long poem Glover put much of his characteristic reticence behind him and paid homage to the 'old wrinkled warrior' he perhaps regarded as a kindred spirit. Glover's last-published collection, Towards Banks Peninsula—a long-contemplated series of poems about a much-loved area—appeared in 1979. Short poems capturing the changing moods of Wellington Harbour were among the best work of his final years.

Despite his interest in 'men alone', Glover was not himself a loner. From one relationship after Khura's death came the love-lyrics To a Particular Woman (1970) and Diary to a Woman (1971). In 1971 Glover married Gladys Evelyn Cameron ('Lyn'). In 1975 they visited Russia at the invitation of the Soviet Writers' Union; the same year Victoria University of Wellington conferred an honorary DLitt. The old warrior never mellowed, however. His fearless opinions and rasping voice enlivened meetings of the Friends of the Turnbull and the New Zealand Poetry Society and his stage-whisper interjections were notorious, including a memorable comment on the modernised liturgy during the funeral of James K. Baxter.

A second volume of autobiography, Landlubber Ho! and a Selected Poems, introduced by Curnow, appeared in 1981. A further Selected Poems (1996) was compiled by Bill Manhire. Commentary includes J.E.P. Thomson's Denis Glover (1977) and Gordon Ogilvie's Introducing Denis Glover (1983). Three short films exist: 'The Magpies' (with interview with Glover, 1974), 'Mick Stimson' (a reading by Glover, 1974) and 'The Coaster' (with Glover's verse commentary, 'The Breeze', 1948). Roger Hall's play 'Mr Punch' (1989) deals with Glover's life. SS

Notes to the Companion Entry
Denis Glover left Caxton Press in 1951, not 1953 as the Oxford Companion suggests. Further to this, he left Pegasus Press in 1953.
MEDIA LINKS AND CLIPS