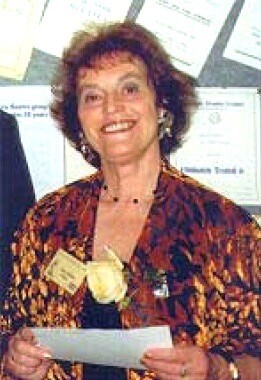 Writer's File
Rose Hudson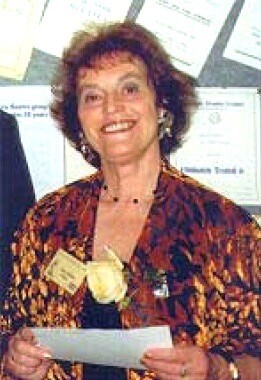 In brief
Rose Hudson is a writer, teacher, and performer. She has worked as a television actor, a radio commentator, and a broadcast scriptwriter. A long-time contributor to the New Zealand School Journal, Hudson has also written drama and poetry. Her writing is included in 30 New Zealand Stories for Children (2000) and she has won a number of awards, especially for stage and musical theatre. Hudson participates in the Writers in Schools programme.

ABOUT THE AUTHOR
Hudson
, Rose (1937- ) is a writer, teacher, and performer.
Rose Hudson was born in Timaru. She was educated in Napier before attending Wellington Teacher's College and Victoria University of Wellington. Hudson spent 10 years living in the United Kingdom before she settled in Wellington. In the 1980s she spent a year living and working in the Falkland Islands.
During a life-time spent as a teacher, Hudson has also worked as an actor on television in England and New Zealand, and as a radio commentator for the Armed Forces Radio in the Falkland Islands.
A long-time contributor to the
New Zealand School Journal
, Hudson has also written drama and poetry. She spent 11 years as a Radio New Zealand scriptwriter for the Correspondence School's daily broadcasts. Most recently her work has been anthologised in
30 New Zealand Stories for Children
(2000).
Hudson's many awards include Director of the Best Wellington Musical of the Year (1994), the New Zealand Theatre Federation Award for Stage Craft and Direction (1997-98), a Merit Award from the New Zealand Federation of Musical Theatre for Contribution to Musical Theatre in New Zealand (1999), and in 2001, a Queen's Service Medal for Community Service.
Packing Them In
(2004) is an illustrated peek behind the scenes of an amateur theatre group's progress through the second half of the twentieth century.
WRITERS IN SCHOOLS INFORMATION
Rose Hudson lives in Wellington and participates in the
Writers and Schools
programme.


KAPAI: Kids Authors' Pictures and Information
Where do you live?
I live in Wellington. We have a small cottage on the beach at Titahi Bay where we can swim, and watch seagulls. Sometimes we see penguins and dolphins.
What sorts of books do you like to read?
I always read the newspaper. My favourite books are about real people, they are biographies, history books and books about other countries.
Who is your favourite author?
My favourite authors are Emily, Charlotte and Anne Bronte. They lived in England about 160 years ago. When they were young they wrote stories in codes, and invented games and adventures.
How do you think up your ideas?
Sometimes I remember funny or exciting things I have done that might interest other people. Sometimes I have to write a special story or a play script at work and other times I just think hard.
What is the best thing about being an author?
The best part about being an author is that with your pen you can do anything you like, you can go anywhere in the world or the universe. You can go forward or backwards in time. You can invent new worlds with new languages and creatures; you can escape into your dreams.
Questions from Primary School students
What sort of pets do you have?
We have two cats, who think they are human beings and want to eat at the table and sleep with us.
What is your favourite colour?
Tomato red
What is your favourite food?
Italian food
What is your favourite movie?
Musicals mainly
What is your favourite game?
Scrabble
Where do you like to go for your holidays?
To the beach, and sometimes to England
What was the naughtiest thing you ever did at school?
I put a huge plastic imitation ink blot on the teacher's special book, so it looked like spilt ink. She was very cross until we all laughed, and then she laughed
too.
Questions from Secondary School students
How do start a piece of writing?
Usually I start by writing a long letter to a friend, to warm up my brain, then the ideas start coming.
Who inspired you when you were getting started?
I'm not sure, as I have always enjoyed writing and escaping into another life with my pen.
What advice would you give an aspiring young writer?
Write as much as possible – write letters, stories, poems and newspaper articles. The more you practise using words, the easier it gets.
Is it difficult to make a living as a writer in New Zealand?
For many people it is. A lot of very good writers start writing while working at other jobs.
What were you like as a teenager?
I enjoyed being in plays and musicals and going to parties and dances so I could 'rock and roll'. I spent a lot of time trying to sneak home late without being found out by my parents. We all had to work hard to get our school exams and in our spare time we had after school jobs.
Is there anything else you would like to tell us about your life?
I wanted to wear 'bought' clothes when I was young. My mother was very good at sewing and knitting and made all our clothes. She would not consider buying her children's clothes from a shop. I really envied my friends who wore fashionable dresses and coats, especially smart coats with belts and buckles. At last, when I was 15 my Mum bought me the coat of my dreams. I felt like a film star.
One day I was offered a ride home on the back of a friend's bike. We were not allowed to 'double' on friend's bikes as our parents thought it was too dangerous. All my friends were on their bikes and if I walked I would end up on my own and miss all the fun. I felt certain my parents would never find out if I got a 'double' with a friend. So I sat on the back of her bike and held on tight. We all set off and it was great hanging on to the back. Flying down the hill, shrieking and laughing and THEN the bike began to slow down and we had to stop. When I tried to climb off I couldn't move. I was stuck to the bike chain and my beautiful new coat had become entwined in the chain. It was covered in sticky black grease.
My friends had a good idea. Someone knew how to remove grease, so we went to her house to start work on my coat. My parents would never know about the 'doubling', they would never know about the black grease on the expensive new 'bought' coat.
We poured eucalyptus oil on to the stains; we then put a piece of brown paper on top of the oil to draw out the grease. The iron was heated and pressed onto the greasy mess. We all pressed and held the iron down. The longer we pressed the better, only then would the grease disappear. It did, but so did the bottom of my coat. It burst into flames and was never the same again.