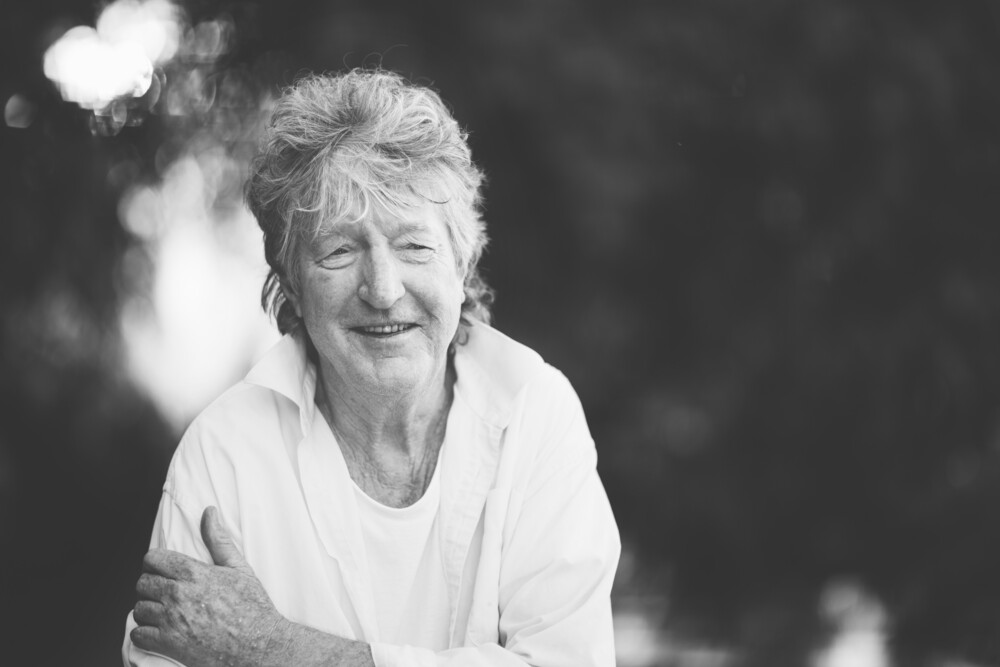 Writer's File
Sam Hunt
Auckland - Tāmaki Makaurau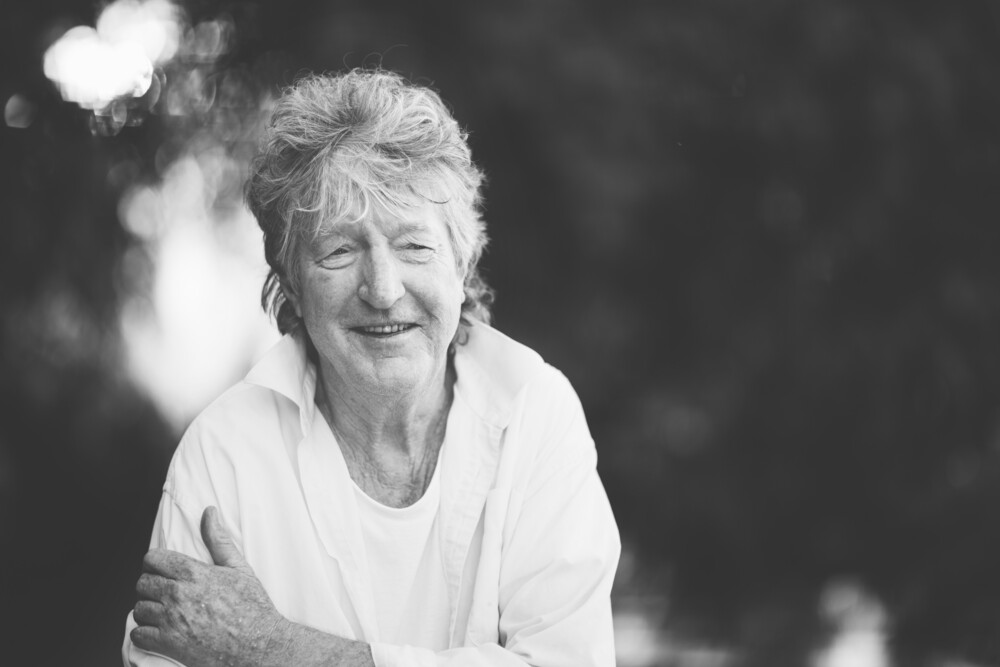 In brief
Sam Hunt is a well-known poet and performer. The extensive number of his publications and his memorable performances contribute to his popularity and wide readership. He has read his work in Australia, New York and Washington DC, and is well known for his performances in numerous pubs, bars, community halls, cafes, and in concert venues. His contributions to New Zealand literature have been recognised with numerous accolades, including a QSM in 1986 for his contribution to New Zealand poetry, and a 2012 Prime Minister's Award for Literary Achievement. Hunt was honoured as a Companion of the NZ Order of Merit in 2010.
FROM THE OXFORD COMPANION TO NEW ZEALAND LITERATURE
Hunt, Sam (1946– ), poet and performer, was born at Castor Bay in Auckland.

His distinctive appearance —tall and rangy, usually wearing drainpipe trousers ('Foxton Straights' he calls them) and open-chested shirts, with long hair curling wildly above a weathered face—is complemented by the familiar gravelly drawl that has made him one of New Zealand's most recognisable figures. Virtually single-handedly, Hunt has created a broad general audience for poetry; and if it was up to the crowds who flock to hear him on stage and the school pupils he has galvanised into enjoying verse, he would be the country's poet laureate. The value of Hunt's approach, suggests Alan Riach, is that 'If poetry is performance then it's also education. If you're reaching people who have never been touched like that before, you're in the business of teaching.'

Part of Hunt's appeal is also his unabashed romanticism: 'Romantics, so they say, / don't ever die!' (Second 'Song'). He is, to quote one reviewer, a 'freewheeling ordinary bloke, a kind of Kiwi Jack Kerouac, laconic— somewhat gauche—whose poems or "roadsongs" are direct and simple, surprised by their own powerful emotion.'

Hunt's commitment to writing poetry probably came from his mother. His father, a barrister, was 'sixty when I was born, / twice my mother's age when I wanted him most He was somewhere else' ('My Father Scything'). Yet Hunt also reveals a love for this unconventional parent, and early poems featuring his father remain among his best. He attended St Peter's College, Auckland, from 1958 to 1963; a period during which his individualism came into conflict with the Christian Brothers' authoritarianism. (He has said that he was strapped at the age of 14 for reciting a poem by James K. Baxter, which had sexual imagery, in the classroom.) Life was not made easier by a bad stutter, and poems working through the tensions and fantasies of adolescence became a form of release. Despite school's problems, Hunt, who was a good sprinter and diver, did not leave until asked to. He benefited, in his final year, from having poet Ken Arvidson as his English master, and he obtained University Entrance.

Leaving school and home coincided. After the briefest stop at the grave of his mentor A.R.D. Fairburn, Hunt hitch-hiked 400 miles south, appearing uninvited at the home of another poet he greatly admired, Alistair Campbell, whose family took him under their wing. The years 1964–67 were a period of oscillation between Wellington and Auckland: Hunt attended university in both cities; was taught by Kendrick Smithyman; got to know Denis Glover; and became lifelong friends with his fellow exuberant, Gary McCormick.

Along with brief periods truck-driving and panel-beating, Hunt graduated from teachers' college and taught briefly before deciding, in the late 1960s, that poetry was his vocation. At about the same time another friend and mentor, James K. Baxter (whose 'Letter to Sam Hunt' exhorted him to retain his individuality) was deciding that poverty was his vocation.

From then until 1997 Hunt lived in a number of creatively named homes around the Pauatahanui estuary, north of Wellington. The events each dwelling represents, are inscribed in his verse. For example, it was at his Bottle Creek boatshed that he was joined by renowned black and white sheepdog Minstrel (survivor of a fall from the back of a truck and dedicatee of his own series of 'Bow-Wow' poems); while at Battle Hill Hunt's son was born. From there Hunt moved to Death's Corner (formerly the farmhouse of a Mr Death), then back to a boatshed in Paremata, before heading, in 1997, for Auckland's Waiheke Island.

Through the seventies and eighties, Hunt's increasing popularity was not enough to offset serious problems caused by alcohol. However, from a low point in 1983 when he tried to take his own life, he turned things around, although it took Minstrel's death (see 'Minstrel Makes Trip Alone', Dominion, 21 Dec. 1988) to make him stop drinking. These days there is about him less of the 'solitary, doomed, restless, ever-on-the-move figure' that Campbell once identified as part of Hunt's personal myth-making.

Hunt's book sales far exceed most New Zealand poets. He has published From Bottle Creek: Selected Poems 1967–69 (1969), Bracken Country (1971), From Bottle Creek (1972), South Into Winter: Poems and Roadsongs (1973), Time To Ride (1975), Drunkard's Garden (1977), Collected Poems 1963–1980 (1980), Running Scared (1982), Approaches To Paremata (1985), Selected Poems (1987), Making Tracks (1991), Naming the Gods (1992), Down the Backbone (1995), and, with Gary McCormick, Roaring Forties (1997). Reviewers have discovered the need to be sure of their ground before taking a critical knife to these collections. Patrick Evans, for example, earned for his negative review of Collected Poems—in which he called Hunt the 'Pam Ayres of New Zealand poetry'—a considerable correspondence from Hunt's many admirers.

It is a fact that Hunt's strongly autobiographical verse sometimes seems heavy and lifeless, excessively sentimental (or even banal) on the page. But as McCormick argues, the 'literary critic cannot hope to understand a Sam Hunt by merely studying his work and ignoring the man'. Everything Hunt writes is geared for personal performance: his lyrics are deliberately uncomplicated and colloquial; their traditional forms and regular rhythms allow 'the stories and myths [to be] fleshed out and invested with energy and power'. Yet Hunt is also widely read and, as Anne French notes, such New Zealand literary influences as Baxter, Fleur Adcock (in 'Ice on the Jetty') and even Katherine Mansfield (in 'Just Like That') are discernible.

In 1975 Hunt was Burns Fellow at the University of Otago. But his popularity has brought greater rewards than academic fellowships can provide. Once describing himself as the 'megabuck bard', Hunt has (among his many engagements) read in the New Zealand legislative chamber; performed in Australia, New York and Washington DC; fronted an America's Cup yachting promotion; featured with the New Zealand Symphony Orchestra and members of the group Split Enz; and made regular television appearances. He was awarded a QSM in 1986 for his contribution to New Zealand poetry.

Angel Gear: On the Road with Sam Hunt (1989), with Colin Hogg, is biographical; as is Peter Smart's Introducing Sam Hunt (1981), which also includes a certain amount of critical material aimed at students. Hunt has been interviewed in Landfall 107 (1973) and JAAM 5 (1996/97).

PM
ADDITIONAL INFORMATION
Sam Hunt moved to the Arapaoa River of the Kaipara Harbour in 2002 – "five / gunshots from humanity" – where he lives with his son. He has continued to produce music and poetry alongside his touring - collaborations with David Kilgour led to the albums Falling Debris: David Kilgour & Sam Hunt (Arch Hill Recordings, 2009) and The 9th: Sam Hunt with David Kilgour & The Heavy 8's (Bandit King Records, 2015).

As well as his solo shows, Hunt has worked with various musicians, including The Warratahs, Split Enz, Gareth Farr, Leonard Cohen and the NZSO.

Hunt has published various poetry volumes of both his own and selected poets' works, including Doubtless: New & Selected Poems (Craig Potton, 2008); James K Baxter: Poems – Selected and Introduced by Sam Hunt (Auckland University Press, 2009); Chords & Other Poems (Potton & Burton, 2011); and Knucklebones: Poems 1962-2012 (Potton & Burton, 2012).

The autobiography Backroads: Charting a Poet's Life (Craig Potton, 2009) presents an insight into Hunt's history, inspirations and life. Of the autobiography, Graeme Beattie for Beattie's Book Blogwrote, 'in this beautifully produced volume, Sam writes of his inspiration, performing, touring, the creative process, drying up, publishing, small towns, Minstrel his beloved dog, and his poetic influences. Apart from the likes of W.B. Yeats, Pablo Neruda and Bob Dylan, Sam sings the praises and devotes space to the poetry of many of New Zealand's finest poets.'

Sam Hunt was honoured as a Companion of the NZ Order of Merit in 2010.

Sam Hunt: Purple Balloon and Other Stories (2011) is a documentary that traces Hunt's past and present, including interviews with his family, leading New Zealand artists, critics and poets. Peter Calder for NZ Heraldwrote, 'the film is rich in nostalgic touches - terrific performance footage in venues as diverse as the Gluepot and the Waimate Hotel - some fine poems delivered straight to camera.'

Sam Hunt was awarded the 2012 Prime Minister's Award for Literary Achievement.
Sam Hunt judged the 2014 Sarah Broom Poetry Prize. His 2016 collection Salt River Songs (Potton & Burton) was published on Hunt's 70th birthday and went straight to the number one position on Nielsen's Best Seller book list.
In Coming to it (Potton & Burton, 2018), a broad selection of Hunt's older poems sit ahead of his more recent work from Chords (2011), Salt River Songs (2016) as well as 19 brand new, previously unpublished poems written in 2018.
MEDIA LINKS AND CLIPS