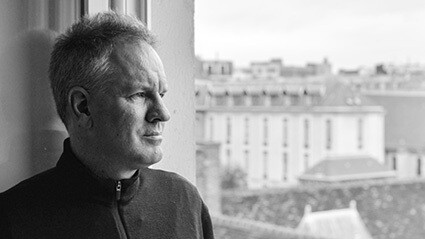 Writer's File
Andrew Johnston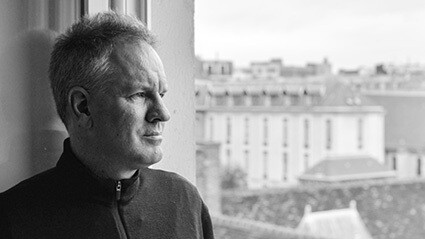 In brief
Andrew Johnston's writing has been published in a variety of journals, magazines, newspapers and anthologies in New Zealand and overseas. He has published several collections of poetry and has received a number of awards, fellowships and grants for his writing. He has also worked as an editor and journalist. Johnston was the 2007 J.D. Stout Fellow at Victoria University, where he worked on a book about contemporary New Zealand poetry. In 2017, Johnston was the winner of the Ockham New Zealand Book Awards Poetry Award for his collection, Fits & Starts.
FROM THE OXFORD COMPANION TO NEW ZEALAND LITERATURE
Johnston, Andrew (1963– ), poet and editor, won the New Zealand Book Award for Poetry with his first volume, How to Talk (1993). Born in Upper Hutt, he was editor of the books page of the Evening Post 1991–96. His poems have been published in Meanjin and Scripsi in Australia, London Magazine and Verse in UK and Sport and elsewhere in New Zealand. He received the Louis Johnson New Writers Bursary in 1991. Associated with the Wellington school of Manhire and Bornholdt, Johnston writes with a finely judged sense of poetic presence and occasion, and in the first volume projects the image of the wryly detached conversationalist for whom poetry is essentially an art of communication. Emotion is manoeuvred into formal strategies designed for the poet–reader encounter: engaging, sustaining, then signing off, often with a punning touch—'when I leave /I leave a lot to be desired'. Titles like 'Haiku Beach' and 'The Poetry Inspector' suggest the formal qualities of Johnston's aesthetic: a willingness to let grammar provide guiding constraints; a fascination with the sound of the lyrical voice, a recognition of the artefact's capacity to manipulate reality.

His second volume, The Sounds (1996), demonstrates the familiar linguistic poise, but is further distinguished by mastery of the elaborate sestina form, with its repeated line-endings and formally varied order. Johnston establishes a thematic dialogue with How to Talk, reviving his fascination with grammatical concepts in 'Syntax', playfully alluding to language's apparent conquest of distance in 'How to Walk', 'Wire', and ringing the changes on seasons, spaces and communicative modes in several travel poems. Throughout, he speculates on the ambiguous nature of silence and sound: 'What does sunlight sound like? / A white flower in darkness knows.' Johnston received a Writers Bursary in 1994, and attended the International Writing Program at the University of Iowa as a New Zealand representative in 1995. He is living as a journalist in London.
ADDITIONAL INFORMATION
Andrew Johnston released his collection of poetry The Open Window (Arc Publications) in 1999. The poem 'The Singer' earned him a prize in the Daily Telegraph/Arvon International Poetry Competition in 1998. The collection was his first to be published in the UK.

Andrew Johnston's collection of poetry, Birds of Europe (VUP), was published in 2000.

In 2004 he founded The Page, a directory of the web's best writing. He edited the site until October 2009.

In 2007, his fifth collection of poetry, Sol, was published (Victoria University Press). It illuminates with humour and curiosity, the ways we link language, loss, history and memory. At the heart of Sol are two major poems. 'Les Baillessats' is a relaxed, sun-filled poem to his newborn son. 'The Sunflower', an elegy for his father, is a technically dazzling double sestina, and a grave extended meditation on death, family and religious faith.

He was the 2007 J.D. Stout Fellow at Victoria University, where he was writing a book about contemporary New Zealand poetry.

Together with Robyn Marsack he co-edited Twenty Contemporary New Zealand Poets (VUP and Carcanet , 2009), an anthology that 'showcases the freshness and vitality of current New Zealand poetry'. Of the anthology, Lisa Samuels of Metro has said, 'All in all, the anthology revels in a generous quantity of sparkling slip-skilled, tongue-in-serious-cultural-cheek poetry.'

Johnston has resided in France for a number of years. There he worked as an editor for the International Herald Tribune for 11 years, six of which he was the deputy editor of the opinion pages.

In 2010 Johnston began editing the annual Education for All Global Monitoring Report, published by UNESCO. He also edited the World Education Blog. He edits the annual Africa Progress Report for the advocacy group Africa Progress Panel.

In 2013 Johnston paired with Sarah Maxey to release Do You Read Me? The book contains 26 poems by Johnston accompanied by colour illustrations by Maxey. The book is hand-stitched and the first edition of 50 copies was published to mark Johnston's 50th birthday.

In 2016 Johnston released his book Fits & Starts (VUP). In her review for Takahē magazine Janet Newman said 'The combination of linguistic playfulness and a heartfelt questioning of how the world is, encapsulated within a concise, structured form, make these intriguing poems a pleasure to read. They are aurally pleasing even when the meaning is elusive, and this equivocality makes them mysterious and attractive.' Fits & Starts was the winner of the 2017 Ockham New Zealand Book Awards for Poetry. The judges commented on how their "admiration for Andrew Johnston's remarkable collection grew with each rereading, as its rich intellectual and emotional layers continued to reveal themselves. Fits & Starts is a slow-burning tour de force, each image, metaphor, theme deeply, fully imagined."
MEDIA LINKS AND CLIPS