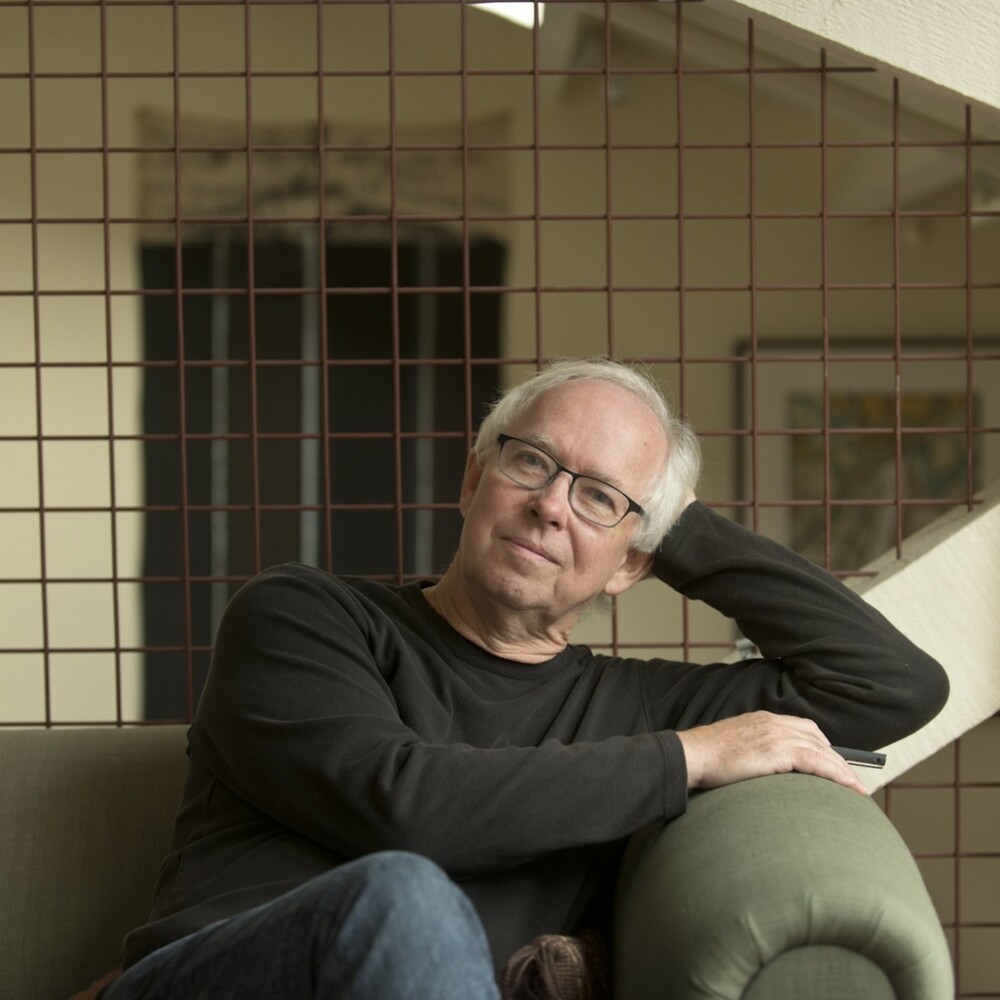 Writer's File
Bill Manhire
Wellington - Te Whanganui-a-Tara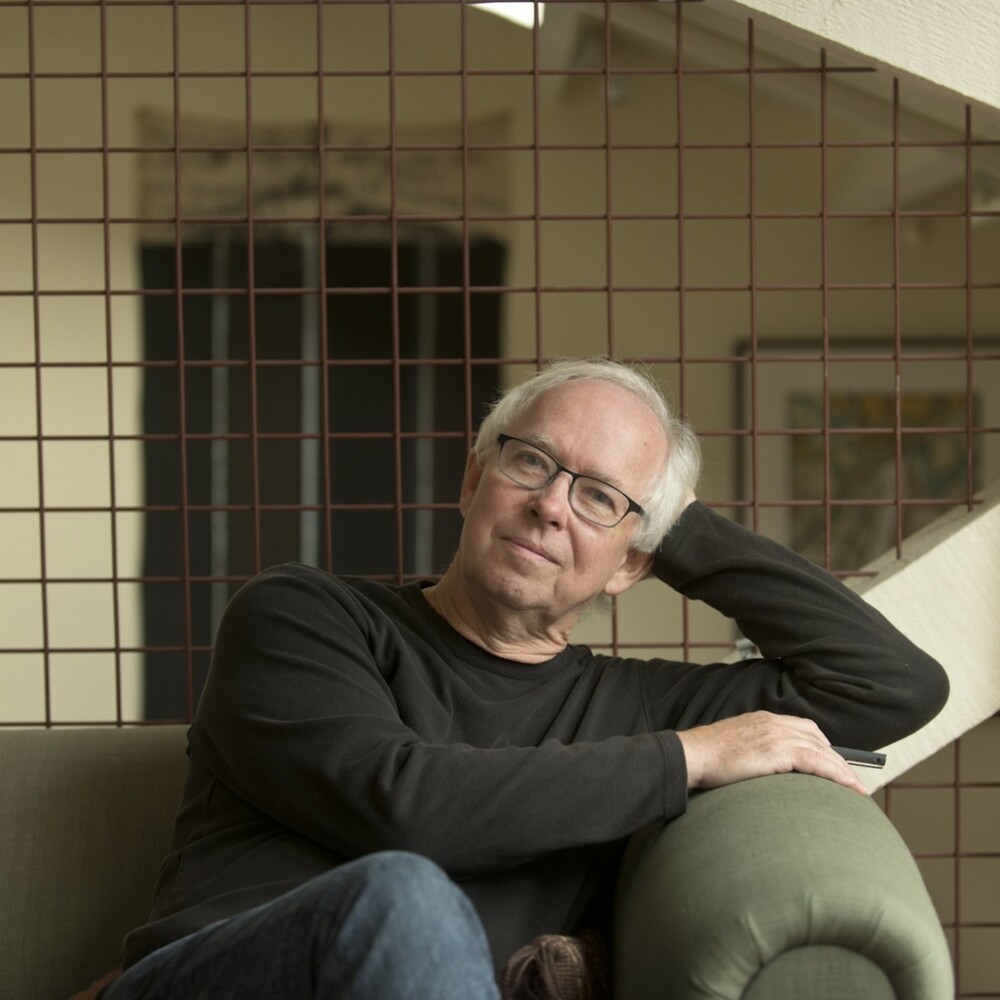 In brief
Bill Manhire is a prize-winning poet and fiction writer. Manhire has won several New Zealand Book Awards, a number of significant fellowships, and he was the 1997/1998 New Zealand Te Mata Estate Poet Laureate. Manhire was also honoured with the 2007 Prime Minister's Award for Literary Achievement. Manhire is the director of the International Institute of Modern Letters, centre for Creative Writing at Victoria University of Wellington. He has coordinated several bestselling anthologies, and his poetry and fiction is published in New Zealand, the UK, and the USA.
FROM THE OXFORD COMPANION TO NEW ZEALAND LITERATURE
Manhire, Bill (1946 – ), was born in Invercargill.

He graduated from the universities of Otago and London, and has since 1973 lectured in the English department of Victoria University of Wellington, where he is now a professor.

The winner of many literary prizes, including New Zealand Book Awards in 1977, 1984, 1992 and 1996, he is recognised as among the two or three finest New Zealand poets of his generation.

Published in many international, as well as local, journals, his verse has been collected in the following volumes: Malady (1970), The Elaboration (1972), Song Cycle (1975), How to Take Off Your Clothes at the Picnic (1977), Dawn/Water (1979), Good Looks (1982), Locating the Beloved and Other Stories (1983), Zoetropes: Poems 1972–82 (1984), The Old Man's Example (1990), Milky Way Bar (1991), Sheet Music: Poems 1967–1982 (1996) and My Sunshine (1996). There is considerable overlap between books, Sheet Music incorporating five earlier ones, with My Sunshine offering new work.

Manhire was represented in the important anthology, The Young New Zealand Poets (1973), where he explained: 'The chief joy of the shorter lyric I take to be its ability to carry the reader out of the sequential, linear world into its own moment: as it were, Snap.'

His poems refuse to tread a straight path, but get from starting to finishing point with the aid of gracefully executed sidesteps of register, image or narrative. They depend on a kind of wit, linguistic playfulness, quirks of fancy, mild shocks of surprise, readjustments of focus, a touch of whimsy. For the reader, crossing a line-break can be an adventure.

The poems are elliptical, and often enigmatic. Among Manhire's earliest pieces were adaptations of Anglo-Saxon riddles and spells and the cryptic 'Wulf and Eadwacer', and his later style retains something of that fragmentary dramatic lament's elusiveness, allusiveness and ability to stir the imagination.

Manhire has a postmodern, or perhaps simply an alert poet's, consciousness of the strangeness of language, the apparent arbitrariness with which meanings accrue to signs. In 'Jalopy: The End of Love', for instance, the word 'jalopy' conjures up not only a special kind of 'old car' but bygone youthful days: Manhire contrives a delicate mix of nostalgia, ruefulness, amusement and acceptance. In savouring the disused term, he savours much more, and 'Whatever it is, it's finished'. 'Magasin' dramatises the poet's early fascination with his medium. As a high-school boy he brings his hospitalised father magazines to read, and remarks on the similarity of 'the word for shop / in French', because 'I am learning a language'. But he is also sharpening the poet's eye for resemblances, as the shape of his father's liver traced on his skin 'for the third-year students' reminds the son of 'the map of Africa'. And English has its own oddities: the one-legged man in the next bed comments, as everyone in the ward listens to the races, on 'the second leg at Trentham'! In 'Out West' the cowboy world of a youth's imagination is as much a linguistic as a cinematic construct—of 'varmints' who say 'doggone' and 'ornery critters' who 'mosey along'.

Manhire's manipulation of the clichés of popular culture allows him to move in and out of the fictional and real worlds, blurring the boundaries between life and art, as in 'Princess: The Treatment'. Idiom creates a whole order of experience: 'Wh-wh-what'll we do if we're captured?' Even a poem more securely grounded in location, such as 'Wellington', is almost a collage of those banalities from the media and suburban chit-chat that mediate our perception of reality: Manhire uses them knowingly, as though they were within speech marks.

He is often at least half way towards parody, pastiche or burlesque. His methods may also collapse distinctions between the literal and the figurative. A reader encountering the opening couplet of the fine 'A Death in the Family', for example —'His face is gone golden with the dusk / You would think he burned, he burned'—with which the poem also ends, is uncertain about the status of the 'he', so that sunset and a man's death become inextricably linked, while the lyrical 'golden' and the ardent 'burned' romanticise and mythologise the subject.

In 'Wingatui' (a South Island racecourse), the reader as disappointed punter, contemplating what 'might have been', is invited to 'Sit in the car with the headlights off' (like so many movie heroes who have, in one way or another, 'blown it'), and 'Look out there now / where the yellow moon floats silks across the birdcage'. The 'birdcage' is the enclosure where horses are paraded and saddled up, and the jockey's 'silks' are his cap and blouse, and the line evokes movements of light and shadow, as if they were the phantoms of the mounted jockeys in their colours; 'silks' is used figuratively, but 'birdcage' might be taken either as the actual racetrack birdcage or as the paddock of the sky, which in the poem's last line becomes an 'azure violin'. In 'The Swallow' John Keats is not counting 'on his fingers', but 'on the morning', but the fingers soon reappear. By taking the idea of 'following' other poets literally, 'On Originality' creates scenes from a spy drama.

Manhire's manner is tentative. He mistrusts the words he relishes, hedges with 'almost', 'I suppose', 'sometimes', 'apparently', 'perhaps', 'as it happens', and the like. Yet these hesitancies are subsumed within an elegant music, marked by artfully sliding cadences. Traditional romantic images—moon, water, snow, clouds, stones, wind, birds, trees—are worked into his own idiosyncratic, thoroughly modern utterance. Many poems handle standard poetic themes, glancing obliquely at their predecessors.

Manhire has the lyricist's sense of our subjection to Time, the transience of joy, the fragility of love. He writes about domestic events, personal relationships, families. He is a master of tender, close-up observation, as in his well-known reference (in 'Song') to 'watching the small explosions / under your wrists'. He ranges through a semi-fabulous Brazil, Japan, Europe, Antarctica. Abroad or (in 'Breakfast') flying home, he is consciously a New Zealander. Not only do such pieces as 'Poem for Vanessa', 'Zoetropes' and 'Milky Way Bar' speak to our condition, but through using snippets of the vernacular Manhire weaves his nationality into the fabric of his verse. His styles are various, encompassing incantation both magical ('A Song About the Moon') and jocular ('Declining the Naked Horse'). Over the last decade or so, especially, he has attempted longer poems. Several are built up of fragments that echo one another and are joined by a thin narrative thread. 'An Amazing Week in New Zealand', the penultimate poem in My Sunshine, is the most complex and impressive of these. Memories of the Billy Graham crusade in 1959 raise questions of 'faith': Manhire, opting for 'small signs' in a physical 'world of loss', ends with the sceptic's 'Lord, I am / not going forward', which is not without its ambiguities.

Manhire's more expansive recent poems may have been influenced by his turning to short fiction in the late 1980s. In his prose, as in his verse, he is apt to move forward by making 'a jinking little run' ('Ventriloquial'). The Brain of Katherine Mansfield (1988) and the stories in The New Land: A Picture Book (1990) are reprinted, with additions, in South Pacific (1994) and Songs of My Life (1996)—the same collection under different titles. The 'Katherine Mansfield' booklet is an open-ended choose-your-own adventure story: the reader picks his or her way through up to fifty chunks of narrative that, while packed with the local and the special, burlesque several literary and sub-literary genres. 'Cannibals' is propelled by the conventions and phraseology of South Seas exploration novels and Boy's Own tales of derring-do, zestfully mocked. 'Some Questions I am Frequently Asked' is a spoof interview. 'Wings of Gold: A Week Among Poets' reports drily on the World Poetry Reading in Kuala Lumpur in 1990. Manhire himself has spoken of 'the sort of disenchanted-cum-whimsical-cum- satirical tone' of these stories, which 'try to come at New Zealand in a variety of ways', from the surreal to reportage. But ingenious, self-referential and subversive game-playing prevails.

Manhire is author of the critical study, Maurice Gee (1986), and editor of two volumes of NZ Listener Short Stories (1977–78), Some Other Country: New Zealand's Best Short Stories (with Marion McLeod, 1984, revised 1992 and 1994), Six by Six: Short Stories by New Zealand's Best Writers (1989), 100 New Zealand Poems (1993), and Denis Glover: Selected Poems (1995). His creative writing course at Victoria, which he began teaching in 1975, has had a major influence on New Zealand literature. Mutes & Earthquakes (1997), an anthology of work by former class-members, many now very well known, serves as a showcase. Manhire's introduction begins with two pieces of advice: '1. Write what you know, and / 2. Write what you don't know'. His own verse and prose, where the words are 'instruments of exploration' in a 'process of discovery', achieve this difficult balancing act.

MPJ
ADDITIONAL INFORMATION
Creative Writing at Victoria University is now taught under the auspices of the International Institute of Modern Letters, of which Bill Manhire is director. Made possible by the financial support of American philanthropist Glenn Schaeffer, the Institute offers a range of creative writing courses, publishes the online literary journal Turbine, and is home to the Victoria University Writing Fellow.

Manhire has received two New Zealand Book Awards for Poetry: for Zoetropes (1985) and Milky Way Bar (1992). He has also twice received the Lilian Ida Smith Award for poetry, in 1987 and 1989.

My Sunshine received Book of the Year for Poetry at the 1996 Montana New Zealand Book Awards. In 1997, he was awarded the Antarctica New Zealand Arts Fellowship . The programme seeks to increase understanding of Antarctica and its international importance through the work of New Zealand's top artists.

Doubtful Sounds, published in 1999, is a collection of Manhire's nonfiction articles, essays and interviews.

In 1997, Manhire was named the Te Mata Estate New Zealand Poet Laureate. Administered by the National Library of New Zealand and funded by the New Zealand Government, the Poet Laureate is selected biennially and receives an award of $50,000 per year. What to Call Your Child (1999) contains poems written during Manhire's term as Poet Laureate, and was a finalist at the 2000 Montana New Zealand Book Awards.

Spectacular Babies (2000), edited by Karen Anderson and Bill Manhire, is an anthology of work by members of the 2000 Master of Arts in Creative Writing course, convened by Bill Manhire at the International Institute of Modern Letters.

Manhire's Collected Poems (2001) is published by Victoria University Press in New Zealand and Carcanet in the UK.

Under the Influence (2003) is one of twelve titles in the Montana Estates essay series published by Four Winds Press. The press was established by Lloyd Jones to encourage and develop the essay genre in New Zealand. In his essay, Manhire writes about growing up in pubs in the South Island.

Distinguished poets Billy Collins (U.S. Poet Laureate 2001-2003), Bill Manhire (New Zealands inaugural poet laureate) and Governor General award-winner Phyllis Webb (Canada) judged entries submitted by publishers around the world for the 2004 Griffin Poetry Prize. The C$80,000 Prize is divided between International and Canadian winners.

Bill Manhire is the recipient of the 2004 Meridian Energy Katherine Mansfield Memorial Fellowship. One of New Zealand's most long-standing and prestigious literary awards, the fellowship is offered annually to enable a New Zealand writer to work in Menton, France.

The Wide White Page: Writers Imagine Antarctica (Victoria University Press, 2004), edited by Bill Manhire, is an Antarctic anthology unlike any other. Rather than the familiar accounts of heroic explorers, scientists and travel writers, this book is about the ways in which writers around the world have imaginatively explored - and sometimes invented - the Earth's most remote and mysterious continent. The Wide White Page: Writers Imagine Antarctica was a finalist in the reference and anthology category of the 2005 Montana New Zealand Book Awards.

Manhire was made a Companion of the New Zealand Order of Merit for services to literature at the 2005 Queen's Birthday Honours. Later that year, he was also honoured as an Arts Foundation of New Zealand Laureate, a career award which aims to ensure recipients' talents are celebrated both nationally and internationally.

121 New Zealand Poems (Godwit, 2005) is an expanded edition of 100 New Zealand Poems. The first edition was published in 1993, reprinted twice in 1994 and again later in the decade. New poets appearing in this edition include Glenn Colquhoun, Kate Camp, Anna Jackson, Anne Kennedy, Emma Neale, James Brown, Chris Price, Kapka Kassabova and Sonja Yelich.

Manhire's poetry collection Lifted (Victoria University Press, 2005) received the Montana Award for Poetry at the 2006 Montana New Zealand Book Awards.

A sample from Lifted reads:

'There are mothers and fathers, Kevin, whom we barely know.
They lift us. Eventually we all shall go
into the dark furniture of the radio.'

The last lines of Bill Manhire's astonishing poem 'Kevin' lie at the heart of Lifted. These poems want urgently to know how the secular spirit can lift itself in the face of morality and human violence. They are full of richness and courage and surprise, turning from grief to curiosity; then to beauty, humour, anger, gratitude, acceptance - and once again to curiosity.

'Turning the pages of Lifted, no reader can fail to be surprised and delighted by the variety of voices and tones. Some poems are humorous ('The Confident Troubador'), others are melancholy, quizzical, confessional and satiric... Manhire shows not only his mature formal skills but his ability to look unflinchingly into the heart of things. He is a poet in which a sly sense of humour is coupled with a respect for whatever truths a poem can wring out of experience... Manhire's poems make us feel as if we are really there.' Billy Collins, Dominion Post

Manhire had a poem included in Shards of Silver (Steele Roberts, 2006), a book investigating the interplay between photography and poetry.

Manhire at 60: A Book for Bill, published in 2007 by Victoria University Press, was edited by Fergus Barrowman and Damien Wilkins. Published in a limited edition of 500 copies for Bill's birthday, this is an anthology including memoirs, essays, poems, stories and extracts from a work-in-progress which have been contributed by over 40 writers who have been inspired by Bill as writer, teacher and friend: Michele Amas, Barbara Anderson, Angela Andrews, Hinemoana Baker, Fergus Barrowman, Rachel Barrowman & R.A.K. Mason, Jenny Bornholdt, William Brandt, James Brown, Kate Camp, Catherine Chidgey, Geoff Cochrane, Nigel Cox, Jim Crace, John Davidson, Kate De Goldi, Stephanie de Montalk, Ken Duncum, Laurence Fearnley, Cliff Fell, Bernadette Hall, Dinah Hawken, Janet Holmes, Ralph Hotere & Mary McFarlane, Keri Hulme, Eirlys Hunter, Andrew Johnston, Elizabeth Knox, Robyn Marsack, Paula Morris, Gregory O'Brien, Vincent O'Sullivan, Emily Perkins, Chris Price, Jo Randerson, Michael Schmidt, Iain Sharp, Elizabeth Smither, Kathryn Walls, Peter Whiteford, and Damien Wilkins.

Bill Manhire received the 2007 Prime Minister's Award for Literary Achievement in Poetry, worth $60,000, for his contribution to New Zealand literature.

His most recent work is The Victims of Lightning, published by Victoria University Press in 2010. Manhire's first new book since Lifted shows him building on the themes and expanding the techniques of that prize-winning collection. In The Victims of Lightning are finely crafted lyrics, found poems, and even a bracket of songs.
MEDIA LINKS AND CLIPS