In Our Own Backyard
Highly Recommended
Reviewed by Kyra Johnson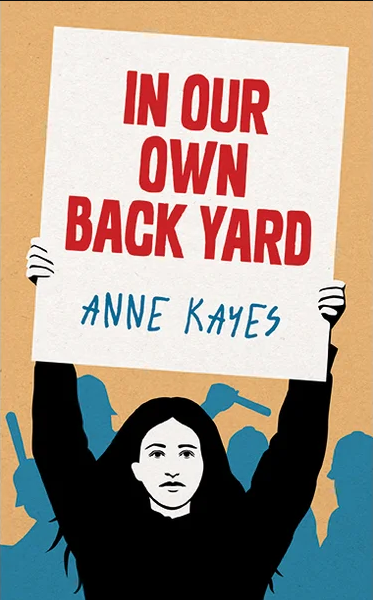 | | |
| --- | --- |
| Author & Illustrator: | Anne Kayes |
| Publisher: | Bateman Books |
| ISBN: | 9781988538747 |
| Format: | Paperback |
| Publication: | July 2021 |
| | |
| --- | --- |
| Ages: | 14+ |
| Themes: | Historical, fiction, NZ history. |
Highly Recommended
Reviewed by Kyra Johnson
It was not just any ordinary rugby tour; it was one which shook NZ to its core and divided people all across the nation.
In Our Own Backyard, by Anne Kayes, is based on the events of the 1981 Springbok Tour to New Zealand. This was the rugby tour between the NZ All Blacks and the South African Springboks. However, it was not just any ordinary rugby tour; it was one which shook NZ to its core and divided people all across the nation. This division was due to the fact that back in South Africa, the racist apartheid - 'separateness' - regime was still very much in action. The Springboks playing in New Zealand meant that our country had failed our obligation under the 1977 Gleneagles agreement. It was signed by Commonwealth members as an international campaign against the apartheid policy. It discouraged sporting contact and competition between Commonwealth countries and South Africa. So, when the 1981 tour took place, New Zealanders began to divide.

The story begins with the main character, Liza, as a wife and mother living in Auckland, two weeks into the first major lockdown for COVID-19. Her daughter asks her whether she and her husband ever experienced something that affected the whole country, to which she answers yes: the 1981 Springbok Tour. This encourages Liza to spend her lockdown writing about the tour. Teenage Liza goes to Saint Theresa's, a Catholic school, while her best friend Rewi goes to Newton Grammar School. Liza's father is a reporter and Rewi's mother is a photographer. Both of their families were involved in the protests of the 1981 tour. They go to many of them, and readers get to see through Liza's eyes just how awful and dangerous some of them were.

In the midst of all the protests and drama surrounding the Springbok Tour, Liza is still experiencing her teenage life. She is stressed about upcoming exams; spending time with Rewi and her new Tongan friend, Kalāsia; navigating her way through her first love. In the buildup towards certain games such as the first or second Tests, tension is high and the protests are becoming increasingly violent. At the third and final test, disaster strikes during the protest, and it feels as though everything is unfolding. The final chapter - not including the Lockdown chapter - is titled 'Afterwards' and refers to how Liza, her family and friends dealt with things after the final test.

I enjoyed reading this for many reasons. The first is that I actually knew something about what I was reading. As part of my Year 11 History via Te Kura Correspondence, I did a research assignment on the 1981 Springbok Tour. It may have been painstaking to complete at the time, but the knowledge I gained from it allowed me to have a better understanding of Anne Kaye's book. It was actually the main reason I chose to read In Our Own Backyard; I already knew a bit about the topic. For me, having a basic understanding of this particular historical event enhanced the story further for me. In fact, it may have been helpful for me to have read this book at the time of my assignment! Nevertheless, even if I hadn't known anything about the 81' tour, Anne Kayes writes in such a way that keeps the reader captivated while also giving facts and observations about the tour which drastically divided our country.

I can relate to this story mainly because of COVID-19. It was something that affected the whole country, just as Anne Kayes tells us in her book. Beyond that, it affected the entire world. The 1981 Springbok Tour also had both a national and global impact. The tour revealed racism in the form of apartheid in South Africa, but it also caused New Zealanders to think about racism towards Māori and Pasifika in our own country; 'our own backyard'. Similarly, the lockdowns when COVID-19 first began made us consider a few things. This may have been about ourselves, our community, our country, or the entire world. I remember, during Alert Level 3, my family and I would often walk the dog, while of course staying away from others. We would comment about how fresh the air felt since there were barely any cars around. Around halfway through In Our Own Backyard, Liza's daughter talks about the same thing in one of the Lockdown chapters.

I'm giving In Our Own Backyard 4/5 stars as it was a very interesting read about one of the most significant events in New Zealand - and apartheid - history. I'd recommend this story to those who like to read about historical events through the eyes of a character rather than a third-person perspective. It is probably best for readers 14+ years of age, as there are some violent scenes which, unfortunately, reflect the division of NZ during the 1981 Springbok Tour.

- Kyra Johnson lives in Greymouth.
| | |
| --- | --- |
| Author & Illustrator: | Anne Kayes |
| Publisher: | Bateman Books |
| ISBN: | 9781988538747 |
| Format: | Paperback |
| Publication: | July 2021 |
| | |
| --- | --- |
| Ages: | 14+ |
| Themes: | Historical, fiction, NZ history. |