13 September 2023
Rebel Girls of Aotearoa Literature puts a fresh spin on creative writing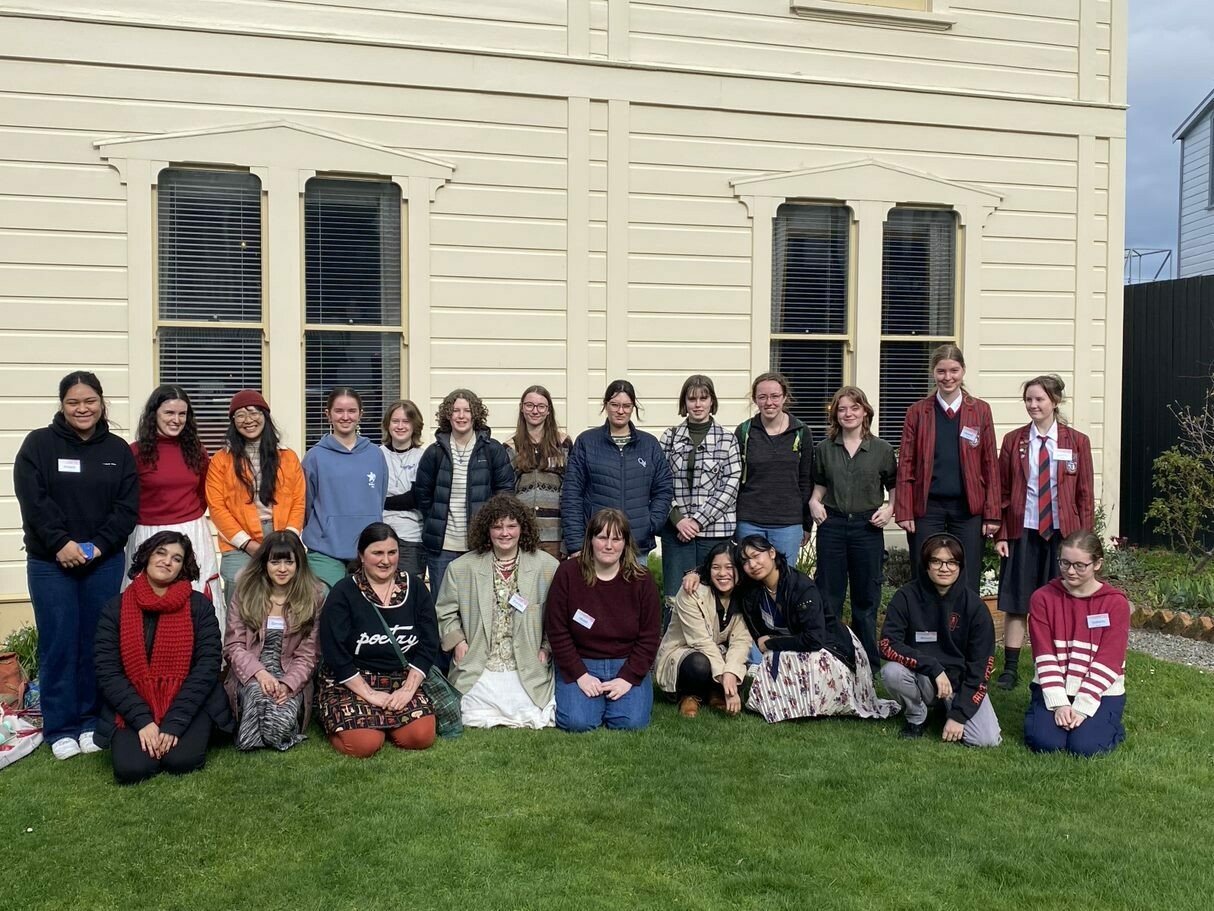 Ordinarily the Katherine Mansfield House is closed to visitors on Mondays. However, September 11 saw the House filled with burgeoning poets, essayists and fiction writers, ready to honour Mansfield's creative legacy as part of this year's KM100 celebrations.
The 'Rebel Girls of Aotearoa Literature' workshop grew from a discussion between Read NZ Te Pou Muramura and Katherine Mansfield House. The initiative required a pivot from both organisations' usual models: while it was difficult to interest schools in Mansfield-themed writers' visits, offering a bespoke one-day masterclass to senior students with a keen bent for creative writing proved a popular option.
Twenty students from a range of Pōneke schools, selected by teachers for their attitude and aptitude for writing, took up the workshop opportunity, with attendees from St Mary's College, Newlands College, St Catherine's College, Scots College, Wellington Girls' College, Tawa College, Queen Margaret College, and Wellington High School. Most students were visiting the Katherine Mansfield House for the first time, with one commenting that "my friend and I felt like proper authors, writing in the Katherine Mansfield House."

Local writers Joy Holley (Dream Girl, THWUP, 2023), Rose Lu (All Who Live on Islands, THWUP, 2020), and Ruby Solly (Tōku Pāpā, THWUP, 2021; The Artist, THWUP, 2023)) guided students through morning and afternoon writing sessions, focused on their own particular strengths in fiction, creative non-fiction, and poetry.
Students thoroughly enjoyed the chance to learn from three 'Rebel Girls', and also the chance to write freely and uninterrupted on topics that interested them. One student said that "I wrote more yesterday morning than I have in the last couple of months." Others found inspiration in unfamiliar streams of writing: "Rose explained creative non-fiction in an engaging and interesting way, and thanks to her I have now got a new genre I enjoy writing in!"
The writers finished the day with a chat with students on potential opportunities for publishing their work, or other chances for extension such as local workshops or reviewing.
Work produced by the students throughout the workshop day is currently being edited into a 'Rebel Girls' zine by Wellington Zinefest's Liam Goulter. Copies will be available at the Katherine Mansfield House from October onwards, and also at the Read NZ Te Pou Muramura Pānui in November.
---
With thanks to the TG Macarthy Trust for funding the event, to Katherine Mansfield House and Garden for providing the workshop venue, to Joy, Rose and Ruby for sharing their wealth of expertise, and to each participant for wholeheartedly writing with us.