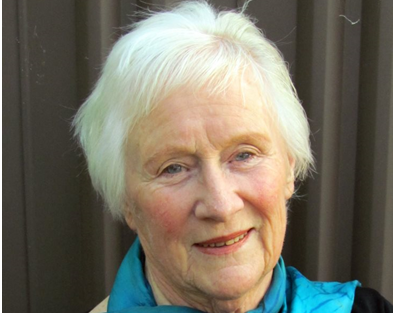 Writer's File
Tessa Duder
Auckland - Tāmaki Makaurau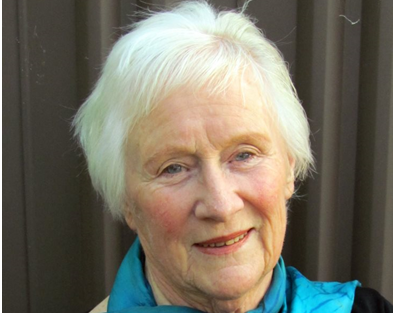 In brief
Tessa Duder writes for children and young adults and is also an author of short stories, plays and non-fiction. Her well-known Alex novels are critically acclaimed and have been published internationally. Among her numerous distinctions, Duder has been awarded the OBE and the Margaret Mahy Medal. She won the 2003 Katherine Mansfield Memorial Fellowship and in 2007 was awarded an Artists to Antarctica Fellowship, allowing her to spend nearly three weeks at Scott Base. She was awarded an Honorary Doctorate by the University of Waikato in 2008. Duder is available to talk to students of all ages and lead Professional Development sessions for teachers.
FROM THE OXFORD COMPANION TO NEW ZEALAND LITERATURE
Duder, Tessa (1940 -), writer for children and young adults, was educated at Diocesan GHS and Auckland University. As Tessa Staveley, she was a silver medallist in swimming at the 1958 Cardiff Empire Games (later the Commonwealth Games), national butterfly and medley record holder (1958-59) and the first New Zealand Swimmer of the Year (1959). In 1959 she was appointed a general reporter at the Auckland Star, rising to general reporter, swimming reporter and later deputy editor of the Women's Page.

In 1964 she married and moved to London, working for two years as a feature writer for the Daily Express; she moved to Pakistan 1966-70, and returned to New Zealand in 1971, apart from spending 1981 in Malaysia. She lives in Auckland. Her first novel for children, Night Race to Kawau (1982), depicts a family's triumph over adversity when the father, an experienced sailor, is knocked unconscious at the beginning of the race, leaving the mother and three children, all experienced but untested sailors, to crew the boat. The novel bears many of the hallmarks of Duder's later work, with strong central female characters, an identifiably New Zealand setting, convincing New Zealand English dialogue and a strongly dramatic plot.

Her next novel, Jellybean (1985), explores the changing relationship between Geraldine (the Jellybean of the title) and her single-parent mother, a cellist, as the mother engages in a relationship with a fellow musician and Jellybean decides she wants to become a conductor. Duder was awarded the 1985 Choysa Bursary for Children's Writers.

The quartet of Alex novels were all critically acclaimed. Alex won the 1988 Children's Book of the Year Award and the 1989 Esther Glen Medal; Alex in Winter the 1990 Aim Children's Book of the Year Award and the Esther Glen Medal; Alessandra--Alex in Rome was placed third in the Senior Fiction section of the 1992 Aim Award and won the Esther Glen Medal; Songs for Alex won the 1993 Aim Award. The quartet has been published in the USA, Britain and Australia, and translated into several languages.

Duder has subsequently diversified into script and play writing, short stories, non-fiction and acting. She has edited a number of anthologies, including Falling in Love (1995), and contributed regular columns and reviews locally and overseas. Duder is also notable for her role in the establishment and promotion of the New Zealand Children's Book Foundation, later known as the Storylines Children's Literature Charitable Trust. She was awarded the OBE (1994) and the Margaret Mahy Medal (the Children's Book Foundation's recognition of distinction) in 1996.
WRITERS IN SCHOOLS INFORMATION
Tessa Duder is available to talk to students of all ages and is happy to talk about picture book writing, teen fiction, working as a screenwriter, and adapting books for screen. She can also give specialist writing workshops on how to get published, as well as structure for stories in books and film. She will talk to groups of up to three classes, preferably two classes. She is prepared to participate in tours outside her region, and can lead Professional Development sessions for teachers.

KAPAI: Kids' Authors Pictures and Information

Where do you live?
At Castor Bay in Auckland, very near a beach

What books do you like to read?
Novels, biographies, history and of course as many children's books as I have time for.

Who is your favourite author?
Margaret Mahy

How do you think up your ideas?
I don't --I spend a lot of time creating my characters and THEY get the ideas.

What is the best thing about being an author?
Meeting other writers and readers who like my books!

Some questions from Primary School students

Do you have a pet?
None, now, but when my children were growing up, a dog called Pippi, a cat called Liquorice, hens called Port and Starboard, ducks, mice and once, briefly, a seagull (he flew away the minute his broken wing was mended).

Do you have a favourite colour?
Turquoise.

A favourite food?
Scallops and oysters.

Do you have a favourite movie?
The Princess Bride.

Do you play any games?
Pictionary.

What is the best thing about being a writer?
Being able to make up stories and getting paid for it.

How do make your books?
I write the words; an editor makes them better and corrects my spelling; a printer works the machines that print my words onto paper and cuts the paper into shape and puts a cover around all the pieces; and then a bookseller sells them. So there are a lot of people involved.

Where do you like to go for your holiday?
To a beach on an island, or with friends on a yacht, or a bach by the sea.

What was the naughtiest thing you ever did at school?
Talk when I shouldn't have!

Some questions from Secondary School students

How did you get started?
A story grabbed me by the throat and wouldn't let go until I'd written it. That was Night Race to Kawau and it took four years from the first night until it got published. I've been writing every day since.

Did anyone inspire you when you were getting started?
Dorothy Butler, a famous bookseller and author, who I asked for some feedback and gave me very wise advice. Margaret Mahy, for being Margaret and because I think she's one of the world's great children's writers.

What advice would you give to an aspiring writer?
DO lots of things -- travel, listen, watch, study, be curious, take risks. Then you've got lots of experiences to write about. Oh - and write, anything, something every day - letters, e-mails, stories, magazine articles, anything that keeps you using words.

Is it difficult to make a living writing in New Zealand?
Except for a select few, YES. You have to be versatile and work hard, bringing out books regularly if you want to make enough money to live on, i.e. you have to treat it as your job, which it is, and not as something you do when you get the urge.

What were you like as a teenager?
Lively, bossy, busy, a leader, but I hope with enough sense of humour to keep me from being a complete pain in the butt. I loved all the opportunities I got at school - drama, singing, writing plays, producing a school magazine, tennis, hockey etc. - and I did quite well in class too. I was lucky that the school I went to was very strong in all those things (i.e. sport and the arts).
ADDITIONAL INFORMATION
Tessa Duder has won the Esther Glen Award three times. The award-winning works include: Alex (1998), Alex in Winter (1990), and Alessandra: Alex in Rome (1992).

She was the 1991 Writer-in-Residence at Waikato University. In 1996, she received the prestigious Margaret Mahy Medal and Lecture Award.

The Tiggie Tompson Show won Best in Senior Fiction at the 2000 New Zealand Post Book Awards for Children and Young Adults.
The sequel is Tiggie Tompson All At Sea (2001). In the second book of the trilogy, Tiggie's parents are living in Brisbane while Tiggie boards with another family. While researching her role as Eliza in a 19th century drama for television, Tiggie finds herself increasingly caught up in Eliza's character. Then mysterious emails from her half-brother in Australia give Tiggie even more to think about in this story of conflicting demands and changing loyalties. Tiggie Tompson All at Sea was a finalist in the Senior Fiction category of the 2002 New Zealand Post Book Awards for Children and Young Adults.

The final book in the series is Tiggie Tompson's Longest Journey, which sees Tiggie making the most of her acting opportunity and falling in love. The work was included in the 2004 Storylines Notable Young Adult Fiction Book list, and was also shortlisted for the 2004 New Zealand Post Book Awards for Children and Young Adults.

Tessa Duder is the editor of A Book of Pacific Lullabies, with illustrations by Anton Petrov (2001). This picture book contains 30 original and traditional lullabies from the southern Pacific. The work was listed as a 2002 Storylines Notable Non-Fiction Book.

Seduced by the Sea: More Stories from Seafaring Kiwis (2002) edited by Tessa Duder is a collection of fascinating and gripping sea stories from a selection of well-known New Zealanders, including Peter Blake and Sarah Mathew. The contributors include New Zealand writers Margaret Mahy, Patricia Grace, Michaelanne Forster, Barbara Else, Joy Cowley, Pacific Island writer Sia Figiel, well-known NZ hymn writers Professor Colin Gibson and Jocelyn Marshall, songwriter Hinewehi Mohi and Australians John Marsden and Wendy Orr.

Tessa Duder was the 2003 recipient of the Meridian Energy Katherine Mansfield Memorial Fellowship. One of New Zealand's most long-standing and prestigious literary awards, the fellowship is offered annually to enable a New Zealand writer to work in Menton, France.

Storylines: The Anthology (2003) edited by Tessa Duder celebrates ten years of the annual Storylines festival of New Zealand Children's Writers, Illustrators and Storytellers. Also in 2003, she was co-editor with Kate Thompson of Spirit of Youth: Thirty Years of the Spirit of Adventure Trust (Exisle Publishing).

Tessa Duder was the 2005 recipient of the Storylines Gaelyn Gordon Award for a Much-Loved Book for her first novel Night Race to Kawau.

Down to the Sea Again: True Sea Stories for Young New Zealanders (HarperCollins, 2005), is a collection of 40 real-life stories about the sea for young readers. The writers she has selected come from all around New Zealand. Some have already published books while others are first-time writers. Every one of them has a fascinating story to tell.

Duder's book Margaret Mahy: A Writer's Life, published by HarperCollins Publishers in 2005, was the first major 'literary portrait' of Mahy.

A collection of short stories, Too Close to the Wind (HarperCollins) was republished in 2006. Duder also completed a fantasy children's picture book, Carpet of Dreams (Angus & Robertson, 2006), centering on a young girl and the bond between her and her grandmother. Carpet of Dreams was republished by HarperCollins Publishers in 2008.

In 2007, Tessa Duder was co-editor with Lorraine Orman of Out of the Deep: Stories from New Zealand and the South Pacific, published by Storylines Children's Literature Trust in association with Reed Publishing to mark International Children's Book Day.

Is She Still Alive? (HarperCollins Publishers, 2008) was inspired by Duder's time spent in France on the Katherine Mansfield scholarship in 2003. It is a collection of 13 adult short stories about older women, their joys, sorrows and challenges.

In 2007, Duder was awarded an Artists to Antarctica Fellowship, allowing her to spend nearly three weeks at Scott Base.

In 2008, she was awarded an Honorary Doctorate by the University of Waikato, in recognition of her work for youth, as a writer for young people and as a long-term volunteer and Trustee of the Spirit of Adventure Trust.

The Word Witch: the Magical Verse of Margaret Mahy (HarperCollins), edited by Tessa Duder, with illustrations by David Elliot, was published in 2009.

The Story of Sir Peter Blake (Libro International/Oratia Media 2012) by Tessa Duder is a new biography of New Zealand's most famous long-distance sailor, Sir Peter Blake. With the same publisher in 2014 she brought out her first children's fiction for nearly ten years: Out on the Water, Twelve Tales of the Sea.

Sarah Mathew: Explorer, Journalist and Auckland's 'First Lady,' (2015)is an adult biography of one of Auckland's founding settlers. Published by David Ling Publishing with the support of the Auckland Council, the book contains much new material of Sarah Mathew's adventurous life in New Zealand 1840-1847, besides her previous decade in New South Wales, and a later four years back in Auckland. It pays tribute to Sarah Mathew's valuable diaries of her voyages and colonial years, and re-examines the contribution of her oft-criticised surveyor husband Felton.
A number of Duder's classic books for young readers have been re-published in recent years, including Night Race to Kawau (by Penguin) and Alex (by OneTree House).
In May 2022, as the New Zealand Society of Authors' President of Honour, Duder delivered the Janet Frame Memorial Lecture.
LINKS