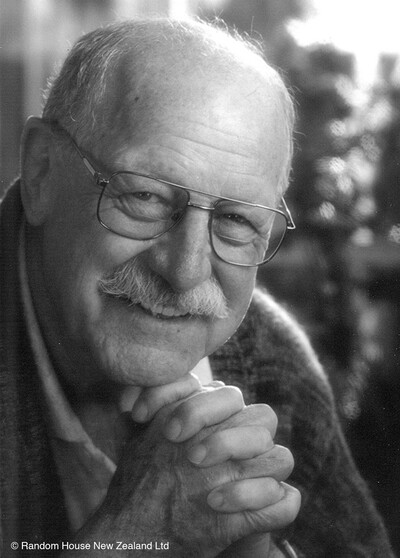 Writer's File
Jack Lasenby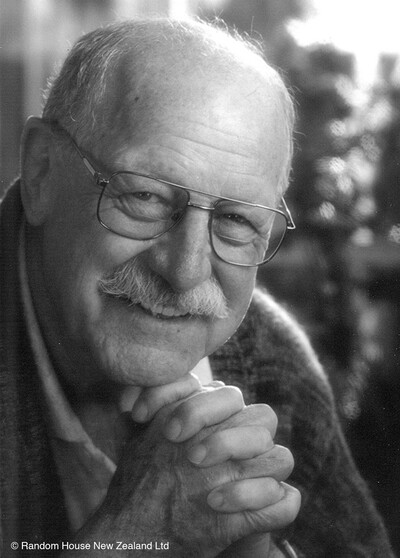 In brief
Jack Lasenby is one of New Zealand's most important children's book authors. His novels and short stories have earned numerous honours, including key awards and fellowships. Since publishing his first novel, The Lake, he has written dozens of books for children and young adults. His writing is characterised by a portrayal of childhood as full of hard lessons, adventure and the search for self determination. His popular books include, Harry Wakatipu (1993), and his Aunt Effie series.
FROM THE OXFORD COMPANION TO NEW ZEALAND LITERATURE
Lasenby, Jack (1931– ), writer of children's fiction, was born in Waharoa. He attended the University of Auckland from 1950 to 1952 but left in dissatisfaction and spent ten years deer-culling in the Urewera. Returning to Auckland in 1962, he began teaching and, from 1969, editing school journals. A lecturer at Wellington Teachers' College from 1975, he resigned in 1987 to write full-time.

He often writes of heartland New Zealand: small towns, farms, and the bush frame narratives that are 'observant, erudite, witty, often caustic, scathingly anti-bullshit, [and] alert to fit the fable to the moral (and vice versa)'.

His writing is predicated on a belief that although modern entertainment sates children's hunger for stories, it fails to provide sustenance. His early publications include Lost and Found (1970) and The Chatham Islands (1973), and two picture books from 1976: Charlie the Cheeky Kea and Rewi the Red Deer. However, it is his novels that inspired Judith Holloway to rank him with Margaret Mahy and Maurice Gee as children's writers 'whose themes, originality, and sheer literariness make them almost as important and entertaining to adults' (New Zealand Books, Dec. 1994).

Lasenby's first novel is characteristic of much of his writing: childhood is not idealised (pain is real and lessons are hard) but adventure abounds and the end is self-sufficiency and individual empowerment. Thus The Lake (1987) tells of a girl learning to survive in the bush and, in the process, finding the strength to handle her stepfather's sexual advances.

Similarly, in The Mangrove Summer (1989), children staying in the Coromandel in the 1940s to escape a possible Japanese invasion fend for themselves, although with certain tragic consequences. The popular 'Seddon Street Gang' trilogy—Dead Man's Head (1994), The Waterfall (1995) and The Battle of Pook Island (1996)—despite being set during the 1930s Depression, are in a lighter vein.

The gang inhabit childhood's mildly anarchic world (adults hover peripherally) yet their experiences teach belief in oneself and the value of friendship. Two darker novels of a post-apocalyptic future convey Lasenby's dislike of inequity and strong views on social justice.

In The Conjurer (1992) a teenage couple attempt to escape a cruel, hierarchical society stratified according to eye colour, while in Because We Were Travellers (1997), an outcast boy and old woman struggle to survive in the land of Whykatto, near the ruined city of Orklun.

As a short story writer, Lasenby is unfailingly entertaining: Harry Wakatipu (1993), the world's most recalcitrant pack-horse, stacks up well alongside Uncle Trev's hilarious yarns about travelling asparagus beds, fast grass, and giant kauris with a view of the South Pole, from Uncle Trev (1991), Uncle Trev and the Great South Island Plan (1991) and Uncle Trev and the Treaty of Waitangi (1992).

Lasenby has received numerous honours for his writing, including the 1991 Sargeson Fellowship, 1993 Victoria University of Wellington writing fellowship, and 1995 Dunedin College of Education writing fellowship. PM
ADDITIONAL INFORMATION
Jack Lasenby received the Esther Glen Award at the 1989 LIANZA Children's Book Awards for his work, The Mangrove Summer.

In 1991, he was awarded the Buddle Findlay Sargeson Fellowship.

Lasenby's The Battle of Pook Island won the Junior Fiction Award at the 1997 New Zealand Post Book Awards for Children and Young Adults.

Because We Were The Travellers (incorrectly referred to as Because We Were Travellers in the Oxford Companion entry) won an Honour Award in the 1998 New Zealand Post Book Awards for Children and Young Adults. Taur won the Senior Fiction Award at the same ceremony in the following year.

The Shaman and the Droll (1999) is the third in the Travellers series and was shortlisted for the 2000 New Zealand Post Book Awards for Children and Young Adults. The Lies of Harry Wakatipu (2000) is part of Lasenby's popular series of tall tales about New Zealand's most famously lazy and dishonest talking horse. It was shortlisted in the 2001 New Zealand Post Book Awards for Children and Young Adults. Kalik (2002) was a finalist in the senior fiction category in the following year, and was also listed as a 2002 Storylines Notable Senior Fiction Book.

The Jack Lasenby Award was established by the Wellington Children's Book Association in 2002.

In 2002, Lasenby published the first of a series of books about Aunt Effie: her six gigantic pig dogs, her twenty-six nephews and nieces, and their adventures in the kauri forests of the Coromandel and fighting off pirates in the Hauraki Gulf.

Harry Whakatipu Comes the Mong (2003). The Deer Culler has only one mate, Harry Wakatipu, a scurvy-gutted pack-horse to rely on. But what does Harry Wakatipu think ?

Aunt Effie's Ark (2003) by Jack Lasenby, illustrated by David Elliot, is the second book in the hilarious and outrageous Aunt Effie series. In this story, Aunt Effie, dressed in her green canvas invalid's pyjamas, hibernates all winter, leaving her 26 resourceful nieces and nephews to deal with snowstorm and flood, ravening monsters, a barnful of hungry animals and a wild ark-ride over the Vast Untrodden Ureweras.

In 2003, Lasenby was awarded the prestigious Margaret Mahy Medal and Lecture Award.

Aunt Effie and the Island that Sank (Longacre Press, 2004) is the third Aunt Effie travelogue. Aunt Effie is restless. She and her 26 nieces and nephews are off again in the scow Margery Daw on a treasure hunt across the pirate-infested waterways of the Hauraki Gulf and The Waikato. Aunt Effie and the Island that Sank won the Junior Fiction Award at the 2005 New Zealand Post Book Awards for Children and Young Adults, and was listed as a 2005 Storylines Notable Junior Fiction Book.

Mr Bluenose was published by Longacre Press in 2005. The Tears of Harry Wakatipu and When Mum Went Funny were published by Longacre Press in 2006.

From the publisher's info for Billy and Old Smoko (2007): 'Billy wakes to find his father all lackadaisical, and a strange woman burning the porridge. She reckons his real mother ran away, and he must call her Mum now. But Billy isn't stupid. With Old Smoko, a stately, talking horse whom he teaches to read, Billy looks for his real mum under the Kaimais, out the back of Waharoa. He learns the secret of Mount Te Aroha, hears the ancient Maori story of Snow White, and sees how Auckland got its electricity. He also goes pig hunting, plays footy, discovers roast pork and apple sauce sandwiches – and falls in love with the blue eyes of Harrietta.'

Old Drumble (HarperCollins, 2008) is a story about 'the smartest, cunningest, cleverest sheep dog there ever was.' Old Drumble was awarded Best Junior Fiction Book at the 2009 New Zealand Post Book Awards for Children and Young Adults. It was also listed as a 2009 Storylines Notable Junior Fiction Book.

Aunt Effie and Mrs Drizzle (Longacre Press, 2008) is the fourth in the Aunt Effie series.

The Haystack was released by HarperCollins in 2010. The book is set in the 1930s Depression, and Maggie's growing up without a mother in the little Waikato dairying township of Waharoa. Maggie has to make do with her father's friends, neighbours, and an old biddy who should know better but can't help herself. Her pranks ultimately make her new friends along the way, who help her learn what a girl needs to know.

Calling the Gods was published by HarperCollins in 2011. It was a finalist in the Young Adult Fiction category of the 2012 New Zealand Post Children's Book Awards, and carried on to win the Young Adult Fiction category.

Jack Lasenby's first story collection Uncle Trev won the Storylines Gaelyn Gordon Award for a Much-loved Book for 2012. The award recognises a book unheralded at the time of publication but which has remained in print and proven itself an enduring favourite with young readers.

Jack Lasenby's novel Uncle Trev and His Whistling Bull was published by Gecko Press in 2012. Uncle Trev and His Whistling Bull was a finalist in the 2013 New Zealand Post Children's Book Awards in the Junior Fiction category.

Jack Lasenby received the 2014 Prime Minister's Award for Literary Achievement for Fiction.



MEDIA LINKS AND CLIPS