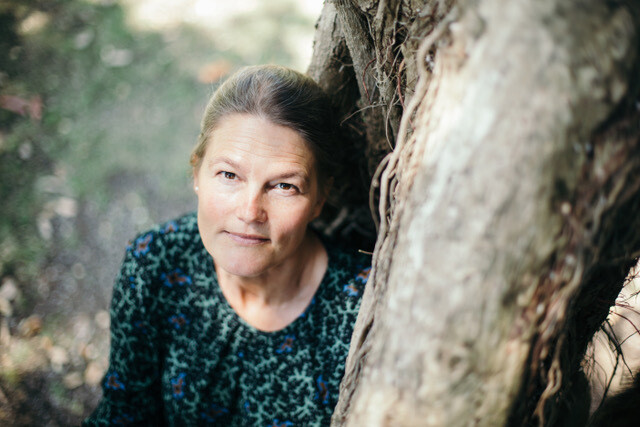 Writer's File
Mikaela Nyman
Taranaki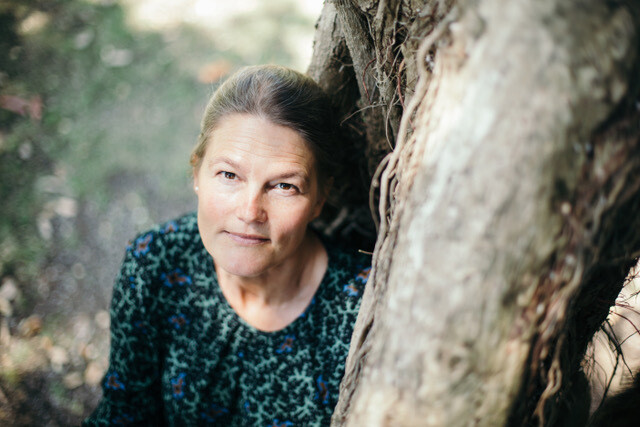 In brief
Mikaela Nyman is a poet, novelist and non-fiction writer. She lives in New Plymouth and writes in English and Swedish. Her first poetry collection När vändkrets läggs mot vändkrets (2019) was nominated for the Nordic Council Literature Prize 2020. Her work has featured in publications in Aotearoa and the Nordic Countries. Her first novel Sado (2020) was published by VUP. Her long-standing collaboration with Ni-Vanuatu writers includes a Vanuatu womens' anthology, as well as facilitating creative writing workshops and poetry events in Port Vila.
NYMAN Mikaela was born in the autonomous Åland Islands in Finland. She is a part of Finland's linguistic minority of Swedish-speakers. As a young journalist, she was commissioned to write a biography about a Finnish woman who established a newspaper in Kasai, in current-day Democratic Republic of Congo. It was published as Tankar: Hildegard Mangelus liv (1995).
In the late 1990's she worked at a College of Labour Studies in Zimbabwe, in a volatile political climate. She conducted research about the role of civil society in the fall of Suharto and Indonesia's democratisation, published as Democratizing Indonesia: The challenges of civil society in the era of reformasi (2006).
In 2002, Nyman arrived in New Zealand with a newborn. From 2004 to 2016 she worked as an ESOL educator and in international engagement, humanitarian and developmental aid including four years in Vanuatu. Like many women who juggle work and family commitments, Nyman did not publish literary writing until later in life. In 2011, she gained a Masters in Creative Writing (Distinction) from the International Institute of Modern Letters at Victoria University of Wellington.
Her first poetry collection, När vändkrets läggs mot vändkrets (2019) was published by Ellips in Swedish. It is a collection of poems dealing with the loss of her sister to cancer and the loss of language. The poems connect Vanuatu, New Zealand and the Åland Islands. Gungerd Wilkholm (Kiiltomato) thus reviewed the collection "'The book's first part is called The Tropic of Cancer, the second, longer part, The Tropic of Capricorn. The two parts belong together, mirror each other, weave into one another; the reader is taken on a journey into all kinds of rooms imaginable, and into themselves." For this collection, Nyman earned a nomination for the prestigious Nordic Council Literature Prize 2020.
Her debut novel Sado (2020) was published by Victoria University Press. Telling the story of womens' friendship and resilience, it is set in Vanuatu after the 2015 Tropical Cyclone Pam. Sado received accolades by authors and critics such as Mandy Hager and Paula Green. Since the word 'Sado' among other things can be translated as humiliation and dishonour, reviewer Zahid Gamieldien discussed Sado (2020) in the context of J.M Coetzee's novel Disgrace (1999), an examination of post-apartheid South Africa. Of Sado (2020), he concluded: "In many ways, it's a subtler work of fiction that is kinder to its characters – and it ends up operating as an intricate love letter to Vanuatu, one that celebrates culture, problematises aspects of kastomand strongly advocates for women's rights."
Nyman's work has featured in Ko Aotearoa Tātou|We Are New Zealand and Strong Words 2019: The Best of the Landfall Essay Competition, Turbine | Kapohau, Sport, Blackmail Press, Sweet Mammalian, SWAMP and Minarets. She was a New Zealand Society of Authors Complete MS award recipient, and a short story awardee in the Ronald Hugh Morrieson Literary Awards in 2019.
In 2020, Nyman was awarded a PhD in Creative Writing from the International Institute of Modern Letters. Also in 2020, she was awarded a grant from Creative New Zealand for editing the first Vanuatu Women's Anthology to commemorate Vanuatu's 40th independence anniversary.
MEDIA LINKS AND CLIPS
Mikaela's author profile on VUP
Mikaela's author profile on Ellips
Mikaela's PhD Graduate Profile
Interview with Lyn Freeman on Radio NZ
Sado on Poetry Shelf Connections