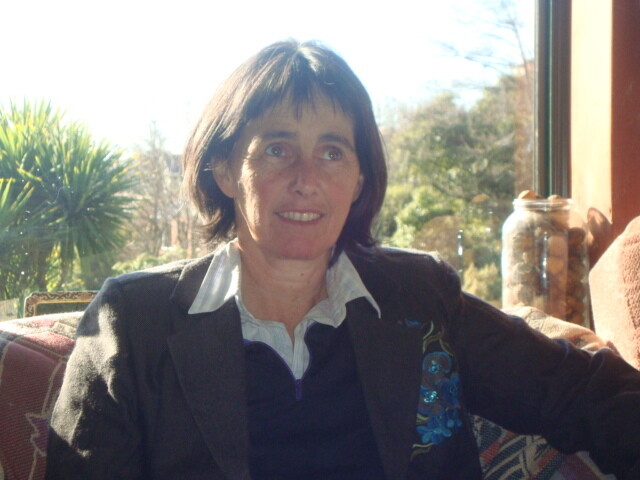 Writer's File
Kathleen Gallagher
Canterbury - Waitaha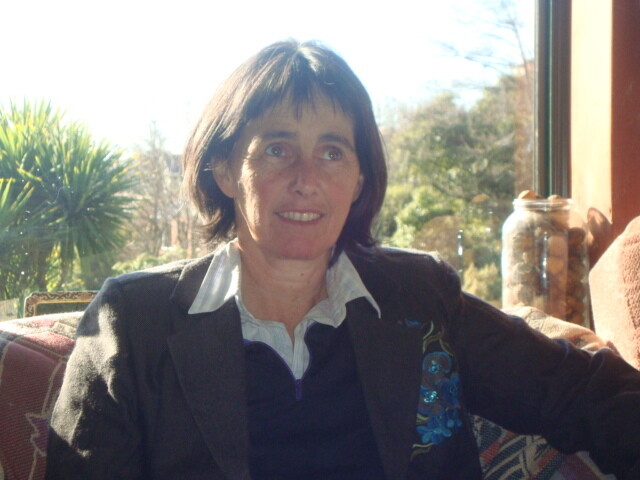 In brief
Kathleen Gallagher is a poet, playwright, filmmaker and novelist. She received the New Zealand Playwrights Award in 1993, and the Sonja Davies Peace Award in 2004 for the film Tau Te Mauri Breath Of Peace. She has authored three collections of poetry, 16 plays, six feature films, and one novel. Her films Earth Whisperers Papatuanuku, Water Whisperers Tangaroa and Sky Whisperers Ranginui, have played in cinema and film festivals throughout New Zealand and around the world. Her novel Earthquakes & Butterflies - Otautahi Christchurch launched in Christchurch on September 2015, on the 5th anniversary of the beginning of the Christchurch earthquakes sequence (2010 - 2012).
ABOUT THE AUTHOR
Gallagher, Kathleen (1957 –) is a writer, accountant, director and film producer.

Born in Christchurch in 1957, Kathleen Gallagher completed an ATCL in Drama from Trinity College, Dublin, Ireland, a BA in History and Religious Studies from the University of Canterbury, and a Post Graduate Diploma in Accounting from the Victoria University of Wellington.

Kathleen Gallagher began her writing career as a poet and playwright at the age of 18. She was involved as a scriptwriter with the Blue Ladder Theatre Group in Christchurch (1984–86), and then as co-founder, co-producer, scriptwriter and director with Women's Action Theatre Group (1985–1993). Their plays were initially produced and performed in Christchurch, beginning with Mothertongue in 1986. They then toured throughout New Zealand. With Women's Action Theatre, she wrote, directed and toured seven plays.

At the same time Gallagher was also writing poetry and she went on to publish three collections – Tara (1987), Gypsy (1993), and Twilight Burns The Sky (2001). Fiona Kidman wrote about Tara, 'the presentation of these poems is exquisite, the work itself is interesting and image-laden, often delicate in style.'

In 'Canta', Naomi Edwards writes about Twilight Burns the Sky, 'This is New Zealand poetry at its finest. The imagery is strong and violent yet surprisingly beautiful. These poems sound good. They strike a raw nerve.'

Gallagher's works have been produced for stage and radio in both New Zealand and Australia. In 1993, she received the NZ Playwrights Award. Three years later, her radio play Charlie Bloom, was a finalist in both the New Zealand Radio Awards and the New Zealand Media Peace Awards.

She has worked for accounting firms in Wellington and Christchurch and has lectured in accounting at the University of Auckland and lectured in taxation at Nelson Polytechnic.

Since 1998 she has worked full-time as a writer and a filmmaker. In 1999, Mothertongue, her first collection of plays was published, followed in 2002 by Peace Plays. She has written and produced over 15 plays.

Kathleen Gallagher first came to prominence as a filmmaker in 2000 when she made and launched the short film Jimmy Sullivan at the Academy cinema in Christchurch. A strong advocate for peace, she produced the documentary Peaceful Pacific in 2004. In the same year, she received the prestigious Sonja Davies Peace Award for the groundbreaking feature documentary Tau te Mauri / Breath Of Peace, a powerful account of this country's peace movement that culminated in New Zealand becoming nuclear-free.

In 2007, she released the documentary He Oranga He Oranga Healing Journeys which follows the bravery and patience of 10 cancer survivors and how they overcame the Western world's deadliest disease. This film was commended at the World Peace Film and Music Festival in Lucknow, India in 2008. Kathleen Gallagher and Michael Coughlan produced the documentary Barefoot Peacemakers – the story of the New Zealand Pacifist Ploughsharesmovement in 2008.

Shot at spectacular locations around New Zealand, her documentary, Earth Whisperers/ Papatuanuku, focused on a special group of New Zealanders – people intimate and aware of our earth – saving native forests, gathering weeds and wild herbs, growing veges, planting food trees, and biking everywhere. Earth Whisperers/ Papatuanuku had its world theatrical premiere in Christchurch and then played at the Reel Earth Environmental Film Festival in May 2009. It then began a New Zealand theatrical release screening in 60 cinemas throughout the country, with more than 500 screenings. In September 2009, the film had its European premiere at New Zealand House in London before being released in selected cinemas throughout the UK and Ireland, with seasons sponsored by the Transition Towns organisation. In October 2009 the documentary premiered at the prestigious Middle East International Film Festival in Abu Dhabi. It was officially selected for and screened at the 2009 Chinese International Documentary Film Festival at Guangzhou, China. The following year it was screened at the Byron Bay International Film Festival, in Australia, FIFE the French Environmental Film Festival and the Sierra Nevada Wild and Scenic Film Festival in 2011.

Her film, Water Whisperers Tangaroa was launched in Christchurch New Zealand in 2010. It screened at the 2011 French Documentary Film Festival FIPATEL in Baritz, France, The Festival Of Flowers in Christchurch, and the Reel Earth Environmental Film Festival.

The Bonekeeper's Story, a play for theatre, was co-written with, and performed by Helen Moran and premiered at the Elmwood Theatre in Christchurch during the 18-month earthquake period in August 2011 and again in August 2012.

Sky Whisperers Ranginui was launched at the 2012 Christchurch Festival of Flowers. It then screened at the Reel Earth Film Festival, the Wairoa Maori Film Festival, and the international Tekapo Starlight Conference. In 2013 it screened in the French Documentary Film Festival FIPATEL in Baritz, France, and the Lake Baikal Russian Environmental Film Festival.

In 2013 Kathleen wrote and workshopped a play commissioned by the Court Theatre on the earthquake and post-earthquake transition period that Christchurch is experiencing. The working title of this play is 'Awakening Ruaumoko'.

Following this, Kathleen completed the novel Earthquakes & Butterflies - Otautahi Christchurch, which launched in Christchurch on September 2015.

Jane Hole writes in Tui Motu - "This is surely one of the finest pieces of writing to come out of the Christchurch earthquakes. Kathleen Gallagher tells, with deep tenderness and compassion for both the people and the land, the story and spirit of all that the moving earth laid on the heaving doorsteps of Christchurch."
In 2018, Kathleen published Īnangahua Gold, an historical novel set in 19th Century West Coast New Zealand, "exploring the birthing of a new way of being when folk from opposite ends of the earth holding vastly differing values, languages and world views, cross the Southern Alps tramping through mountains, forests and wild rivers, and then attempt to live together."
Dame Fiona Kidman says: "This beautifully wrought novel set in the wilds of New Zealand southern West Coast during the gold rush days, demonstrates the manner in which all kinds of people were thrown together in a race for riches and survival. It abounds with adventure and romance, but it is the tender evocation of the natural world and the delicate interweaving of races exploring each other's cultural identities that gives this story is vivid edge."
2021's Rohe Kōreporepo - The Swamp, The Sacred Place is available as both a film and a book which includes the full-length interviews of all 60 kaitiaki wetlands guardians interviewed for the film, at Maketu, Whangmarino, Rotopiko, Te Hākari Kuku Beach, Taupō Swamp Porirua, Moawhitu D'Urville Island, Ōkarito, Ō Tū Wharekai and Wakanui Ashburton, Ōtautahi Christchurch wetlands, Te Waihora Lake Ellesmere.
LINKS