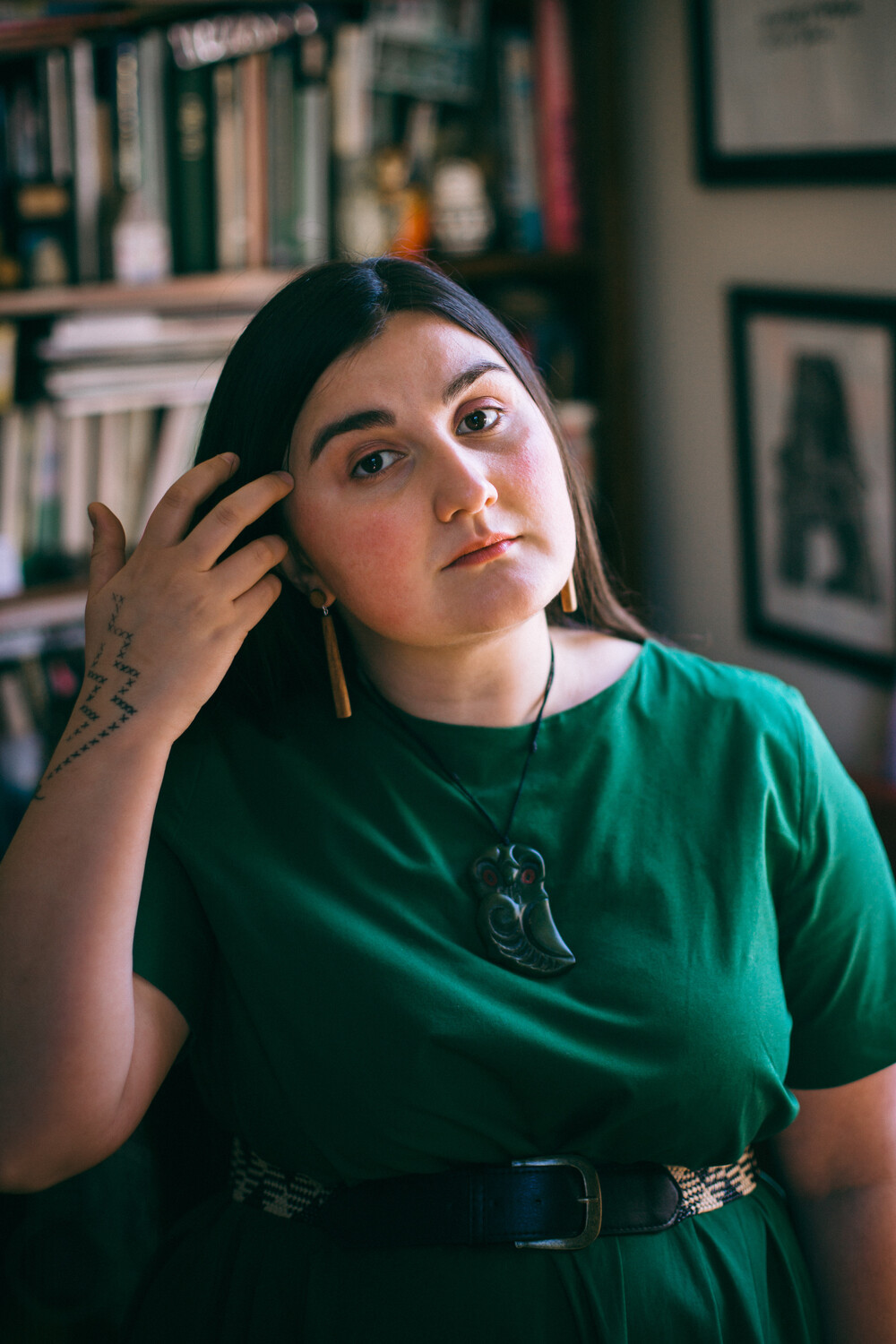 Writer's File
Ruby Solly
Wellington - Te Whanganui-a-Tara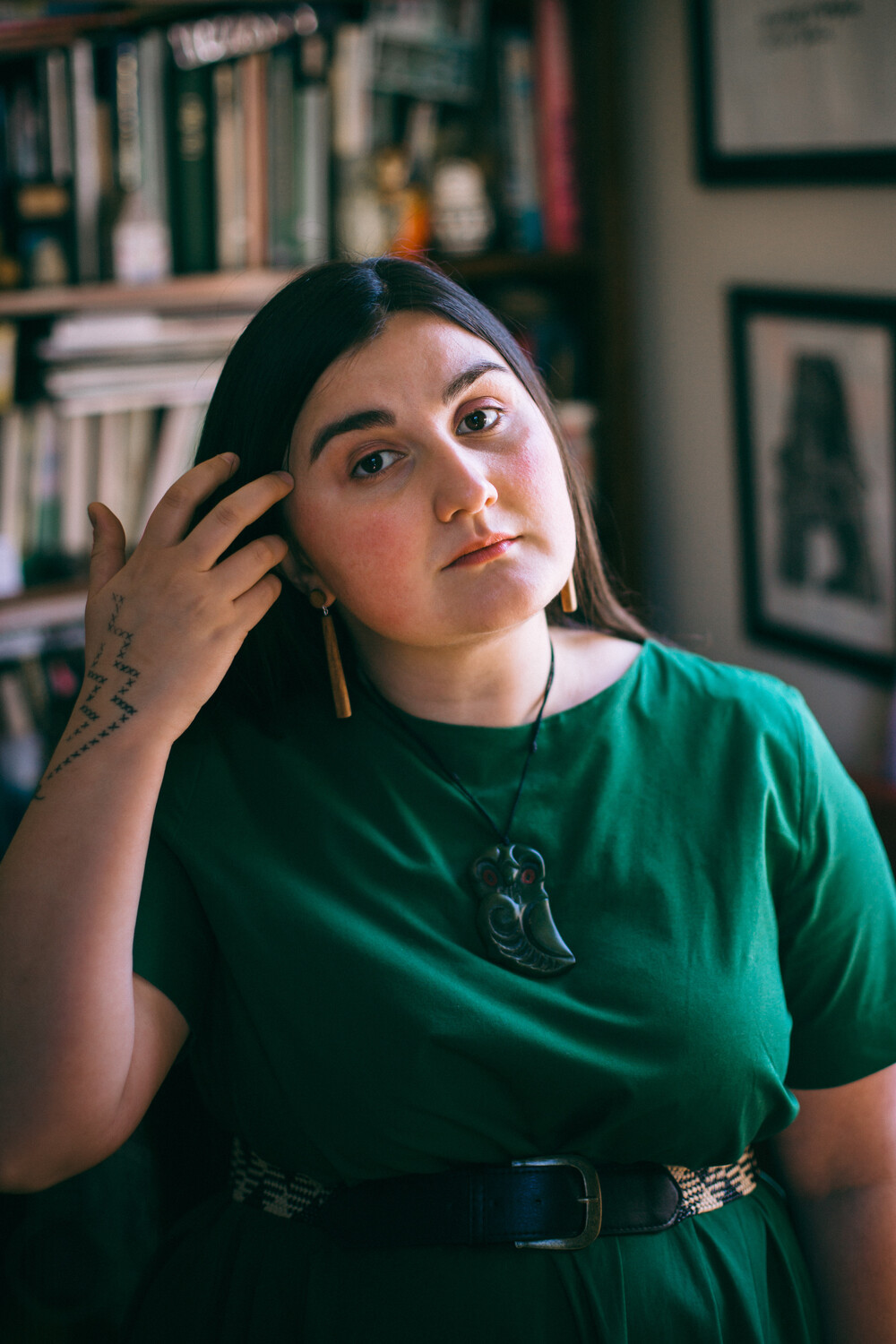 In brief
Ruby Solly (Kāi Tahu, Kāti Māmoe, Waitaha) is a poet, academic, taonga pūoro practitioner, composer, and music therapist based in Te Whanganui-a-Tara, Wellington. She has published two books of poetry; her first, Tōku Papa, was longlisted for the Ockham New Zealand Book Awards. Ruby has had poetry published in Aotearoa, Australia, America and Antarctica. She is currently completing a PhD in Public Health.
As well as being a writer, Ruby holds a Bachelor of Music in Jazz Performance and a Masters of Music Therapy. Her Masters work focused on the therapeutic potential of taonga pūoro in mental health based music therapy which has led to Ruby working with schools, hospitals, prisons, and with private clients from iwi around the motu. Ruby is currently completing a PhD in Public Health at Massey University in Wellington, focusing on the use of taonga pūoro in hauora Māori.
Ruby's first book of poetry, Tōku Papa, was published by Te Herenga Waka University Press in 2021 and longlisted for the 2022 Mary and Peter Biggs Award for Poetry in the Ockham New Zealand Book Awards. Arithia Latham, writing for Kete Books, describes the collection as "a map of survival for Māori growing up outside of their papakāika." The Artist, Ruby's second poetry collection, was published by Te Herenga Waka University Press in 2023. It takes the form of a verse novel and brings to life the histories of Southern iwi and their tūrakawaewae.
Ruby was a runner up for the 2019 Caselberg Trust International Poetry Prize, and her poetry has been published across several continents. Her work has appeared in Starling, Landfall, Sport, Turbine, Columbia, Minarets, Sweet Mammalian, Stasis, and more, and was included in the Aotearoa Poetry Yearbook 2021, Out Here (Auckland University Press, 2021) and A Kind of Shelter (Massey University Press, 2023). Ruby's essays are published on The Spinoff, Stuff, and The Pantograph Punch. She has performed with popular live poetry lineup Show Ponies.
Additionally, Ruby is a script writer; her short film Super Special (2019) is co-written with director Ashley Williams and shares knowledge about Māori views of menstruation through narrative. The film has aired on Māori TV, at the Māoriland Film Festival 2020 and the Los Angeles Women in Film Festival.
Ruby has extensive experience in musical and performing arts and has played with artists such as Yo-Yo Ma, Whirimako Black, and Trinity Roots as both a cellist and a player of traditional Māori instruments (ngā taonga pūoro). She has also worked as a session musician and recording artist with groups such as So Laid Back Country China, Jhan Lindsay, Strowlini Orchestra, and many other artists around Wellington.
Her own debut album, Pōneke, was released in 2020. Ruby also has experience as a composer with pieces commissioned by the New Zealand School of Music in association with SOUNZ, as well as in film work in association with Someday Stories, and the Goethe Institute with Wellington Film Society.
May 2023
MEDIA LINKS AND CLIPS