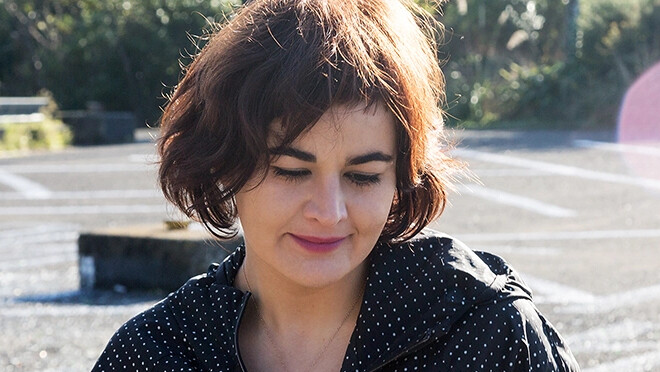 Writer's File
Ashleigh Young
Wellington - Te Whanganui-a-Tara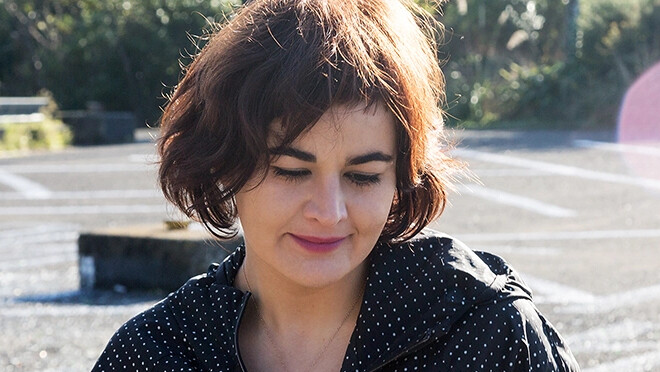 In brief
Ashleigh Young is a Wellington-based poet, essayist, editor and creative writing teacher. She received the Windham-Campbell Literature Prize in 2017 for her second book, a collection of personal essays titled Can You Tolerate This? which also won the Royal Society Te Apārangi Award for General Non-Fiction.
Ashleigh Young (1983 - ) is a Wellington-based poet, essayist, editor and teacher.
Born in Te Kuiti, Young grew up there and in Wellington. Reading and writing featured strongly in her childhood, during which she wrote, illustrated and published small books, a weekly magazine called Frogget and her own bedroom library. In an interview for Honeysuckle Magazine, she said "I just found this whole task incredibly pleasing: the making of something and the sharing of it."
Young lived in London for several years and also worked for a year as director of the Katherine Mansfield House and Garden in Wellington.
In 2009, she was awarded an MA in Creative Writing from the International Institute of Modern Letters at Victoria University of Wellington.
Young won the 2009 Adam Foundation Prize in Creative Writing for her MA portfolio (which included the essays later to be published in Can You Tolerate This?) and the 2009 Landfall Essay Competition. In 2015 she was a finalist for the Sarah Broom Poetry Prize and she was one of one of the winners of the 2016 Surrey Hotel Steve Braunias Memorial Writers Residency in Association with The Spinoff Award.
Young's poetry and essays have been widely published in print and online journals including The Griffith Review (Australia) and Five Dials (UK), and she has also written chapter books for Learning Media. She has regularly appeared at literary festivals in New Zealand and overseas.
Young's first collection of poems, Magnificent Moon, was published in 2012 by Te Herenga Waka Press, and chosen as a NZ Listener Top 100 Pick in the same year.
Anna Jackson writes "I took this collection travelling with me the way a magnificent moon will sail along beside the car, and I read it whenever we stopped. I love every poem in it which makes it the perfect collection for opening up on any page. For a poet who says she and her friends are not people people, she writes very peopled poems, commemorating afternoons with friends, conversations with family, childhood habits and misconceptions, all the peculiar ways people find to be with each other."
The collection of essays in Young's second book, Can You Tolerate This?, published by Te Herenga Waka Press 2016 and by Giramondo in 2017, was described as "wry, confessional, understated and often hilarious" by reviewer Maggie Trapp in the Washington Post.
"Each piece lifts you up and deposits you in a place you never expected to find yourself. They startle with their immediacy and candor; they offer comfort even as they ask you to see things anew."
The book won the 2017 Windham-Campbell Prize from Yale University, and was described by the judges as "honest, insightful prose" that "offers intimate and playful glimpses of coming of age in small-town New Zealand". Young was the first New Zealander to win this prize. Recipients are not advised that they are being considered for the award, and she had no prior warning before receiving an email to say she had won. She collected her prize at the Windham Campbell Festival at Yale in September 2017.
Can You Tolerate This? also won the Royal Society Te Apārangi Award for General Non-Fiction 2017.
In 2018, Young was made an Honorary Literary Fellow in the New Zealand Society of Authors' Waitangi Day Honours.
In 2019 she took on the role of poetry editor at The Spinoff Review of Books. Also in 2019, her collection of poems How I Get Ready was published by Te Herenga Waka Press. This collection was shortlisted for the Mary and Peter Biggs Prize in Poetry at the Ockham NZ Book Awards in 2020.
Writing on Poetry Shelf of How I Get Ready, Paula Green confessed that 'every poem catches me! Some books you pick up, scan a few pages and then put down because you just can't traverse the bridge into the poems. Not this one. It is as exhilarating as riding a bicycle into terrain that is both intensely familiar and breathtakingly not.'
Speaking as an Ockham New Zealand Book Awards judge, Margery Kempe said "an Ashleigh Young poem is a world: hospitable, strange, a little off kilter. The poems in How I Get Ready bristle with humour and curiosity; they are idiosyncratically observant and keenly empathetic. That empathy is extended to the reader – the poems confide and beguile, providing access not just to the speaker's travails but also to those of lives remote in history: the compulsive disorder of a sensitive young man living in the early 20th century, for example, or the emotional anguish of the late medieval mystic."
Young is an editor at Te Herenga Waka Press (formerly Victoria University Press).
October 2023