10 October 2023
An inside look at publishing in Aotearoa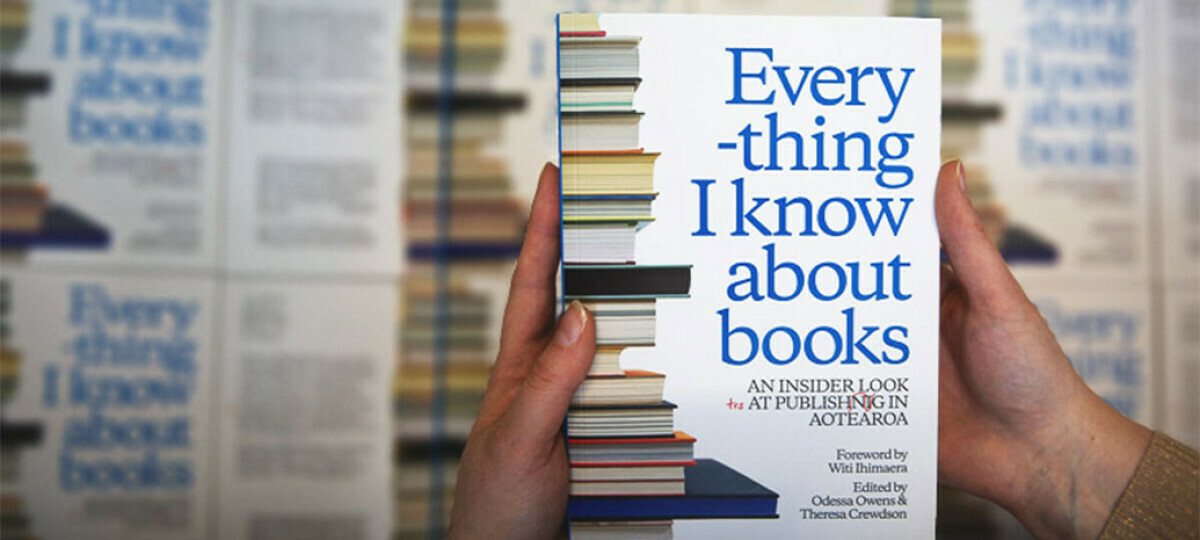 Everything I Know About Books is a vibrant anthology that gives a behind-the-scenes peek into the book trade in Aotearoa: guest column by Sarah Hillocks from the project team.
From creating a festival of dreams to nurturing a space for Māori storytelling, from establishing an anarchist press to crafting an Ockham-shortlisted novel on a wild Hokitika beach--with plenty of honest how-to and insider intel in between--this collection weaves together over 70 candid, funny, thought-provoking, and powerful pieces from our leading writers, poets, publishers, booksellers, festival makers, artists, reviewers, editors and more, in a taonga for our times.
Everything I Know About Books has been in production throughout 2023. This title is a practical project contributing to the Whitireia Graduate Diploma in Publishing (Applied). The publishing students working on the project have been mentored closely by tutors Odessa Owens and Theresa Crewdson. Odessa and Theresa have years of combined experience in the publishing industry, and they began the research and comissioning process for the anthology in 2022. Throughout 2023, students have been involved with the book's production process including project management, editing, design, typesetting, marketing and publicity.
This book is ideal for writers, poets, illustrators, festival goers, book fans and people aspiring to have a career in creative industries. The publishing team behind Everything I Know About Books acknowledge the incredible collective efforts that have contributed to crafting this anthology which also celebrates thirty years of the Whitireia publishing course.
Witi Ihimaera pens an incredible foreword to the anthology and writes:
"My own copy is now thumbed to death and is sprouting various yellow and green tags...Everything I Know About Books looks like becoming a best mate, somebody who will help me pick myself up, dust myself off, give me some tools and send me off to start all over again."
Everything I Know About Books is being released on Thursday 12 October. The eBook will be available for purchase online through the Whitireia and WelTec website, with physical copies available at bookstores around the country. You can also check out local release events here.