01 June 2023
Hot off the press: June giveaways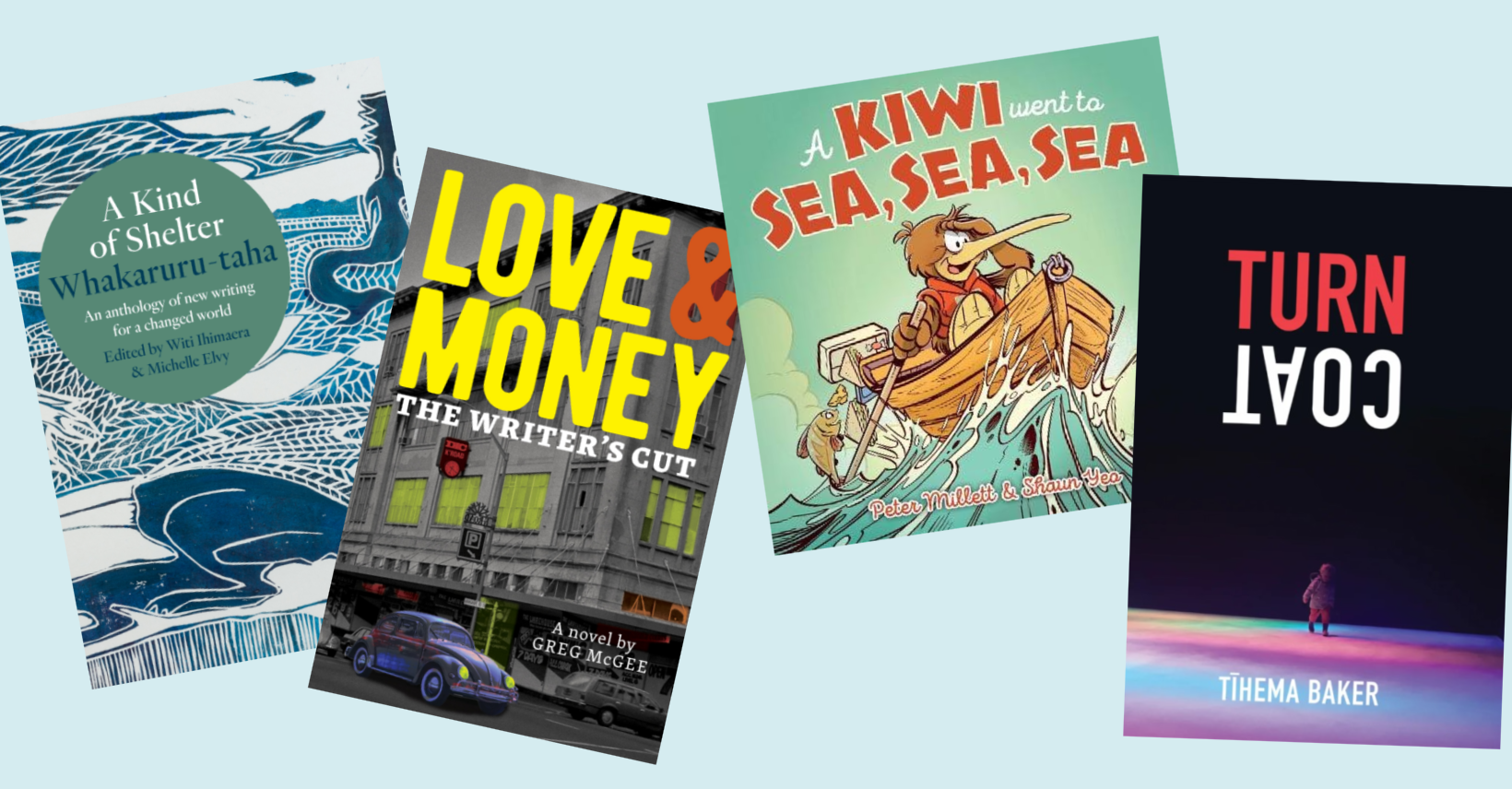 To be in to win any of these fabulous titles, just email communications@read-nz.org with the book's title in the subject line and your name and postal address in the email body.
A Kind of Shelter - Whakaruru-taha
An anthology of new writing for a changed world
Edited by Witi Ihimaera & Michelle Elvy
Massey University Press
Sixty-eight writers and eight artists gather at a hui in a magnificent cave-like dwelling or meeting house. In the middle is a table, the tēpu kōrero, from which the rangatira speak; they converse with honoured guests, and their rangatira-kōrero embody the tāhuhu, the over-arching horizontal ridge pole, of the shelter. In a series of rich conversations, those present discuss our world in the second decade of this century; they look at decolonisation, indigeneity, climate change . . . this is what they see.
Edited by Witi Ihimaera and Michelle Elvy, this fresh, exciting anthology features poetry, short fiction and creative non-fiction, as well as kōrero or conversations between writers and work by local and international artists. The lineup from Aoteraoa includes, among others, Alison Wong, Paula Morris, Anne Salmond, Tina Makereti, Ben Brown, David Eggleton, Cilla McQueen, Hinemoana Baker, Erik Kennedy, Ian Wedde, Nina Mingya Powles, Gregory O'Brien, Vincent O'Sullivan, Patricia Grace, Selina Tusitala Marsh and Whiti Hereaka. Guest writers from overseas include Aparecida Vilaça, Jose-Luis Novo and Ru Freeman.
Ihimaera and Elvy have curated a luminous hui, a book to return to time and again.
Email us to go in the draw to win a copy of A Kind of Shelter.
Love & Money: The Writer's Cut
Greg McGee
Upstart Press
Film directors get to re-release with the changes they wish they had made. That is called The Director's Cut. Now, Greg McGee has done the same to his 2012 novel. Welcome to Love & Money: The Writer's Cut.
New Zealand is in the middle of a share-market boom, there is an election coming up, a commune with bizarre sexual activities is causing questions, and the first Rugby World Cup is on the horizon. But for a failing actor with a chaotic personal life and friends and family who seem to be succeeding where he isn't, there are no silver linings.
But this is 1987. Everybody's world is about to fall apart.
About the Author:
Greg McGee is an award-winning New Zealand playwright, television screenwriter, novelist, and biographer. Coming to national attention in 1980 with his first play, Foreskin's Lament, debuted. Centred around rugby, this play became iconic in New Zealand and garnered McGee popular acclaim. A successful screenwriter as well as playwright, his novels have also bought him awards.Winning the prestigious Ngaio Marsh Award for his debut, Cut and Run (writing as Alex Bosco), his 2015 novel, The Antipodeans, was a long-running bestseller. Love & Money: The Writer's Cut is his most recent novel.
A Kiwi Went To Sea, Sea, Sea
Peter Millett & Shaun Yeo
Bateman Books
A Kiwi went to sea, sea, sea to catch some kai for tea, tea, tea . . . Will the kiwis get to have their fun in the sun and enjoy some yummy kai out on the deep blue sea? Or will the wheke, popoto, titi, mako, kekeno and maki leave their plans high and dry? Join Peter Millett and Shaun Yeo on another rollicking, rhyming reboot as they transform the beloved song A Sailor Went To Sea into a tongue-twisting, Kiwi-as nautical adventure!
Email us to go in the draw to win a copy of A Kiwi Went to Sea, Sea, Sea
Turncoat
Tīhema Baker
Lawrence & Gibson

'I see you're coming to terms with what it means for a Human to serve the Hierarch.'
'Well, I know that a lot of Hierarch edicts completely contradict Human values. I was prepared for that when I began here—'
'Were you?'
Daniel is a young, idealistic Human determined to make a difference for his people. He lives in a distant future in which Earth has been colonised by aliens. His mission: infiltrate the Alien government called the Hierarch and push for it to honour the infamous Covenant of Wellington, the founding agreement between the Hierarch and Humans.
With compassion and insight, Turncoat explores the trauma of Māori public servants and the deeply conflicted role they are expected to fill within the machinery of government. From casual racism to co-governance, Treaty settlements to tino rangatiratanga, Turncoat is a timely critique of the Aotearoa zeitgeist, holding a mirror up to Pākehā New Zealanders and asking: "What if it happened to you?"
Tīhema Baker (Raukawa te Au ki te Tonga, Ātiawa ki Whakarongotai, and Ngāti Toa Rangatira) is a writer and Tiriti o Waitangi-based policy advisor from Ōtaki. He has a Master of Arts in Creative Writing from the International Institute of Modern Letters at Victoria University of Wellington, for which he wrote this novel.