12 September 2023
Hot off the press: September Giveaways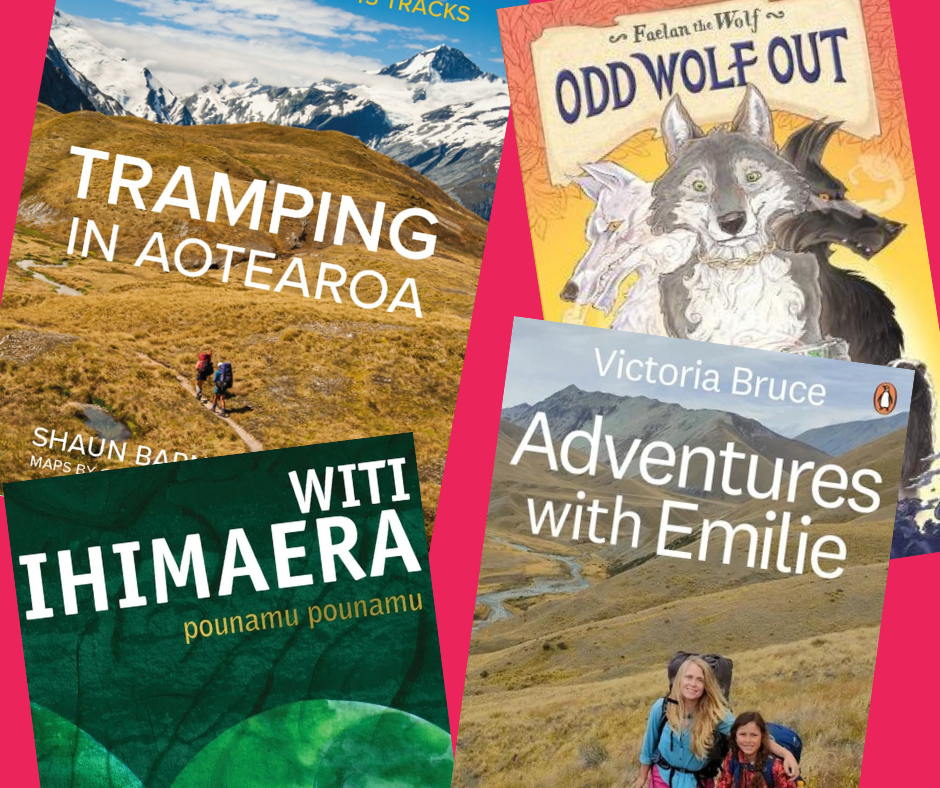 To be in to win any of these fabulous titles, just email communications@read-nz.org with the book's title in the subject line and your name and postal address in the email body.
Faelan the Wolf Book #1: Odd Wolf Out
Juliette MacIver Scholastic
The first of three funny, full-of-heart adventures in this new fantasy series that follows a gentle but determined vegetarian wolf named Faelan (which means 'Little Wolf' in Gaelic), who is something of a misfit, derided by the other wolves in the pack. He would rather make friends with other animals than eat them! He also likes to grow vegetables and play the harp.
One day, he encounters a chicken named Avian – a clever and courageous leader on a quest to rescue her flock of enslaved barn chickens. Together Faelan and Avian embark on a hair-raising quest...In this first story, we meet the lovable Faelan, who has always believed himself to be an orphan, then finds his father is still alive ... and it may be the terrible, fearsome white wolf, Varg!
Adventures with Emilie

Victoria Bruce Penguin
A mother and daughter's wild journey to rediscover the wonder and restorative power of nature.
"I'm here because I want to test the very limits of my own resilience and reassure myself that no matter what's happened to me, I'm not ready to lie down and die."
In 2021, Victoria Bruce quit her corporate job, packed up her life and embarked on Te Araroa trail with her seven-year-old daughter, Emilie. On the 3000-kilometre journey that traverses the length of Aotearoa, the duo faced Covid lockdowns, the harsh elements of New Zealand's backcountry and even a near-death experience.
A keen tramper, Victoria's drive to complete the walk was to take time out, create lasting memories with Emilie and reconnect with nature. But it was also a way for her to face her past, and the events that led to her post-traumatic stress disorder.
Email us to go in the draw to win a copy of Adventures with Emilie
Pounamu, Pounamu 50th Anniversary Te Reo Edition
Witi Ihimaera Penguin
A literary taonga, now translated into te reo Māori. Published in collaboration with Kotahi Rau Pukapuka.
Published in 1972, Pounamu Pounamu was Witi Ihimaera's first book. The vivid stories in this collection explore and celebrate what it is to be Māori and a New Zealander, and sowed the seeds for many of his future novels.
Now, thanks to Kotahi Rau Pukapuka Trust, whose goal it is to produce 100 great books in te reo Māori, Pounamu Pounamu is available to read in te reo for the first time.
Email us to go in the draw to win a copy of Pounamu, Pounamu
Tramping in Aotearoa: New Zealand's Top 45 Tracks
Shaun Barnett Potton & Burton
Definitive, bestselling New Zealand tramping guide fully revised and photographed.
Acclaimed author, photographer and guide Shaun Barnett's top tramping guide features our most popular tramps, along with essential route information; the latest generation of overview maps; expert commentary; and outstanding photography.
Tramping in Aotearoa: New Zealand's Top 45 Tracks showcases our best-known great walks, such as the Milford Track, Routeburn and Tongariro North Circuit. He also includes many other trips from around the motu, including the Kauearanga Kauri Trail in the Coromandel, the Travers-Sabine Circuit in Nelson Lakes, the newer Old Ghost Road in Kahurangi and the Paparoa Track.
Email us to go in the draw to win a copy of Tramping in Aotearoa