29 March 2023
Next Te Awhi Rito Reading Ambassador named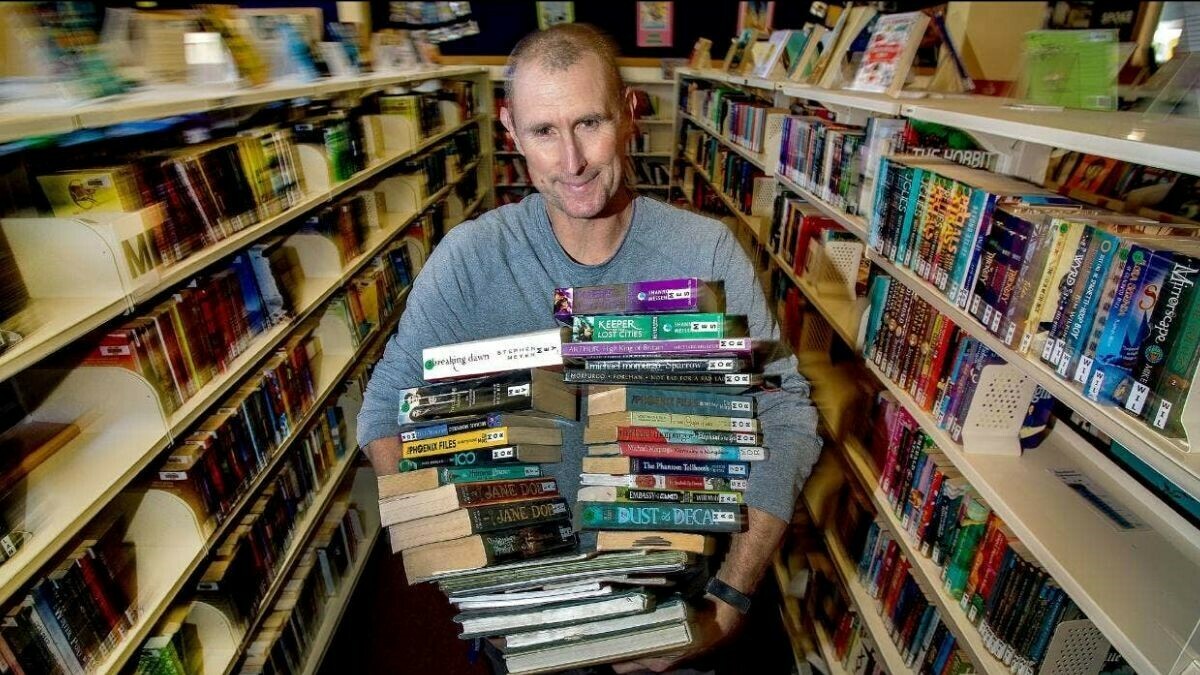 Alan Dingley, Librarian at Palmerston North Intermediate School, has been named as the next Te Awhi Rito Reading Ambassador for children and young people. Alan is a passionate advocate and school librarian who communicates the joy and transformation reading can bring to a young person's world. He brings impressive experience, skills and knowledge to the kaupapa of creating readers.
Alan will succeed Ben Brown (Ngāti Mahuta, Ngāti Koroki, Ngāti Paoa) whose term as the first Te Awhi Rito Reading Ambassador ends in May.
Te Awhi Rito Reading Ambassador supports and champions the importance of reading in the lives of young New Zealanders, their whānau and communities.
As a school librarian, Alan works every day to connect young people with books that will inspire and engage them. He has deep knowledge of New Zealand literature for young people and the enthusiasm and talent to communicate effectively through many channels to the diverse communities of Aotearoa New Zealand.
"I am so humbled to be chosen as the next Te Awhi Rito New Zealand Reading Ambassador and follow the wonderful mahi and impact Ben has made. It's a brilliant opportunity and to have been selected is just such an amazing feeling.
"I believe my strength will be reading engagement, on-the-ground work with children and young people, and building and strengthening community connections."
Helping to create new experiences, and being a catalyst for creating an inclusive, engaging reading culture and community, are key areas for Alan.
"I want to connect people to books that would change their lives, just like books did, and still do, for me. A good book is either a doorway or a mirror. You can see yourself in it, or you can escape into it. What a great job it will be to promote something like that."
National Librarian Rachel Esson says Alan's appointment reflected the high calibre of nominations for Te Awhi Rito and the prominence it has gained nationwide.
"Alan stood out for his passion for engaging young people with reading for pleasure, and the depth and breadth of that commitment in his professional life as a librarian and in his capacity as a volunteer in so many contexts and events. He is held in great esteem across library and education settings in his community, with a growing profile at a national level."
As a national reading role model, the Reading Ambassador increases the visibility and awareness of reading across all sectors, helping to create a nation of readers. They make connections between the many organisations involved in reading, literacy, literature and the wellbeing of young people and build the appreciation and growth of stories and literature that reflect Aotearoa New Zealand.
The name Te Awhi Rito comes from the harakeke or flax plant. The 'Rito' is the young shoot at the centre of the plant. 'Awhi Rito' are the strong, mature leaves that stand straight and tall to surround, protect and nurture the Rito.
The National Library of New Zealand leads the Te Awhi Rito New Zealand Ambassador programme in partnership with Te Puna Foundation, Read New Zealand Te Pou Muramura, Creative New Zealand Toi Aotearoa and Storylines Children's Literature Charitable Trust Te Whare Waituhi Tamariki o Aotearoa.
Read more about Te Awhi Rito at https://readingambassador.nz/