22 May 2023
Q&A with Carly Waddleton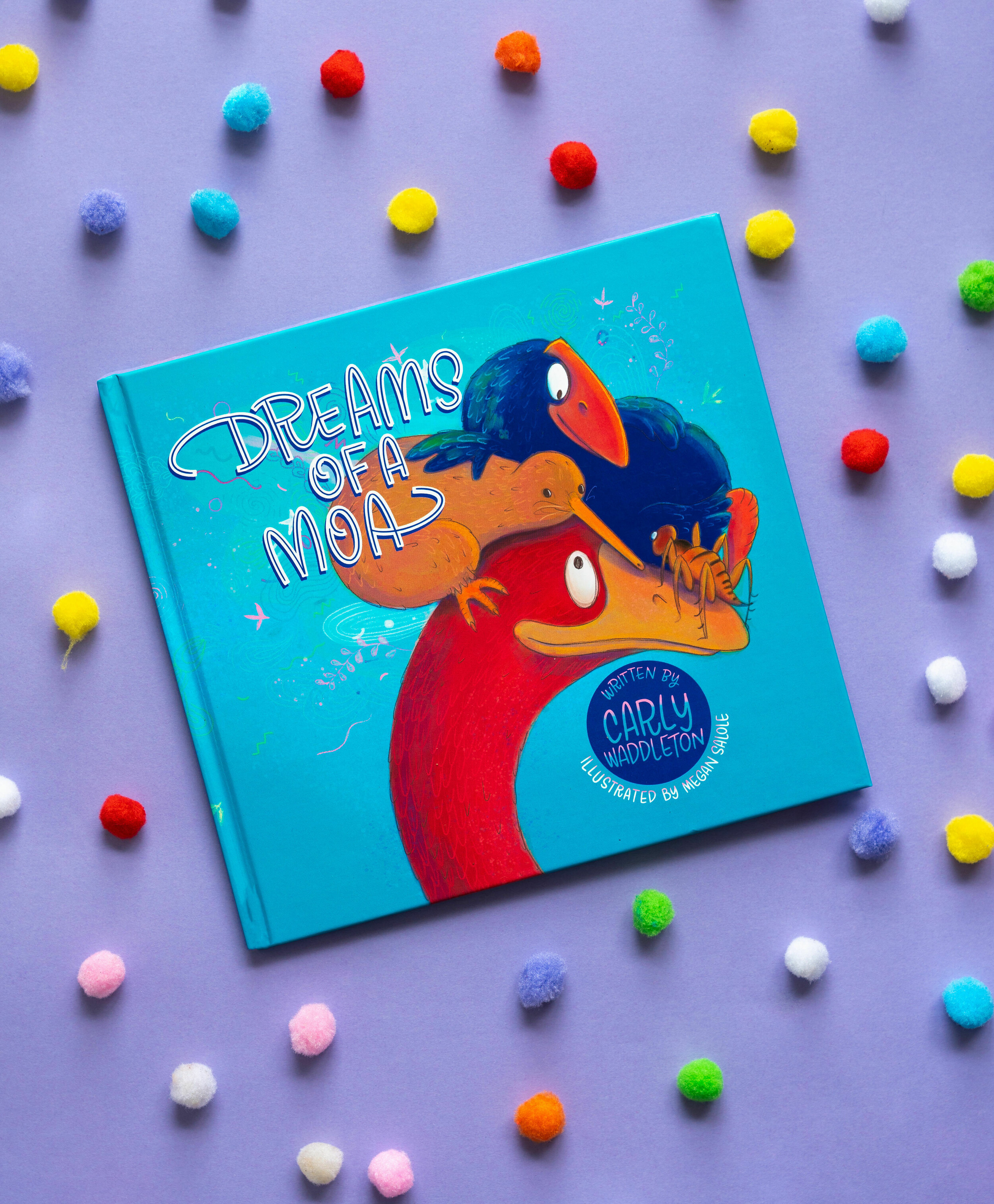 We chatted with first-time author Carly Waddleton about her debut children's book, Dreams of a Moa.
Kia ora Carly! Please tell us a little about yourself and how you came to be a writer.
I think I've always been a writer, but never felt I could say it out loud until now. There is something about the word 'published' that suddenly pushes away that little bit of imposter syndrome that you feel.
It started when I was little, my head was always in the clouds, day-dreaming and getting distracted…not much has changed I guess! I first had a poem published when I was 8, it was a strange tale of a bee, and since then I just always wrote stories and poems. A few years ago though, I finally permitted myself the time to write, putting aside all the excuses, and since then my writing has gone from strength to strength.
What was the inspiration for Dreams of a Moa?
When my two boys were little I would take them to the Canterbury Museum and they were intrigued by the Moa. It's such a magical creature, so I would make up all sorts of stories to feed their curiosity.
This is your first book! How does it feel? What would you tell other aspiring authors?
I feel a strange mix of excitement and nerves. Excitement because I love writing and creating these new things that didn't exist before, but nervous at the thought of my words being read to children around the world. Hopefully, it brings happiness to those who read it.
To other aspiring authors, I would say just write, write as much as you can. It is a fine skill that you have to practice. If I look back at my earlier stories, I can see a noticeable difference between when I wrote sporadically, and when I really took the time to focus.
"Tamariki are boundless in their acceptance of different ideas."
What's special about writing for tamariki of this age?
Tamariki are boundless in their acceptance of different ideas, which means as an author you can have a lot of fun, and go to so many wild and wonderful places. I also really enjoy using rhythm and rhyme to help bounce the words off the page, which you can only really do for this age group.
What makes this story unique?
Well I'm not sure there are many books out there featuring a Moa ballet dancing in France, sailing the Pacific or landing on the moon. But I also wanted to include some facts about the Moa, so I worked with the Canterbury Museum to write the fact page at the back of the book. This helps anchor the story, along with the incredible illustrations that set it firmly in Aotearoa, New Zealand.
Megan Salole helped bring your story to life - how was the process working with an illustrator?
It's really important to click with your illustrator, as you are trusting them to re-imagine and create something that has for now only existed in your mind. Luckily for me, Megan is the most wonderfully talented person who matched my excitement and energy along the whole project.

What message would you most like children to take from Dreams of a Moa?
You'll see through the book that the Moa always, always gave their dreams a try, even if it didn't exactly work out. For me, it's such an important message, that we should all, young and old, go after our dreams. It's so easy to get distracted with the everyday necessities of living, that we put aside our dreams.
So pick up your dreams and go after them. You will never regret being on the start line, even if you don't finish.
What's next for you?
I've finished a follow-on children's book, and also a middle grade novel that I'm just starting to send out to publishers. Having Dreams of a Moa published has made me realise that this is what I love, writing gives me energy, so I'm going to follow my own advice (and that of the Moa) and go after my dreams of publishing many, many more books.

Dreams of a Moa, written by Carly Waddleton and illustrated by Megan Salole, is out now.
$25 RRP, Little Love