16 January 2023
Thank you for being part of Birds of a Feather Reading Challenge!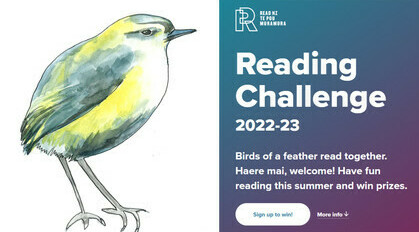 Our Birds of a Feather Reading Challenge finished up on Friday, after a month of wonderful reading activity!
Congratulations to all our young readers and a big thank you to you and your whānau for taking part. We hope you had lots of fun reading with your siblings and parents, and in some cases, pets and stuffed animals!
We loved the enthusiastic logging of books and jostling for position on the Readerboard, and receiving the beautiful reading pictures throughout the summer, like this one of Layla and Samira reading to their toy animals.
And now for the official round-up:
More than 315 tamariki took part and would you believe that together they read 4,121 books - wow!
Here's the Readerboard at the close of the competition:
Among the younger age group (5-8 years), the winning team was Pīwakawaka, with 990 books read in total. In the older age group (9 years and up), Kererū was the winning team, with 488 books read. Team Ruru was close behind though, with 429 books.
The top readers in each team were:
Pīwakawaka: Adam
Tuī: Lightning Bolt
Pīwauwau: Doshia
Kōtare: Joy + Grace (first equal)
Kererū: Nerd1712 + Little Rose (first equal)
Ruru: Clickety Clock
Hoiho: Ebony
Kākāpō: Little Monkey
The top readers in each team have won a $30 book voucher to buy themselves something special to read next. We will be in touch soon to arrange postage.
The school winner of the special bilingual book pack for the school with most tamariki taking part in our challenge is Ōkaihau Primary in Te Tai Tōkerau. Congratulations!
The winner of the wildlife book stack are siblings Layla and Samira, and the stack of bird books were won by Robyn Miles.
The chapter book bundle is going to Vritti Patel (right, in her favourite reading spot at Kerikeri Library), and the five memberships to the Kiwi Conservation Club were won by Theo, Kenzie, the Williams whānau (pictured below with their summer reading), Caleb and Daithí.
Spot prizes were won by a few of our loyal players from around the country (we will contact you this week to make sure the books reach you safely!)
You might now be wondering about the books enjoyed by our young readers. We can reveal that the most popular authors read by our players this summer were Julia Donaldson, Dav Pilkey and Joy Cowley.
Enid Blyton's Famous Five, Hergé's Adventures of Tintin, the Rainbow Magic book series and Ahn Do's Ninja Kid and Weirdo books were also favourites among all our readers, as were the Geronimo Stilton and Bad Guys book series, and all things Kelly Wilson, Stacy Gregg and Cressida Cowell.
Lest you think all our readers were enjoying the same few authors, we must note that more than 3,000 of the titles were only logged once. There was a diverse range of reading going on - everything from Eric Carle to poetry anthologies, natural history, cooking and Christian books, local short stories to Anne Geddes baby albums!
Congratulations to everyone who took part and thank you again for playing. We hope you keep up the awesome reading routine throughout the year. Please do stay in touch with us to hear about our next reading challenge!