25 July 2023
Whitcoulls Top 100 Books 2023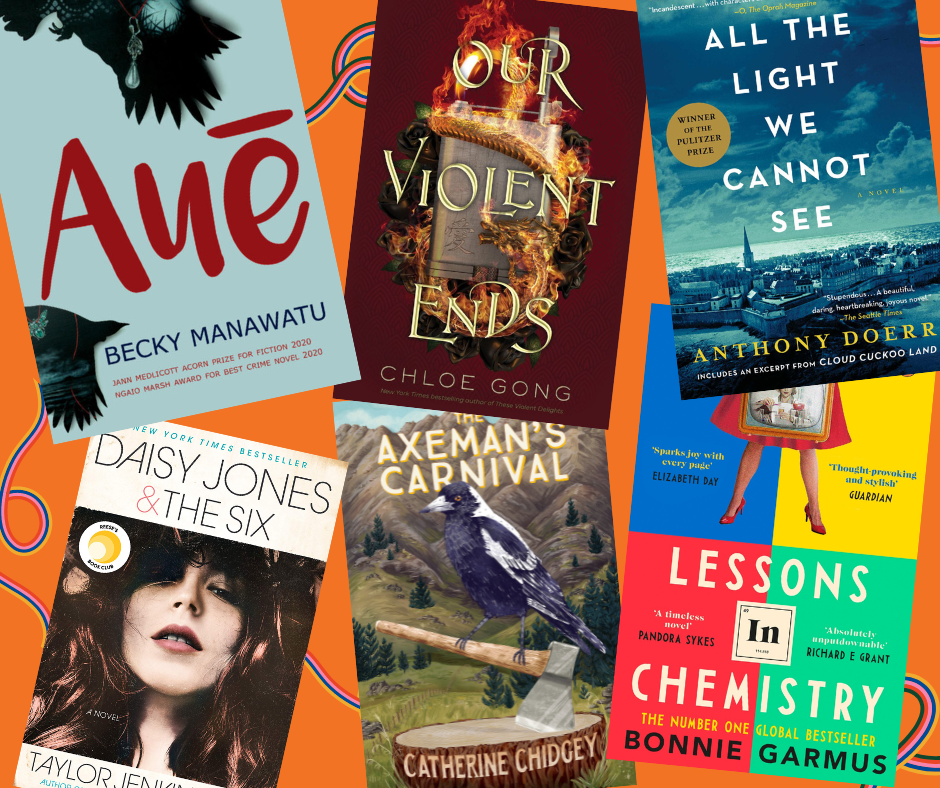 It's that time of year again. Whitcoulls have released their 2023 Top 100 Books list… And in a momentous turn of events, a new series has taken #1!
Lucinda Riley's historical fiction series The Seven Sisters, was concluded with its eighth book this May, and Kiwi readers voted the series into the top spot, knocking Harry Potter off the pedestal on which it has comfortably sat for so long.
The list still contains many classics, whose popularity endure, but there are also 38 newcomers such as Holly Jackson's A Good Girl's Guide to Murder Series (#17) and Tahereh Mafi's Shatter Me Series (#31).
Significantly, every one of the top 10 places are held by female authors. Bonnie Garmus' Lessons in Chemistry takes #4, Delia Owens' immensely popular, Where the Crawdads Sing is in #6, and Gabrielle Zevin's Tomorrow and Tomorrow and Tomorrow slots in at #9.
Twelve of the places have been snapped up by writers from Aotearoa. Flying the flag for kiwi fiction are those such as, Chloe Gong's series Violent Ends, which sits up high at #15. Eleanor Catton's new novel Birnam Wood (#33) and Catherine Chidgey's The Axeman's Carnival (#76) also feature. Ruby Tui's Straight up (#23) and Sam Neill's Did I Ever Tell You This? (#56) represent some of our non-fiction works.
The list contains an amazing diversity of genres and styles. "There genuinely is something for everyone in the Top 100 and the beauty of it is that if thousands of people have voted for these books, chances are a new reader finding them for the first time will love them too. It's a real endorsement from New Zealanders from all walks of life," says Whitcoulls Book Manager, Joan Mackenzie.
Of course, here at Read NZ, we have some favourites we want to champion:
Rachael's pick from the list is All the Light We Cannot See (#35). One of her all time favourites is another from Anthony Doerr, Cloud Cuckoo Land, which she wished could've made the list, but she'll take All the Light as a close second.
Sarah rates Becky Manawatu's, Aue (#71) as a book every New Zealander should read. She also firmly believes Taylor Jenkins Reid "is a bestseller for a reason. Her books are so absorbing and just eminently readable." (Taylor Jenkins Reid has three(!) novels on the list at #3, #20 and #62). And finally (because there's no way she could limit herself to just a couple), The Song of Achilles (#28) and Red, White and Royal Blue (#53) are her picks for "what you should buy your gay friend for Christmas."
One of Grace's long-time favourites is The Book Thief (#19), and she couldn't go past Normal People (#45). This is Going to Hurt (#80) by Adam Kay is the next on her list.
Juliet is a loyal champion of The Axeman's Carnival (#76), and just recently read Donna Tartt's The Secret History (#40). She admits she's late to the party on that one, but better late than never!