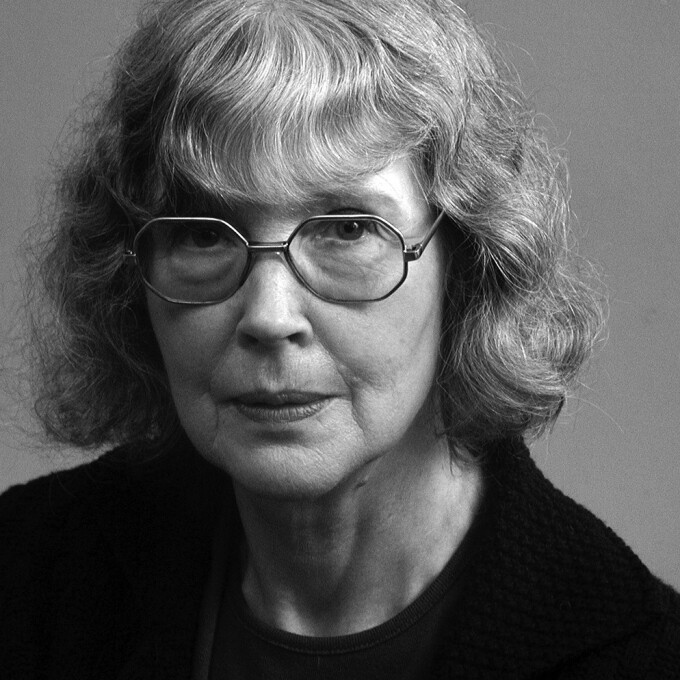 Writer's File
Fleur Adcock
International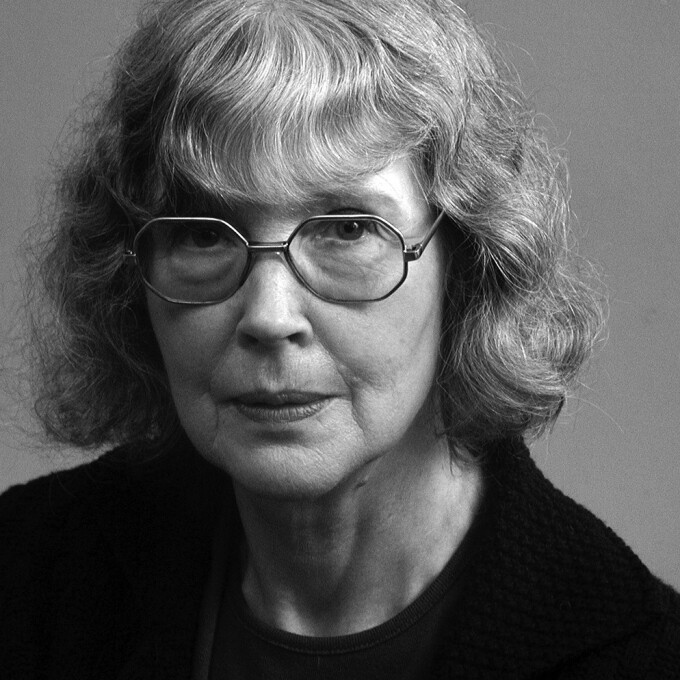 In brief
Fleur Adcock is a poet, editor and translator. The different aspects of her writing are rarely expressed in isolation from each other, and relationships with people, nature and landscape, politics and gender, find poignant and interlaced psychological expression. She is highly regarded for her translation of Medieval Latin and twentieth-century Romanian poetry and also her extensive editorial work. She has published numerous poetry collections and has received significant awards and fellowships, local and international.
FROM THE OXFORD COMPANION TO NEW ZEALAND LITERATURE
Adcock, Fleur (1934– ), is a poet, editor and translator of medieval Latin and twentieth-century Romanian poetry. She was born in Papakura. Her family moved to England when she was five, remaining there through World War II until she was thirteen, when they returned to New Zealand. Her mother Irene Adcock (NZ Poetry Society) and sister Marilyn Duckworth are writers.

Having obtained an MA in Classics at Victoria University, Adcock repeated her family's journey in 1963, and made her permanent home in Britain. Her 1952 marriage to Alistair Campbell ended in 1957. She was married to Barry Crump, 1962–66. A professional librarian for the British Foreign and Commonwealth Office until 1979, she has held writing fellowships at Charlotte Mason College of Education at Ambleside and at the universities of Newcastle upon Tyne, Durham, East Anglia and Adelaide, Australia.

Adcock's poetry ranges across themes from the painful negotiations of relationships to ecological, political and gender concerns. Although she is often praised for her 'anti-erotica' and her restrained, classically informed voice, underlying such defensive discursive strategies there is a genuine tenderness and sensitivity to the potential psychic scarrings of the most intimate betrayals. Tellingly, Adcock's most moving elegiac works ('The Keepsake', 1986, 'The Chiffonier', 1986) testify to the endurance of friendship or familial bonds, rather than romantic love.

Adcock's work has moved from an earlier self-concealing deployment of male narrators or characters, to a more confident use of the lyrical self, and a deliberate focus on women's lives through various fictional voices. Influences include Graves, Auden, Yeats, Edna St Vincent Millay and Ursula Bethell.

The most consistent influences, however, are of various principles that may be seen as grounded in such British associations of poets as the Movement or the Group. Her accessible, declarative diction comes from a conscious wish to avoid taking advantage of the reader, and so she rejects fragmentation, academicism, disruptions of syntax or awkward, esoteric symbolism - traits that could be seen as either Neo-romantic or Modernist in succession to Ezra Pound.

Adcock is also resistant to typographically or visually experimental poetry. Her ear trained to formal metrics, she delights in patterned rhymes and strict stanzaic forms. Her early work in The Eye of the Hurricane (1964) and Tigers (1967) (her British debut, based partly on the first book), shows interest in the symbolic use of fairy tale, myth and allegory.

She has since moved to sharper clarity in documenting contemporary and domestic scenes. Yet she also creates vivid 'other' worlds, from the science fiction scenario in 'Gas' (High Tide in the Garden, 1971) to the incorporation of historical material in her libretto, Hotspur, A Ballad for Music (1986; composer Gillian Whitehead).

Although Adcock's range is wide, her oeuvre like her life, she has said, is 'influenced, infected, and to some sense distorted' by questions of national identity. Many poems are written from the perspective of an ambivalent outsider; identifying with and yet withdrawing from various emotional and physical contexts.

The dislocations of emigration inform several; not just poems that directly confront the experience, but also those concerned with the dream landscapes of the subconscious, or the reconstruction of a narrative of her family history. Below Loughrigg (1979) also deals in the literary historical pressures of place and tradition, as she explores her relationship to the Lake Poets during one of her writing fellowships.

The troubling intersections of private and national identities are discussed in autobiographical pieces written for Poetry Review (74, 1984), 'A Lifetime of Writing' in Beyond Expectations (ed. Margaret Clark), The Bloodaxe Book of Contemporary Women Poets: Eleven British Writers (ed. Jeni Couzyn) and the Contemporary Authors series (Gale Research).

Ursula Bethell is the only New Zealand poetic predecessor that Adcock openly acknowledges. Yet some poems directly concern her feelings about the New Zealand side of her heritage and engage with and criticise descriptions of the landscape that had been standard literary fare since the 1930s.

These issues crop up particularly in her main collections from the 1970s, High Tide in the Garden (1971), The Scenic Route (1974) and The Inner Harbour (1979). In poems such as 'Ngauranga Gorge Hill', 'Stewart Island' and 'On a Son Returned to New Zealand', Adcock expresses discomfort over the question of her own position within the language of New Zealanders.

The isolation and 'peculiar pressures', which Allen Curnow advocated as aspects of a native New Zealand art, are present in her poems as part of a highly personal argument over origins and belonging. 'Ngauranga Gorge Hill' (1971) performs the exorcism of a painful past by depicting its physical setting as sterile, awkward and confined. Subsequent poems about England juxtapose a variety and abundance of natural forms to their perceived absences in New Zealand.

Adcock's work performs perpetual migrations. Later poems such as 'Please Identify Yourself', 'The Bullaun' (1974), 'Foreigner' and 'Immigrant' (1979) touch on the difficulties of adapting to Britain or claiming Britishness; while 'Richey', 'The Voyage Out', 'Moa Point' (1971) and 'Settlers', 'Going Back' and 'Instead of an Interview' (1979) relocate, exploring the emigrant's or back-migrant's experience within New Zealand. Fittingly, a section in The Inner Harbour is titled 'To and Fro'.

This shuttling point of view is quintessentially Adcock; the section title emphasises the divided sense of identity she inherits from both family (or historical) emigrant experience and personal expatriation. In 'Instead of an Interview' the issue is further complicated, as Adcock explores the loss and alienation that spring from the choice of long-term separation from family.

Adcock's translation and editorial work intensified in the 1980s, when her Selected Poems (1983) also appeared. The main collection of new work from this decade is The Incident Book (1986), in which her English childhood is mapped out through various changes in schools; the role of new girl or outsider is dramatised through small events, while an England of woods and flowers is recorded that is absent in the poems that frame this section.

The rest of the volume depicts a Britain fractured by social tension, the 'Thatcherland' sequence showing how the erosions of recession, commercialisation and the creed of individualism filter down into the apparently small changes in suburban lives. Adcock's England has developed from a place which answers to New Zealand's supposed deficiencies to a more troubled depiction of social and political unease. Meeting the Comet (1988) shows particular skills with the topical.

Ecological and political concerns recur in Time-Zones (1991), which takes its title from the division of hemispheres, yet also refers to the intense presence of memory underpinning the everyday. Here Adcock's subject matter loops from the oppressive regime of Ceausescu in Romania to the insidious workings of chemical pollution.

The volume is also haunted by the death of her father. Yet, typical of Adcock's professional ability to switch registers, poems such as 'Housemartins' and 'Creosote' also confront the idealising tendencies of even the most painful nostalgia. 'Mrs Fraser's Frenzy', which explores the same events as Patrick White's novel A Fringe of Leaves (the shipwreck of the Stirling Castle and the ordeal of one survivor), shows Adcock's continuing fascination for the drama of migration, and the feelings of psychological division associated with the experience, as she channels these through an extreme example of deprivation and conflicting fictionalised voices.

Despite her absences and ambivalences, Adcock is well represented in New Zealand anthologies such as the most recent Oxford and Penguin, frequently reviews New Zealand books in British journals, edited the Oxford Book of Contemporary New Zealand Poetry (1982) and was awarded an OBE in 1996 for her contribution to New Zealand literature.
ADDITIONAL INFORMATION
Fleur Adcock's Selected Poems won the New Zealand Book Award for Poetry at the 1984 New Zealand Book Awards.

In 2006, she won one of Britain's top poetry awards. Her collection Poems 1960-2000 was the winner of Queen's Gold Medal for Poetry, which has been won by poets such as WH Auden, Siegfried Sassoon, John Betjeman, Philip Larkin and Ted Hughes.

In 2008, Adcock was was named a Companion of the New Zealand Order of Merit for services to literature in the Queen's Birthday Honours.

Fleur Adcock's collection of poems encounters with insects Glass Wings was published by Victoria University Press in 2013. Writing in The Guardian, Fiona Sampson describes the final section as offering 'gleamingly vivid encounters with insects, largely ones that "came as a part of the portfolio / handed from child to child". But her range and diction – that characteristic mixture of playfulness, deprecation, questioning and close focus – are also strangely, and affectingly, girlish...'
The Land Ballot, a sequence of poems that also serves as a moving family memoir,was published in 2014.
Hoard was published in 2017, including reflections on the tools of her trade (handwriting, typewriters), snatches of autobiography (a brief, ill-considered second marriage followed by her migration from New Zealand to England in 1963), and poems on trees, wildlife and everyday objects.
In October 2019 Adcock was presented with the New Zealand Prime Minister's Award for Literary Achievement in Poetry by the Rt Hon Jacinda Ardern.
Adcock's Collected Poems, combining Poems 1960–2000 and four subsequent collections in one beautifully produced hardcover volume, was published by then-Victoria University Press (now Te Herenga Waka University Press) in 2019, for the author's 85th birthday, which she celebrated in New Zealand.
In 2021, Te Herenga Waka University Press published a new collection, The Mermaid's Purse. Reviewing the book for Kete, Paula Green writes:
'She gets personal, she observes closely, and she sometimes makes me laugh out loud. The Mermaid's Purse reminds me, as all her other collections have done, that poetry is most definitely a form of travel.'

November 2023