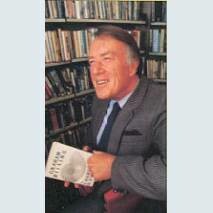 Writer's File
Graham Billing
Deceased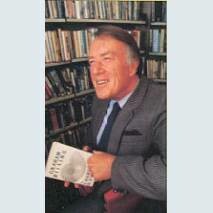 In brief
Graham Billing was a novelist with a background in journalism and seafaring. His novel, The Slipway (1974), was described by The National Observer as 'a work of discriminating intelligence,' and it was published while he was a Robert Burns Fellow at the University of Otago in 1973. The Chambered Nautilis (1993) was described by Denis Welch as 'breathtaking in scope, almost biblical in depth.' Billing died in December 2001, and his last novel, The Blue Lion, was released posthumously in 2002.
ABOUT THE AUTHOR
Billing, Graham (1936– 2001), a journalist and novelist whose seafaring background and densely symbolic narratives and have led critics to describe him as New Zealand's answer to Herman Melville.

Born in Dunedin, Billing was schooled at Otago Boys' High School. He worked as a cadet officer and ordinary seaman for shipping companies in the early and mid 1950s, and over the same period was a student at the University of Otago, leaving before graduation to take up a post as a journalist at the Dunedin Evening Star. Three years later he was awarded the Cowan Memorial Prize in Journalism.

Billing wrote his first book, South: Man and Nature in Antarctica: a New Zealand View (1964) during an eighteen-month stint as the public relations officer and handyman at Scott Base in Antarctica.

He later returned to the frozen continent both in fiction and fact, even having an Antarctic mountain - Mt Billing - named for him. Antarctica has continued to be an important element of his imaginative landscape, and parts of his Antarctic journal were published in Landfall and broadcast by Radio New Zealand.

Billing was awarded the 1973 Robert Burns Fellowship at the University of Otago.

His first novel, Forbush and the Penguins (1986), was labelled journalistic by some for its detailed evocation of Antarctic life. It shares, nevertheless, a philosophical and symbolic focus that is one of Billings distinguishing literary characteristics. The book was acclaimed both in New Zealand and abroad.

'Mr Billing has a large and observant heart,' writes The New Yorker.

'[T]he natural tension in his writing is the mark of a talent that can only deepen and grow more important as the years go by.'

Forbush was followed by a second non-fiction book, New Zealand: the Sunlit Land (1966) and the political thriller The Alpha Trip (1970), a novel often seen as out of place in Billings 'serious' fictional oeuvre. Its hero's New Zealand nationalism comes into conflict with aspects of the ANZUS military alliance between New Zealand, Australia and the United States.

M.K. Joseph describes Billing's next and indisputably serious novel Statues (1971) as 'an odd, in some ways unsatisfactory, but individual book, the work of a distinctive and uncompromising talent.'

While The Alpha Trip and Statues were both published in the UK as well as New Zealand, they did not attract the critical notice of Forbush. The appearance of The Slipway (1974) - promoted by its English publishers as 'the most powerful evocation of alcoholism since The Lost Weekend' - put Billings writing back in the literary foreground.

'A work of discriminating intelligence,' writes The National Observer, while the Book-of-the-Month-Club Newsdescribes the novel as '[a] brilliant psychological portrait... A totally absorbing novel.'

The Slipway was written while Billing held a Scholarship in Letters in and was published while he was a Robert Burns Fellow at the University of Otago in 1973.

During his time as the Burns Fellow, Billing was working on a fifth novel, The Primal Therapy of Tom Purslane (1980) and was bitterly disappointed to not find a publisher for the work, which was turned down by his London agent. It was finally published, along with the poetry collection Changing Countries (1980), by Dunedin's Caveman Press.

'These two books,' writes Lawrence Jones in New Zealand Books, 'were an attempt at a comeback after literary and personal difficulties.'

In a Landfall article at the time, Howard McNaughton described Billing as 'one of the most stylishly and stubbornly idiosyncratic contributors to our literature.'

Rumours circulated that Billing was working on a great epic - his Moby Dick - but more than a decade passed before The Chambered Nautilis (1993) was published to rapturous reviews.

'Breathtaking in scope, almost biblical in depth, it is arguably the best shot at the Great New Zealand Novel since the bone people,' writes Denis Welch in NZ Listener.

In Quote Unquote Peter Bland describes the weighty volume as 'breathtaking stuff that does not in the least dishonour its literary ancestry in Melville, Conrad and Lawrence.... It is writing of a genuine religious insight that evokes a deep emotional response rarely found in this postmodern world.'

Lawrence Jones was not the only critic to wonder where Billing could go after such a 'flawed but magnificent' novel.

The Lifeboat (1997) is a shorter, more focused and less all-encompassing novel, that is nevertheless rich in the portentous symbolism peculiar to Billing's oeuvre. Set in a recognisable and powerfully-evoked Otago landscape, it tells the story of Conrad Thorne, a mariner turned therapist, and Jonathon Weygood, an engineer and artist who becomes Thorne's patient.

'[T]he novel asks that we enter a kind of parallel world... a wildly idiosyncratic symbolic world that we can experience as "real" in its own terms but cannot fully understand,' writes Lawrence Jones.

Billing's unashamedly difficult literary works stubbornly resist easy categorisation. Like the Antarctic landscape that first inspired him, they have a wealth of vital philosophical data embedded beneath their sometimes inhospitable surfaces.

In 2001, Billing received a $36,000 grant from Creative New Zealand to complete a novel-in-progress.

Graham Billing's eighth and final work is The Blue Lion (2002), a love story with a difference. The Blue Lion tells of two people, Albion and Charlotte, who have arrived in newly colonised New Zealand. From very different backgrounds and experiences, they must carve out lives for themselves in the bustling, still raw, settlement of Dunedin in the 1860s.

Billing died in December 2001.