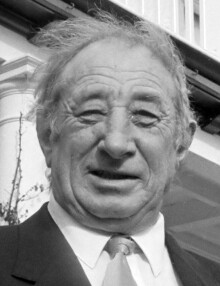 Writer's File
Barry Crump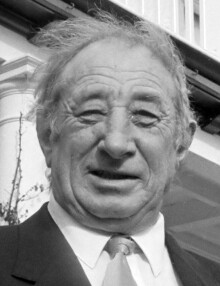 In brief
Best-selling author and TV presenter Barry Crump wrote more than twenty books of comic Kiwi yarns. In 1959 he began writing humorous sketches of his life as a deer-culler and pig hunter, publishing these as A Good Keen Man in 1960. By 1992 his New Zealand book sales were estimated at more than a million copies. In 1994, Crump was awarded an MBE for services to literature, and in 1996 the last volume in his autobiographical trilogy appeared, Crumpy's Campfire Companion.
FROM THE OXFORD COMPANION TO NEW ZEALAND LITERATURE
Crump, Barry (1935–96), was author of more than twenty books of comic Kiwi yarns, the first of which, A Good Keen Man (1960), was one of the most popular books ever published in New Zealand. He was born in Papatoetoe, South Auckland, grew up on dairy farms, and was educated at numerous South Auckland schools before attending Otahuhu College, which he left at the age of 15.

Throughout the 1950s he was an itinerant farmhand and bushworker, and from 1952 spent several seasons as a deer-culler in the Urewera country and the Kaimanawa Ranges, employed by the Wildlife Branch of the Department of Internal Affairs. In 1959 he began writing the humorous sketches of his life as deer-culler and pighunter that were published as the book A Good Keen Man in 1960.

Its success was immediate, and Crump promptly produced a follow-up ('my first venture into proper fiction'), Hang on a Minute Mate (1961). This introduced his best-known character, Sam Cash, a shrewd, worldly-wise, hard-bitten drifter and yarn-spinner, on the run from domestic ties and suburban conformity, who educates his young mate in self-reliance and the simple life.

Crump kept Sam Cash as the central character in One of Us (1962) and There and Back (1963), after which he spent two years in northern Australia, crocodile-hunting in the Gulf of Carpentaria and sailing off the north Queensland coast. The book that resulted (Gulf, 1964, later titled Crocodile Country) sold 100 000 copies in a Russian translation, according to the author.

Over the next seven years Crump produced another seven books, including an attempt at a female equivalent of his 'good keen man', A Good Keen Girl (1970). With Bastards I Have Met (1971) he left *A.H. & A.W. Reed (which in the 1950s had also promoted Frank *Anthony's 'Me and Gus' stories, predecessors in Crump's genre of the humorous masculine yarn) and set up his own publishing company.

In the late 1960s he also became well-known as a television presenter, doing skits and interviews on the local programme 'Town and Around'. Despite the success of Bastards I Have Met, the now well-established Crump formula appeared to be producing diminishing returns for the author, who described himself as 'bored by success' and 'restless'. His next book, Shorty, did not appear until 1980.

In the interim he travelled for two years in England, Europe, then through Turkey and Afghanistan to India, where he developed a close friendship with a Kashmiri family and became interested in Eastern spirituality. After his return to New Zealand he joined the Baha'i faith.

From the late 1970s until his death, Crump exhibited the same mix of itinerant restlessness punctuated by brief periods of settled residence that had characterised his life in the 1960s. In the early 1980s he ran a highly successful Auckland radio talkback programme entitled 'The Bush Telegraph', and featured in award-winning Toyota television commercials.

These activities confirmed his status as an icon of the rugged Kiwi *'Man Alone'. He also again began to publish books regularly, often reflecting places he briefly lived in: Shorty (1980), written in the Cook Islands; Puha Road (1982), written in the far North; Bullock Creek (1989), set in back-country Otago. In the mid-1980s he bought a small property and shack near Opotiki, his sole venture into private land-owning, but sold it again in 1991.

Increasingly, in his later books, Crump returned nostalgically to the material of his earlier ones, and found a new generation of interested readers. By 1992 his New Zealand sales were estimated at more than a million copies (including more than 400 000 copies of A Good Keen Man and Hang on a Minute Mate), and his overseas sales at 285 000 copies.

In that year the first volume of an auto-biographical trilogy appeared: The Life and Times of a Good Keen Man. The second, Forty Yarns and a Song, dedicated to 'life in New Zealand in the Fifties and Sixties. Those great days!', appeared in 1994, and the last, Crumpy's Campfire Companion, in 1996. In 1994 he was awarded the MBE for services to literature. He was married five times, including (briefly) to the poet Fleur Adcock, and (for a number of years) to the novelist Jean Watson, and had nine children, all sons. A commemorative Tribute to Barry Crump was published in 1997 with contributions from Kevin Ireland and others and a selection of Crump's poems and prose.

Crump became a highly skilled practitioner in the genre of the literary yarn, a mode of male writing with a long history from colonial times. Written in a simple, intimate style which captured the feel of the idiom of the 'ordinary bloke', and with a lively sense of humour and narrative timing, his stories of abandoning the urban rat race and 'going *bush', learning to live independently and to develop practical skills of survival, appealed strongly to post-war generations of primarily city- and suburban-dwelling New Zealanders.

He also became increasingly aware of the ambivalent values—freedom from domestic and other social responsibilities—which his books seemed to endorse. As early as Hang on a Minute Mate, Sam Cash is presented as abandoning his young mate at the end, describing his own drifting life as a 'disease'. In his later writing Crump came increasingly to share this ambivalence playfully with his readers, as if recognising the make-believe character of his fictional world and inviting them into it simply for the pleasures of nostalgia, fantasy and sheer comic story-telling skill it offered.
ADDITIONAL INFORMATION
A Life in Loose Strides (2000) is a biography of Barry Crump by Colin Hogg. 'This story tells us harsh but very human truths about Crump, but it also tells us a lot, between the lines, about the times he lived in... It's a terrific read,' writes Kevin Ireland.

A 50th-anniversary edition of the author's novel A Good Keen Man was published by Hodder Moa Beckett in 2009.
Wild Pork and Watercress was adapted for the screen by director Taika Waititi. The movie Hunt for the Wilderpeople was released in 2016.
MEDIA LINKS AND CLIPS