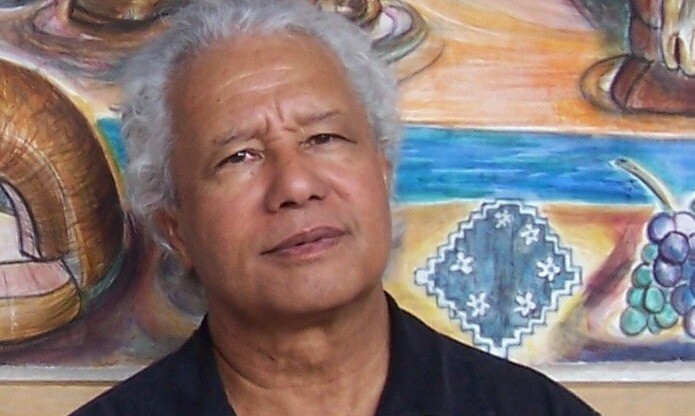 Writer's File
Albert Wendt
Auckland - Tāmaki Makaurau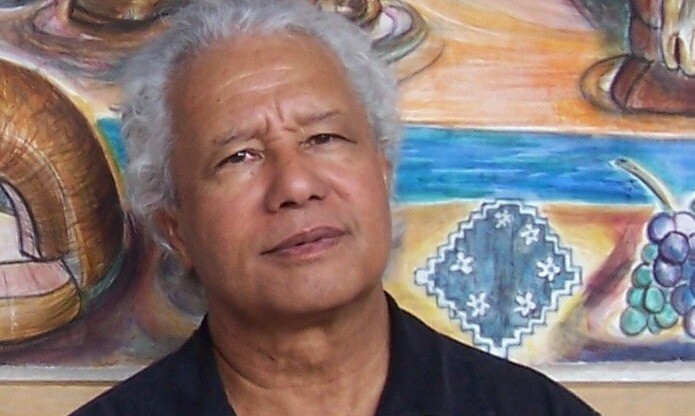 In brief
Born in Apia, Western Samoa, Albert Wendt has published a huge range of fiction and poetry, as well as theoretical writing. He is internationally recognised as a leader of developments in New Zealand and Pacific literature. Albert Wendt was awarded the Companion of the New Zealand Order of Merit for services to literature in 2000. His publications often feature his own drawings, and in 2008 an exhibition of his paintings opened in Auckland. He has edited a number of important anthologies and continues to play a major role in fostering and promoting Pacific literature. In 2013 he was awarded the highest possible honour in New Zealand's honours system, becoming a member of the Order of New Zealand.
From Mānoa to a Ponsonby Garden
The Book of the Black Star
The Birth and Death of the Miracle Man
Leaves of the Banyan Tree
FROM THE OXFORD COMPANION TO NEW ZEALAND LITERATURE
Wendt, Albert (1939– ), has been an influential figure in the developments that have shaped New Zealand and Pacific literature since the 1970s.

Born in Apia, Western Samoa, a member of the Aiga Sa-Tuala, he was educated from 1953 at New Plymouth BHS, Ardmore Teachers' College and Victoria University (MA in history). He returned in 1965 to Samoa to teach, became principal of Samoa College and in 1974 moved to Fiji to the University of the South Pacific. After a period at the Apia campus, he became professor of Pacific literature and pro-vice-chancellor. This was a dynamic and productive period in intellectual life in the Pacific; the developing university was a main focus for debates about independence, identity and cultural exchange.

In 1988 Wendt became professor of New Zealand literature at Auckland University, where he continues to play a key role in the debate on issues of indigenous culture, and is active in fostering literature among Pacific nations communities, both in New Zealand and their home countries.

Wendt's first novel, Sons for the Return Home (1973), draws on his New Zealand experience to describe the life of a young man from a migrant Samoan family and his love affair with a fellow (Pakeha) student. 'He was bored with the lecture', the first sentence reads, and the narrative goes on to explore the energy and angst of New Zealand society as it entered the dynamic 1960s. Hard-hitting in its descriptions of racism, frank in its evocation of youthful sexuality, even-handed but also harsh and tender in its vision of flawed humanity, the novel was immediately recognised as important, not only for its subject material but because of its success in fusing literary styles with colloquial speech and oral narratives. Maui, the Maori trickster figure, with his ability to supervise supernatural change, though human in his subjection to death, is an important recurring motif.

The critic Subramani considers the evolution of short fiction from oral to written form to be an outstanding feature of Pacific writing in English, and Wendt was among the most notable experimenters in this genre. The linked narratives in his Flying Fox in a Freedom Tree (1974) explore the history of Samoa through a wide variety of characters, settings and narrative points of view. Shifting cultural values, the demands of social ideals of masculinity and femininity on the individual, disease and damage as metaphor, the tension between commitment and freedom, life and death—symbolised by the flying fox—are recurrent themes.

Peggy Fairburn-Dunlop's essay 'Samoan Writing: The Search for the Written Fagogo' also emphasises the importance of oral traditions and Wendt's role in the development of a specifically Samoan literature. She discusses his concern with exploring the construction of identity, especially in the poems. Many of the poems in Wendt's first collection, Inside Us the Dead: Poems 1961 to 1974 (1976), including the title piece which pushes interpretations of the significance of ancestry to the limits of history, achieve a fusion of verbal sensuality and intellectual detachment. The lava fields, which also form a fertile symbolic backdrop in the fiction, appear in the poems as the mark of distinctive but changing geographical boundaries.

Pouliuli (1977; the title can be translated as 'darkness'), is a short novel which examines the ripple effects of political corruption, family loyalties, external and internal, and individual responsibility in the faa-Samoa against an existentialist vision. The story outlines the tragicomic course of events when 76-year-old Faleasa Osovae awakes one morning and gives in to the madness and yearning for solitude lurking beneath his years of upright behaviour and social commitment.

With the publication of Leaves of the Banyan Tree (1979), a family saga that crossed three generations, Wendt sets what has been called 'a capitalist's tragedy' (*Landfall 135, 1980) in a 'fallen epic world' (Subramani). An ambitious novel written with what Roger Robinson described as 'muscular vigour which evinces a powerful imaginative grasp on the physical world', it explores a tension between the belief in fiction as a testing ground for sociological reform and the pull of psychological drives towards individualism and self-destruction, again with philosophical enquiry a potent element in the thought. One section is transposed from Flying Fox in a Freedom Tree. This subversive, sometimes self-destructive impulse, an underlying trickster's rebelliousness, was identified by Robinson as working in Wendt's texts in counterpoint with the 'responsibilities' of his leadership role.

A number of theoretical publications appeared during the 1970s, in which Wendt elaborated on the relationship between artist or writer, society and Pacific cultures. 'Towards a New Oceania', originally published in Mana, Vol. 1, No. 1 (1976), summarised the eras of the colonialist past and looked forward to the future of arts and education in the Pacific by questioning notions of tradition and authenticity. It was reprinted in A Pacific Islands Collection, ed. Richard Hamasaki (1983). Mana, Vol. 3, No. 1 (1978) published 'The Artist and the Reefs Breaking Open', which took the idea of the breaching of a coral reef as a metaphor for the way colonialism both threatened and invigorated Pacific societies, and beyond that, to signify the oppositions (inside/outside, protection/stagnation) that can characterise the relationship between an artist as individual and the social structures engaged with. Lali (1980) edited by Wendt, was a ground-breaking anthology that showcased and promoted the new literary writing of the Pacific, prose and poetry.

Poems in Shaman of Visions (1984) meditate on the relationship between abstract and physical qualities of language, objects and the human. Many of the poems are set firmly in Samoa, though the ideas of rootedness and transience emerge as ambivalent elements, as do observations on the simultaneous presence of ancient gods and rampant consumerism. In The Birth and Death of the Miracle Man (1986), Wendt returned to the forms of short fiction. The characterisations and locations add to the complexity of his representation of Samoa—from Fiasola, a head teacher at Sapepe village whose alienation emerges in his dreams, for example, to Salepa, a family man whose talent for fiction lands him in jail. The village of Saula, caught in the grip of a mysterious stench in 'I Will Be Our Saviour From the Bad Smell' has a chicken-and-egg problem—should the villagers find the cause of the smell or just try and get rid of it? Their search for a solution provides both an entertaining narrative and a discourse on the search for origin.

Wendt's later fiction has continued to be culturally and technically mixed. He has always been a versatile international writer as well as a committedly Pacific one. In Ola (1991), set in New Zealand, Israel, Japan and Samoa, questions about how identity is shaped in a diasporic century are set in the context of religious faith and global mobility. The self-reflexive storytelling techniques Wendt mobilises allow him to play with the possibilities of inter-gender and multicultural communication. Wendt's intellectual and literary enthusiasms are again evident, as in the Borges-like poems he provides as written by his dominant female central character and the impressive lists of her reading. Black Rainbow (1992) is a postmodern mix of the genres of dystopian fiction, political thriller and self-conscious intertextuality. Wendt called it an 'allegorical thriller'. The title comes from a series of lithographs by the painter Ralph *Hotere produced to mark nuclear explosions. Thematic variations on how individuals respond to violence, neo-colonialism and state control reverberate throughout the text. Photographs (1995) is a varied collection of poems, combining intimate family portraits with experimental form and verbal play. It includes a long extract from a novel in verse, The Adventures of Vela, on which Wendt has worked since about 1985.David Eggleton commented on Wendt's 'restless pursuit of unities', his use of storytelling to turn disorder into 'the woven mat of life', and the 'double consciousness' of his bilingualism.

Nuanua (1995) is Wendt's second anthology of Pacific writing, its introduction again an authoritative statement that celebrates the development, diversity and changing concerns of Pacific literature and comments with insight on the developing work of individual writers. Moving through anti-colonial and postcolonial positions, Wendt argues that Pacific writers have 'indigenised and enriched the language of the colonisers and used it to declare our independence and uniqueness'. To this literature, which he calls 'a fabulous storehouse of anthropology, sociology, art, religion, history, dance and music', Wendt's own work has made a leading and lasting contribution. BW
ADDITIONAL INFORMATION
In 1980, Albert Wendt was awarded first place for Leaves of the Banyan Tree at the Goodman Fielder Wattie Book Awards.

He delivered the 2000 Book Council lecture, entitled 'Le Vaipe: the Dead Water', at the 2000 Festival. He was awarded Companion of the New Zealand Order of Merit for Services to Literature in the same year.

The Book of the Black Star (2002) combines words and images in short poems, drawing on Samoan language and myth, dreams and memories, as well as on the daily life of the poet.

Whetu Moana: Contemporary Polynesian Poems in English (Auckland University Press, 2003) edited by Albert Wendt, Reina Whaitiri & Robert Sullivan is the first anthology of contemporary indigenous Polynesian poetry in English edited by Polynesians. Whetu Moana: Contemporary Polynesian Poems in English won the Montana Award for Reference and Anthology at the 2004 Montana New Zealand Book Awards.

Mango's Kiss (2003) is a fictional world focused on Samoa and New Zealand and reaching out to the centres of the world. Pele's first moment of remembered consciousness is the morning kiss of the mango fruit on her cheek.

Albert Wendt and Pacific Literature: Circling the Void (2003) by Paul Sherrad. This is the first extended study of Albert Wendt's work and sets his achievement in the contexts of Pacific culture, NZ contemporary writing and post-colonial discourse. Sharrad presents a chronological treatment of all Wendt's major works revealing the imaginative power that drives them and the way in which they draw deeply on indigenous tradition while expressing the discontinuities, ambiguities and subversions of the postmodern consciousness.

Wendt has recently been awarded New Zealand's Senior Pacific Islands Artist's Award (2003), Japan's Nikkei Asia Prize for Culture (2004), and he received an honorary Doctor of Literature from Victoria University in May 2005.

Wendt had a poem included in Shards of Silver (Steele Roberts, 2006), a book investigating the interplay between photography and poetry.

Adventures of Vela was published by Huia in 2009. The novel is written entirely in verse, and is described by Wendt as his "life's work", as he began writing it in the 1970's.

Wendt was awarded a Honorary Doctorate of Humane Letters from the University of Hawai'i in May 2009.

The Adventures of Vela (Huia, 2009) won the Commonwealth Writers' Prize for the Asia Pacific Region. "It is a great honour to be recognised in this way" said Professor Wendt at the awards ceremony in Sydney in February. "Vela has been a character I have thought about for a long time so this is a lifetime's work". Regional Chair for South East Asia and Pacific, Dr Anne Brewster, said "the high standard of books in the South East Asia and Pacific region this year ensured that the short-listing process was a challenge for the judges".

Mauri Ola: Contemporary Polynesian Poems in English – Whetu Moana II was edited by Albert Wendt, Reina Whaitiri and Robert Sullivan (Auckland University Press, 2010). The anthology was a finalist in the Poetry category of the 2011 New Zealand Post Book Awards.

In 2012, Albert Wendt won the $60,000 Prime Minister's Award for Literary Achievement for Fiction. A new collection of poems, From Mānoa to a Ponsonby Garden was published by Auckland University Press the same year.

Wendt was the Honoured New Zealand Writer at the 2013 Auckland Writers and Readers Festival and received a standing ovation for his contribution to New Zealand writing. Albert Wendt was honoured as a member of The Order of New Zealand for services to New Zealand in The Queen's Birthday Honours List 2013.

In 2015, Wendt became a patron of the New Zealand Book Council. Peter Biggs, Chair of the Council's Board says, "Albert is one of New Zealand's most renowned writers and, as a pioneering Pasifika writer in New Zealand, he has been the inspiration for our country's wonderful flowering of Pasifika literary talent. He has opened up the Pasifika experience to all New Zealanders. Albert's new role is a deepening of the Book Council's commitment to Pasifika writers and readers."

In September 2015, Wendt released a short memoir, Out of the Vaipe, the Deadwater (Bridget Williams Books). In the book, Wendt returns to his boyhood in the Vaipe, a suburb of Apia, Samoa to explore elemental questions about place, memory and narrative. Is the Vaipe he has created in his stories, poetry and novels really the Vaipe that existed and exists in real life? Or is it real only in his books? Is there a difference between the two? And does it matter? His responses form a vivid narrative that returns full circle to the symbolic world of the Deadwater. Out of the Vaipe, the Deadwater was named as one of Auckland Libraries' 'Top 100 books of 2015'.

Wendt's novel, Breaking Connections (Huia Publishers), was released in November 2015. Based in New Zealand and Hawaii, the story follows the lives of an urban tribe, a group of friends held together by shared lifetimes, love and fierce loyalty. The novel had been on Wendt's mind for several years, "I started writing Breaking Connections when we shifted to Hawaii in mid–2004 and have been working on it on and off since then. It eventually became a novel about a new type of urban family, a tribe of friends, set in Auckland from the 60s and 70s through to today."


Last updated October 2016.
MEDIA LINKS AND CLIPS